Responsible Procurement
Basic Procurement Policy
The MOL Group established the "MOL Group Basic Procurement Policy" to fulfill our social responsibility as a corporate group that plays a part in our customers' supply chains. With an eye toward contributing to the realization of a sustainable society, we promote fair and equitable procurement activities, in consideration of compliance with laws and regulations covering supply chains, conservation of the environment and natural resources, respect for human rights, and doing our utmost to ensure safety, while gaining the understanding and cooperation of our business partners.
The policy was established in 2012, and revised in 2022, with the approved of the MOL Board of Directors.
MOL Group Basic Procurement Policy

The MOL Group procures products and/or services in accordance with the following basic policy:

We comply with applicable laws, regulations, and social standards to ensure fair and equitable trade opportunities and procedures based on free competition open to others, both domestic and overseas.
We strive to reduce the negative impact of our procurement activities by considering environmental and resource conservation.
We respect basic human rights and conduct procurement in consideration of work environment in accordance with laws and international standards.
We procure products and/or services, including the delivery or execution of such products and/or services, that meet high safety standards.

We work to build relationships of trust with our business partners so they understand and cooperate with this policy, with the aim of mutual contribution toward the realization of a sustainable society.

Established in March 2012
Revised in March 2022
---
Suppliers Procurement Guidelines
We believe the cooperation of our business partners is indispensable to enhancing the transparency and sustainability of supply chains, as the MOL Group develops businesses on a global scale. In FY2021, we established the MOL Group Supplier Procurement Guidelines. These cover issues where we seek the understanding and cooperation of our business partners. In the future, we will work to promote the wide adoption of guidelines among our key business partners, and ensure that they understand the intent behind them.
We ask all of our business partners to address the items specified in the guidelines and promote sustainable procurement activities and urge your partners to adopt these standards as well,
MOL Group Supplier Procurement Guidelines[262KB]
---
MOL Group value chains
In ocean shipping, the core of our group's business activities, we create value chains with various business partners that span everything from procurement and operation to the eventual scrapping of vessels.

---
Initiatives for responsible procurement
Initiatives for shipbuilding
Ship procurement is a key element of MOL Group business activities.
When we order the construction of a ship, we not only request that the shipyard, a supplier, follow MOL Safety Standards Specifications, which specify our safety and environmental quality standards, but also ask them to address concerns regarding environmental measures, safe working conditions, and so on in the shipyard. We also strive to improve the quality of our ships by assigning shipbuilding superintendents from our group companies to the shipyard, where they are jointly involved in the development and introduction of low environmental impact vessels. This is one way that we work with our business partners toward achieving a sustainable society.
Initiatives for chartered vessel shipowners
The MOL Group charters some vessels from shipowners in our business activities. We apply MOL Safety Standard Specifications not only to our owned vessels, but also chartered ships (not including those on short-term charters), striving to ensure high fleet-wide standards of quality and safety. In addition, with shipowners, we proactively share safety awareness, exchange information and opinions to improve safety/quality through visits to ships, plus meetings and periodic liaison group activities with shipowners. We strive to detect problems at an early stage and take prompt measures through these initiatives, and review MOL Safety Standard Specifications whenever necessary.
The grounding/oil spill incident involving the MOL-chartered bulk carrier Wakashio in 2020 had a considerable impact on the local natural environment and communities in Mauritius The MOL Group recognized anew that we have a deep social responsibility to take measures that will prevent the reoccurrence of such an incident, even with a chartered vessel. In response to the Wakashio incident, we have reinforced our efforts to ensure the safety/quality of chartered vessels as mentioned above. But to further enhance the effectiveness of these measures, we will introduce key performance indicators (KPIs) related to safety/quality, develop the database, expand and update management and support systems, and adopt new safety technologies. Working closely with shipowners, we will advance our efforts to pursue the world's highest level of safety culture.
Initiatives for ship recycling
When a vessel reaches the end of its service life, it must be scrapped (recycled), from the viewpoints of safe operation and marine environmental protection. An estimated 95% of a vessel (by weight) are recyclable, and our vessels will be recycled after they are delivered to ship buyers. On the other hand, major recycling yards are located in developing countries because ship recycling is a labor-intensive industry. Management of hazardous substances, environmental impact, and worker safety and health management have emerged as international concerns. In May 2009, the Hong Kong Convention for the safe and environmentally sound recycling of ships ("Hong Kong Convention") was adopted at the International Maritime Organization (IMO) with the objective of addressing issues related to ship recycling, and the ratification process is currently underway. This convention requires that vessels ban or limit loading and using hazardous materials onboard, and create, record, and update inventory lists that identify the quantities and locations of hazardous materials onboard, and present all of this information to the ship recycling yard. It also obligates recycling yards to manage waste appropriately and establish safety management systems.
[MOL Group ship recycling policy]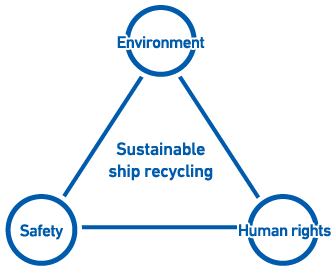 The MOL Group aims to realize more sustainable ship recycling, and believes that in addition to making every effort to protect the environment and prevent occupational safety and health problems, recycling yards must implement policies that respect the rights of workers.
We select recycling yards certified by a third party (Nippon Kaiji Kyokai (ClassNK)) for compliance with prescribed criteria and the Hong Kong Convention.
In addition, we check the status of ship breaking work on site at yards and require them to provide detailed reports even after the ship has been delivered to the buyer.
* Third-party certification (Nippon Kaiji Kyokai (ClassNK))
To earn certification from ClassNK, the Ship Recycling Facility Plan provided by the yard must meet the requirements of the convention and ships must be recycled following that plan. Annual field validation is also conducted for continued certification, maintaining the environment and occupational safety aspects at a high level.
[Examples of items prescribed in the Ship Recycling Facility Plan]
Dismantling work procedures
Hot work procedures
Hazardous material and waste management procedures (protective measures such as protective equipment and methods of waste removal, transportation, storage, and disposal)
Emergency preparations
[MOL Group-owned vessel recycling records]
| Year | Ship Name | Yard | DWT | Year built |
| --- | --- | --- | --- | --- |
| 2019 | Green Garnet | NBM Iron and Steel Trading Pvt. Ltd. Plot 61(24G) | 9,186 | 1996 |
| 2019 | Rakiura Maru | Leela Green Ship Recycling Plot No.35 | 8,368 | 1996 |
| 2019 | Meridian | Triveni Ship Breakers, Plot No.23 | 9,142 | 1996 |
| 2020 | Universal Green | Baijnath Melaram, Plot No.13 | 10,464 | 2002 |
| 2020 | Tachibana | Diamond Industries, Plot No.84 | 19,098 | 2000 |
| 2020 | Cougar Ace | Anupama Steel Limited - Plot No.15 | 13,551 | 1993 |