This message is from the MOL Report 2023.
Review of Rolling Plan 2022 (Management Plan)
Dramatic Improvement in Financial Indicators Against a Backdrop of Soaring Freight Rates, Especially for Containerships
One of the MOL Group's major challenges after the introduction of the first Rolling Plan in fiscal 2017 was to improve its financial position. Our financial position had been severely damaged by our efforts to cope with the long-term slump in the shipping market since 2010 caused by oversupply of vessels and our extensive investments in energy and other sectors to secure stable earnings in the future. It was imperative that we recover from this in order to take the next step. Under these circumstances, the booming market conditions in various shipping sectors, especially containerships, from fiscal 2021 to fiscal 2022 allowed us to post huge profits and dramatically improved the company's financial position, which was a major turning point for the company.
In fiscal 2022, ended March 31, 2023, we saw improvements in our financial indicators as well as positive outcomes related to our portfolio, environmental, and regional strategies that we had put forth as growth strategies. The company's strategy is to seek growth not by extending the existing businesses, but by reorganizing the priority investment areas and transforming the business portfolio. The company has steadily spread this approach throughout the group, and we have also steadily built-up new businesses that are rooted in our regional strategy, particularly in India. Through these efforts, we have continued to steer the company with a strong awareness of shifting the mindset within the company, from a conservative approach settled under a prolonged market slump to an aggressive stance.
---
Background of BLUE ACTION 2035
Achieve Both "Business Transformation Toward Achieving Net Zero by 2050" and "Realization of Sustainable Social Infrastructure Business"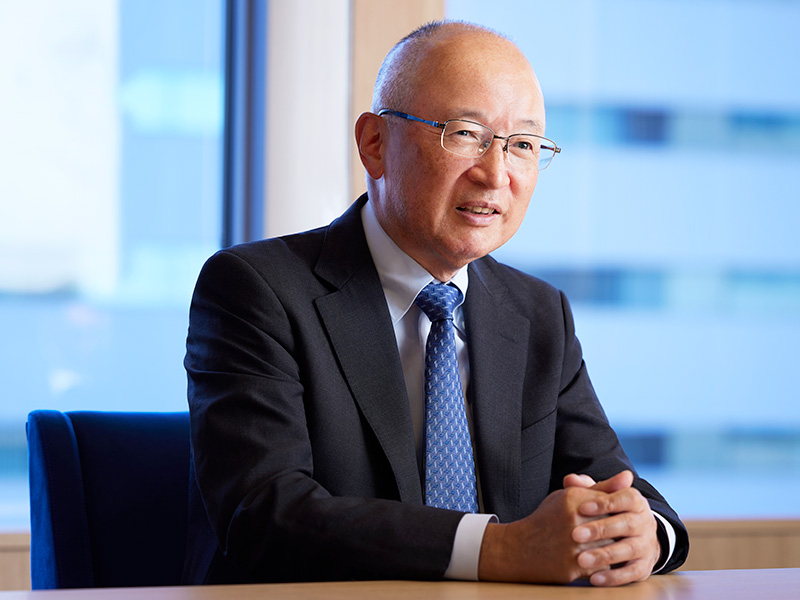 Since the 2008 global financial crisis, a series of events, including the Great East Japan Earthquake and trade frictions between the U.S. and China have made it difficult to foresee the future. Under such business environment, the company has concluded that a conventional approach of analyzing global economic trends, forecasting shipping demand and supply, and formulating a medium-term management plan to conform to these forecasts would no longer work. Therefore, the Group has adopted a single-year management plan since fiscal 2017, to take the most appropriate and flexible actions according to the circumstances. However, when we look at the future from a wider perspective, the entire global economy is undergoing significant long-term changes, and major structural changes are underway that cannot be captured from a single fiscal year analysis.
The most extreme is addressing environmental issues. While a major global consensus is emerging that the economy must be managed with a strong awareness of the environment and sustainability to survive, we have set a goal of achieving net zero emissions by 2050, ahead of other companies in the shipping industry. This goal is far from achievable through the series of single-year plans alone. Currently, we consume 4-5 million tons of fuel oil annually and emit over 10 million tons of GHGs. To achieve net zero emissions by 2050, a longterm effort that mobilizes a variety of measures is required. In the world of marine fuels, there are many options for decarbonization, including biofuels, ammonia, hydrogen, and batteries, and we need to identify the right options. In addition, long-term planning is necessary to transform the business by seizing business opportunities arising from the major changes in freight transportation demand and logistics that will accompany the decarbonization of the industry.
As we strive towards decarbonization, we must also continue to provide stable and continuous transportation services. Since 2020, the global logistics witnessed disruption due to the COVID-19 pandemic and the Russia-Ukraine conflict, which directly had an impact on the lives of people. We realized the criticality of international logistics and the risk of paralyzing entire global economy. As a social infrastructure company, we aim to establish a stable foundation that enables us to continue our business even under challenging conditions, and the formulation of the new management plan addresses this need.
Based on this understanding, we deliberated on our future state of growth, and concluded to break from our rolling, single-year management plan that had been in place since fiscal 2017, and we formulated a new mid to long-term management plan, BLUE ACTION 2035, using the backcasting method to determine our policies based on the vision for 2035. Although this is a long-term frame for a typical management plan, we set targets for 2035 as our intermediate point to achieve our goal of net zero emissions by 2050.
BLUE ACTION 2035 integrates our business plan with our initiatives to address sustainability issues. We believe that, for growth opportunities and to be relevant in the global economy, we will have to address sustainability issues and contribute to solving social issues. The plan is divided into three phases over the 13 years to 2035, with core KPIs for both financial and non-financial aspects, and clear milestones to be achieved by 2035. In addition, Phase 1, a three-year plan up to 2025, is an elaborate plan, and the plan is to refine the details beyond with time. We shall devote all our efforts to ensuring the realization of these plans.
---
Point 1 of BLUE ACTION 2035
Portfolio Reform to Achieve Stable Growth with Marine Transport Business as the Core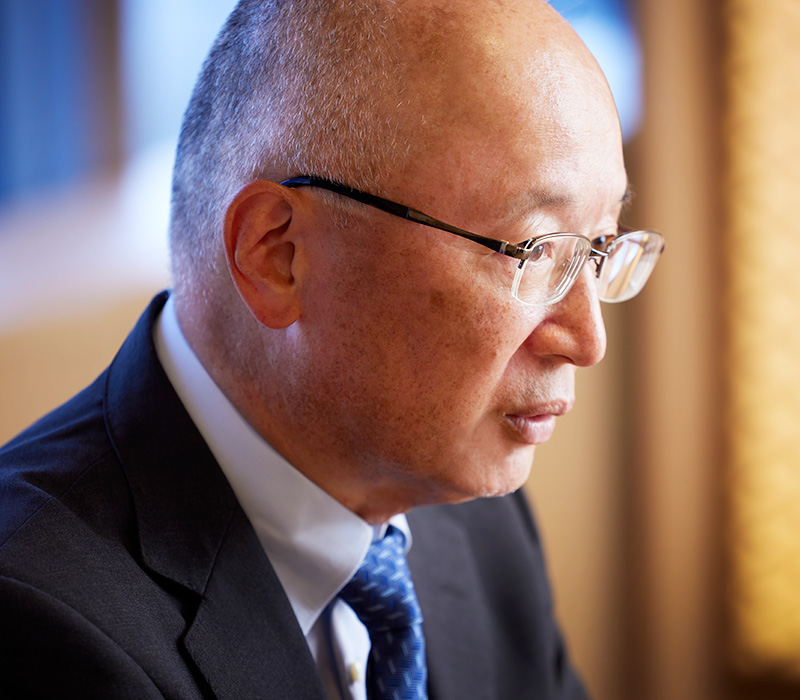 The shipping industry is a cyclical industry, its performance greatly influenced by the global economic cycle and is known for its cyclical nature. Market conditions have skyrocketed several times when viewed over a 10- or 20-year range. In addition, unforeseen events such as wars and catastrophes can tighten supply and demand balance and cause freight rates to soar. The opportunity to enjoy unexpected profits over a long period can be said to be an attractive feature of the shipping business. On the other hand, however, considering the huge
capital investment required for consistent fleet renewal to continue the business, the company cannot solely rely on this irregular economic boom.
While the shipping business will continue to be our core business and a source of competitive advantage that generates high returns during market boom, we shall also diversify and invest in other businesses to stabilize our earnings base. If the company is able to ascertain stable cash flow from other businesses even in an unfavorable shipping market, the company will be able to continue to invest in vessels even when market conditions
deteriorate, and thus, shall be able to reap rewards in the next economic cycle. In addition, it is also expected to discipline overinvestment in ship types that have experienced favorable market conditions.
Based on this perspective, the approximate investment of ¥1.2 trillion in Phase 1 of BLUE ACTION 2035 will focus on stable revenue businesses, mainly in the non-traditional shipping sector. To date, the Group has worked to strengthen its LNG carrier business and offshore business to increase the ratio of stable earnings. In particular, MOL's LNG carrier business has grown to become one of the world's leading businesses in terms of both scale and competitiveness. Furthermore, the group intends to increase the asset allocation to areas within the shipping industry where long-term contracts can be obtained, such as crude oil carriers and LPG carriers, as well as to businesses different from industrial cargo transport, such as domestic ferries and cruise ships, and to land-based businesses such as real property and warehouses. We aim for the best mix of businesses that can resist recession, maintain stable dividends, and enjoy large profits when market conditions are favorable, by striking a good balance between market driven businesses such as containerships, which offer high returns but also large fluctuations in earnings and stable revenue businesses such as LNG carriers and real estate, which offer relatively low returns but also small fluctuations in earnings. We shall use the concept of "ROA Cost of Capital," introduced as a tool for this purpose, to improve capital efficiency and promote appropriate business portfolio management.
---
Point 2 of BLUE ACTION 2035
Establishing Headquarters of Wellbeing & Lifestyle Business
One of the major changes in our business under BLUE ACTION 2035 is the establishment of the Headquarters of Wellbeing & Lifestyle Business, a unit responsible for businesses including real estate, ferry services and cruises. The purpose is to clarify our stance on nurturing these business groups, which operate in a cycle different from the shipping market, as a new revenue base. We have positioned cruise as one of the new growth areas and have decided to build two new cruise ships to expand this business sector. Prior to the launch of these ships, we are aggressively investing in the purchase of an existing cruise ship. The decision is based on the recognition that the mature domestic market demands high-end services as consumer behavior recovers from the COVID-19 pandemic. We shall provide high quality services while capturing inbound customer demand from overseas as well as solid domestic demand.
In the real property business, another key growth area, consolidated subsidiary DAIBIRU CORPORATION has so far developed its business mainly by leasing office buildings in Japan. Going forward, we will also strengthen our overseas business by leveraging MOL's network and diversify our assets to include restaurants, shopping facilities, hotels, and more. Although the shift from goods consumption to consumption of services is a headwind for the shipping industry, we shall develop a group of businesses that can respond to the growing demand for the consumption of services within the Group and align to the new society of the future.
---
Point 3 of BLUE ACTION 2035
Growth Through Deepening Regional Strategy
In formulating our management plan, we conducted a megatrend analysis through 2050, and once again strongly felt that each region's economy is at a different stage of development and maturity, and that the fields in which growth can be expected are very different. This means that there is a huge difference in requirements between developed countries with mature economies and the developing economies of Southeast Asia, South Asia, and Africa. As a group, we also need to adopt business strategies that match the characteristics of each economic zone.
In Europe and North America, we should expand with a focus on businesses related to the environment and renewable energy. In Southeast Asia, India, Africa, and other regions, there is still potential in conventional energy, resources, steel, and automobiles, which have been the Group's forte.
Thus, we hope to deepen regional strategies and growth by aligning regional characteristics with our overall strategy. To that end, we have divided the world other than Japan into five regions (East Asia; Southeast Asia and Oceania; South Asia and Middle East; Europe and Africa; and the Americas) and appointed executive officers in charge of each region. We will also boldly strengthen our organizational structure, such as transferring the decision-making authorities from the Tokyo Head Office to each region.
---
Point 4 of BLUE ACTION 2035
Promoting Conversion to LNG Fuel as an "Immediate Action"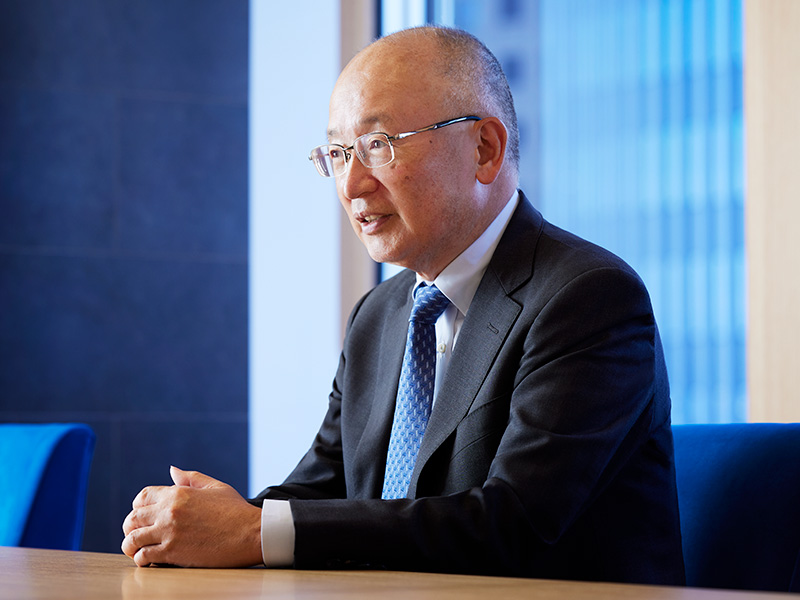 The MOL Group has positioned the environmental strategy as one of its key strategies in BLUE ACTION 2035 and has designated ¥650.0 billion, the majority of the total investment in Phase 1, for environment-related investment. In April 2023, MOL announced MOL Group Environmental Vision 2.2, an update from the previous Environmental Vision 2.1, which included the development of interim milestones and specific emission reduction pathways.
Among a series of measures based on these policies, one of the Group's distinctive features is its strong emphasis on the conversion to LNG fuels. In the shipping industry, there are calls for clean methanol and biodiesel derived from renewable energy sources, which are alternative fuels that do not require large capital investments, but these alternative fuels are currently available in very small quantities only. In a sense, it may give shipping companies an exemption from environmental measures to maintain ships that can use both methanol fuel and fuel oil, and wait until the supply system is established. However, we do not believe that continuing to use fuel oil while waiting for the supply of new fuel is appropriate from a carbon budget perspective.
LNG fuel is not a completely zero-emission fuel, but it has the advantage of reducing GHG emissions by 20-30% compared to conventional fuel oil, and it produces almost no SOx, NOx, or other air pollutants. The biggest advantage over other alternative fuels is that they are ready to use today because of their substantial production and supply systems and their extensive use history. On the other hand, LNG fuel requires storage at a low temperature of nearly minus 160 degrees Celsius, which makes LNG fueled ships about 20% more expensive. However, we believe that the economic advantage of natural gas will gradually increase through lower gas prices, as abundant reserves of natural gas are confirmed to be dispersed throughout the world, and new gas field developments and new LNG projects are being launched continuously. In fact, we feel that an international consensus is emerging on natural gas and LNG as important fuels during the transition to renewable energy.
The Group is promoting the conversion to LNG fuel as an immediate action. In the future, when a mass production and supply system for fuels that can further reduce GHG emissions is in place, the company shall boldly take the helm again.
---
Shareholder Return Policy
Raised the Shareholder Return Target to a Dividend Payout Ratio of 30% and a Minimum Dividend of 150 Yen per Share
In light of our significantly improved financial position, in Phase 1 of BLUE ACTION 2035, we raised our target for shareholder returns, setting a dividend payout ratio of 30% and a minimum dividend of ¥150 per share.
Although we have gradually increased the dividend payout ratio from the previous 20%, we recognize that a dividend payout ratio of 30% is still somewhat low compared to the Tokyo Stock Exchange's Prime Market average and global standards. However, the shipping industry requires constant capital investment, and with the prospect of huge future investment in environmental measures, the company needs to allocate a certain amount of retained earnings to new investments.
The nature of the business will not change going forward, but the contribution to profits from investments that have already been decided, such as aggressively accumulating assets in the LNG carrier business over the past several years, will make a significant contribution to profits over the next three years. We are, therefore, determined to gradually raise the shareholder return target for Phase 2 and later.
---
A Message to Stakeholders
Aiming to Transform from the Previous "Japan Inc. Model" to a "resilient global enterprise"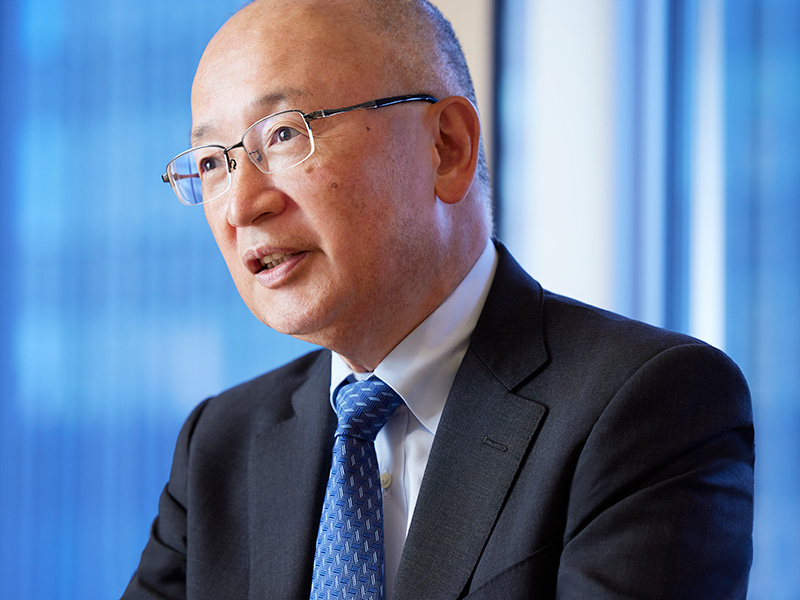 The Group, which will celebrate its 140th anniversary next year, has long expanded its business scale along with the development of the Japanese economy. The basic business style we have established along the way has been to build and manage an organization that provides the best possible service to Japanese customers. The "Japan Inc." model of a welltrained, homogeneous staff working as a team, helping each other, was one of our winning patterns.
To create a company that can grow and develop in the global market while facing environmental challenges, we are moving away from this business style and management that relies on such winning patterns. The success or failure of such a change will depend on a strong promotion of diversity, equity, and inclusion. We must stir up the entire organization and change the corporate culture by inclusion of multinational human resources, including those at the senior management level, active promotion of female staff to executive positions previously held predominantly by male staff, and mutual replacement of Japanese staff in Japan with non-Japanese staff overseas. In addition, in order to attract talented human resources, draw out the commitment of each individual, and allow them to realize their full potential, we must not only make a profit, but as a public entity of society, we must also be able to create new value, clearly positive for the world, and find fulfillment in our own lives. This is also our responsibility as a listed company that continues to operate with funds invested by shareholders.
We are now at the stage where we must change from being a member of "Japan. Inc." to a "resilient global enterprise" that continues to grow within the world. We have not yet reached that point, but we have the potential. We believe that the transformation of the company over the next few years will determine the growth of MOL in the global arena.
We would like to sincerely ask shareholders and other stakeholders for their continued understanding and support.