MOL SMEO Tanaka Serves as Panelist During TCFD Summit 2021 Event
- Speaking about TCFD Disclosure and Transition Finance -
October 07, 2021
TOKYO-Mitsui O.S.K. Lines, Ltd. (MOL; President & CEO: Takeshi Hashimoto) today announced that Senior Managing Executive Officer Toshiaki Tanaka participated in the TCFD Summit 2021 held by Minister of Economy, Trade and Industry (METI) as a panelist on October 5.
METI held its inaugural Task Force on Climate-related Financial Disclosures (TCFD) Summit in 2019, bringing together top executives of leading worldwide companies, financial institutions, and other organizations addressing this issue, with the aim of providing a form to discuss the challenges and future direction of the TCFD. This marks the third year of the summit.
Tanaka joined a panel discussion on "The Pacific Rim and TCFD Disclosure," and shared insights from MOL, as a corporation making advanced efforts on TCFD disclosure and transition finance. He took part in online discussion with four panelists in Japan and overseas, focusing on the purpose of information disclosure and related issues.
MOL continually works on measures to address climate change and ensure appropriate disclosure to play a role of "virtuous circle for environment and growth," the ideal of TCFD, from standpoint of the ocean shipping industry.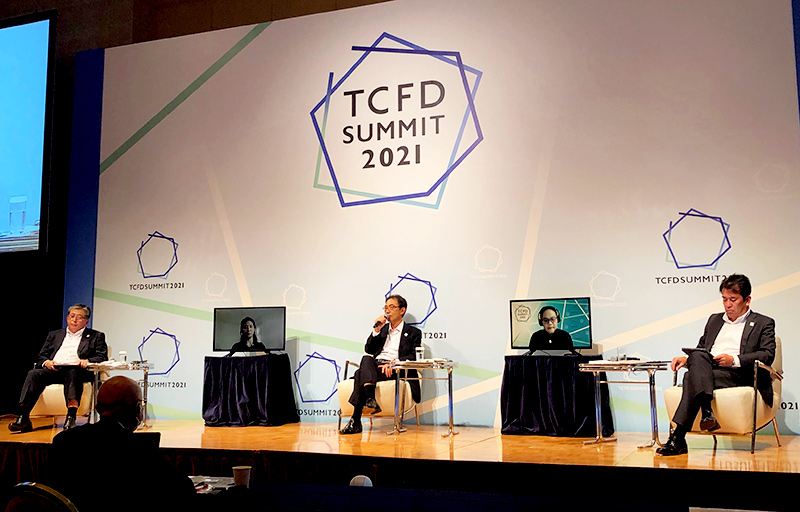 (Note 1)
TCFD Summit 2021 website: https://tcfd-summit.go.jp/indexEn.html
Past video digests are browsable.
(Note 2)
May 23, 2019 press release:
MOL to Join Consortium on TCFD (Task Force on Climate-related Financial Disclosures)
(Note 3)
About MOL's disclosure based on TCFD recommendation
https://mol.disclosure.site/en/themes/215