November 26, 2021
TOKYO-Mitsui O.S.K. Lines, Ltd. (MOL; President & CEO: Takeshi Hashimoto; Headquarters: Minato-ku, Tokyo) today announced that on November 22, it held an online event for children called "Behind the Scenes of Work on Huge Car Carrier! - Tour Guided by Captain and 1st Officer-" (Note)
The event opened with an MOL captain as a guide from the shore side, explaining about ships and seafarers' jobs with videos and quizzes, and the officer introduced car carrier. Then they connected with a car carrier underway in the Pacific Ocean. After a greeting from the ship's captain, young officer and engineers showed around the captain's cabin, the ship's canteen, recreation room, galley, pantry and so on, in real time. The kids paid rapt attention to the monitor showing the onboard activities, and eagerly joined a question-and-answer session. Some of their questions are as follows: "How do the drivers get off the cars (while there are almost no gaps between the loaded cars)?" "Does your food spill when the vessel pitch and role while sailing?" "What's your favorite dish onboard?" "What subjects do I need to study to become a captain?" The captains and officer answered the questions one by one.
A total of 55 families took part in the event, and MOL received comments from them such as "It was a precious experience to see the onboard life of seafarers while sailing," and "I want to see other kinds of ships as well as car carriers."
MOL is committed to developing and presenting activities to show children the importance of the sea, ships, and the shipping industry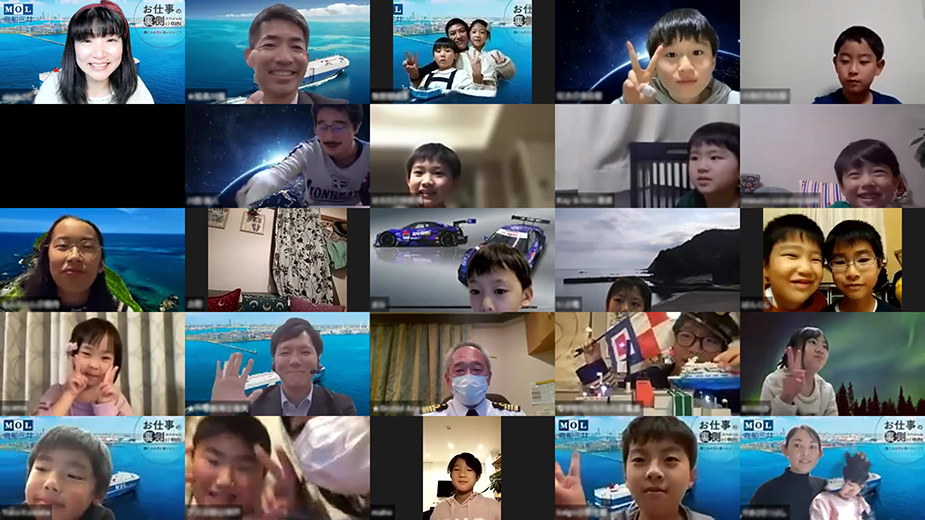 (Note) The online tour was held as a series of events planned by aini, an event platform service website in Japan operated by Gaiax Co., Ltd. (President: Yuji Ueda; Headquarters: Chiyoda-ku, Tokyo) in commemoration of World Children's Day (November 20) and Labor Thanksgiving Day (November 21; Japanese holiday).