March 01, 2022
TOKYO-Mitsui O.S.K. Lines, Ltd. (MOL; President & CEO: Takeshi Hashimoto) today announced that on February 9, 2022, Kae Kurahashi (Note), an MOL employee and a wheelchair rugby competitor, presented an online lecture for "Bunkyo Iki-Iki Academia" (Iki-Iki means lively or energetic.) run by Bunkyo Academy Foundation in Bunkyo-ku, Tokyo. "Bunkyo Iki-Iki Academia" is one of measures for people aged 60 or above taken by Bunkyo-ku of Tokyo, such as providing opportunities for a lifelong learning or making friends and connections.
The audience of this event attended in person or online, and enthusiastically listened to her stories of when she became disabled, her encounter with wheelchair rugby, explanation of the rules of the sport, and when she participated in world matches.
Aiming for a more prosperous society, MOL will continue activities to convey the spirit of "Challenge," one of the MOL Group Values "MOL CHARTS," through supporting wheelchair rugby.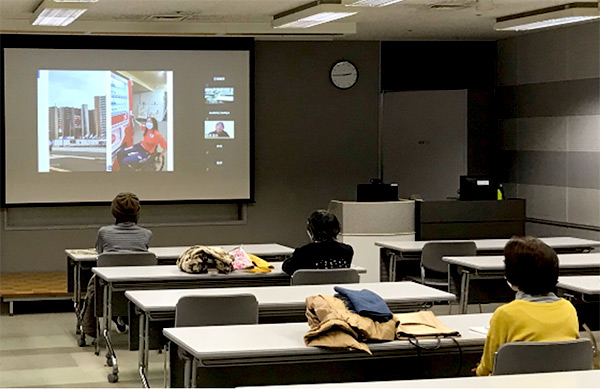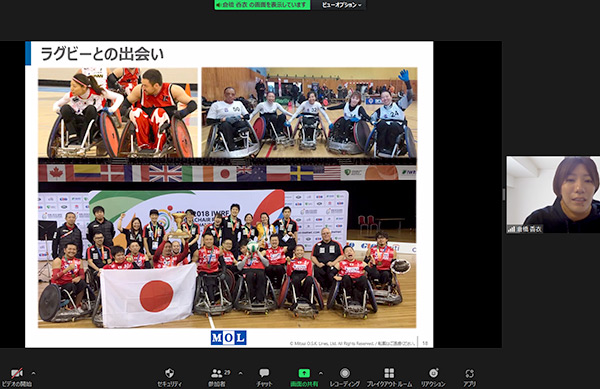 (Note)
Wheelchair rugby is a mixed-gender team sport for athletes who have disabilities requiring them to use wheelchairs. This is the only sport in the Paralympic Games that permits contact between wheelchairs. Players are allotted from 0.5 to 3.5 points depending on their level of disability. Under this system, the total points of four players on the court must be within 8.0 points. The wheelchairs used in the game are reinforced to make them durable enough to withstand extreme contact, and modified for players in different positions.
MOL has been co-sponsoring the Japan Wheelchair Rugby Federation as an official partner since 2018, and has been committed to supporting the growth of the sport.