MOL Unveils New Technology Slogan: 'One mile ahead'
- Aiming to Lead the Way in Maritime Technology and Innovation -
April 20, 2022
TOKYO-Mitsui O.S.K. Lines, Ltd. (MOL; President & CEO: Takeshi Hashimoto) today introduced its new technology slogan: "One mile ahead." The slogan is descended from "the Senpaku ISHIN Project" (Note 1) announced in 2009 as the symbol of technological innovation aimed at boosting safe operation and reducing the company's environmental impact, and "ISHIN NEXT - the MOL Smart Ship Project" (Note 2) in 2016, expressing the MOL Group's aspirations: "Like a voyage through rough seas, we move steadily ahead, arriving at our destination despite being buffeted by angry waves" and "As the industry leader, we also aim to stay "one mile ahead" in technology."
MOL Group identifies "Innovation for development in marine technology" as one of its five sustainability issues (materiality) (Note 3), and also set the target of achieving net zero GHG emission by 2050 in the MOL Group Environmental Vision 2.1 (Note 4) announced in June 2021, presenting five initiatives to achieve the target. These initiatives, including a host of new technologies and innovations, are urgent missions MOL Group must accomplish to cope with worldwide environmental issues. While the entire logistics industry has been changing drastically through the ongoing Digital Transformation (DX), the company plans to use its new slogan as the banner for "leading the ocean shipping industry in developing technologies and innovations."
MOL Group will intensify efforts under this new technology slogan to set the pace in technological advances and innovations not only for "ships," but also, in a broader sense, for "the sea."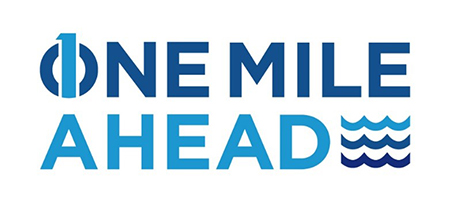 "One mile ahead" Promotional Video
(Note 1) MOL Senpaku ISHIN
(Note 2) ISHIN NEXT - MOL Smart Ship Project
(Note 3) Sustainability Issues (Materiality)
(Note 4) The MOL Group Environmental Vision 2.1 shows five initiatives "Adoption of clean alternative fuels," "Enhancement of energy-saving technologies," "Boost operating efficiency," "Expanding low-carbon and decarbonization projects through use of the MOL Group's concentrated strengths," and "Building business models to enable net zero GHG emissions," targeting "with the concerted effort throughout the Group, achieve net zero GHG emissions by 2050."