January 30, 2023
TOKYO-Mitsui O.S.K. Lines, Ltd. (MOL; President & CEO: Takeshi Hashimoto) today announces that on December 7, 2022 it conducted an online course for Shizuoka City Yui Junior High School. This event was aimed at encouraging students to think about their own careers and career paths through lectures by working professionals in the global field of ocean shipping. Two classes of eighth graders, totaling 43 students, took the online course.
This project grew out of MOL's commitment to environmental restoration and support for local communities and industries in Mauritius since 2020, and Shizuoka City's role as the host town for the Mauritian delegation to the Tokyo 2020 Olympic and Paralympic Games.
In the first half of the course, a lecture on the ocean shipping industry, and then two MOL employees (one ship's officer and one office clerk) took the stage to talk about their jobs and the rewards of their chosen careers, how they had spent their time as a student thinking about their career paths, and so on, delivering messages that will help students when they are making their own career choices. The second half of it was a quiz competition among classes on the ocean shipping industry.
The students offered feedback such as, "I was surprised to learn that some ships use not only oil, but also natural gas, wind power, and other various fuels," and "I learned that we are connected to the world through ships and that our daily lives are made up of complementary activities in different countries." They had many questions for the MOL employees, such as what subjects they had excelled in as students and what goals they had had in their studies.
MOL will continue its efforts to disseminate information about the ocean shipping industry and its importance to more and more young people.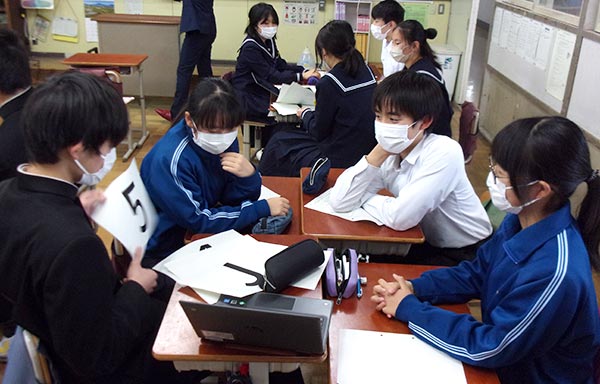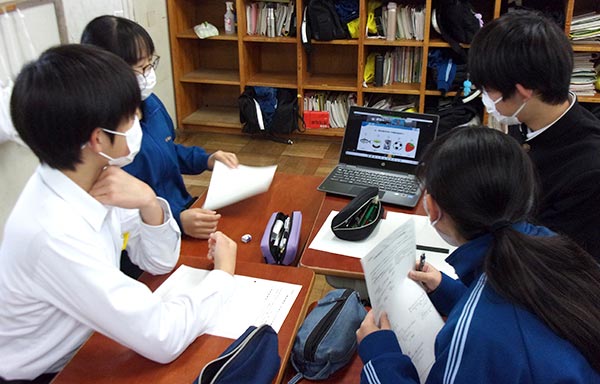 Team quiz competition
[MOL Group Five Sustainability Issues]
The MOL Group will contribute to realizing a sustainable society by promoting responses to sustainability issues, which are identified as social issues that must be addressed as priorities through its business.
In particular, MOL expects this initiative to contribute to the realization of "Human & Community-Contributing to the growth and development of people and communities."