November 16, 2023
TOKYO-Mitsui O.S.K. Lines, Ltd. (MOL; President & CEO: Takeshi Hashimoto) today announced that it participated in the 20th Ammonia Energy Conference 2023, hosted by the Ammonia Energy Association (Note 1) and held in Atlanta, Georgia, USA, from November 13-15.
MOL Managing Executive Officer Tomoaki Ichida participated in a panel discussion on the establishment of a clean ammonia supply chain, introduced the MOL Group Environmental Vision 2.2 and discussed the need for certification systems such as LCA (Note 2) and the importance of collaboration among stakeholders from the perspective of those introducing clean alternative fuels. He also participated and spoke at the 19th Ammonia Energy Conference 2022 last November. In addition, MOL (Europe Africa) Ltd. Director Koichi Kawanaka, served as the facilitator of a session on technical issues and regulations related to the use of ammonia as a clean alternative fuel.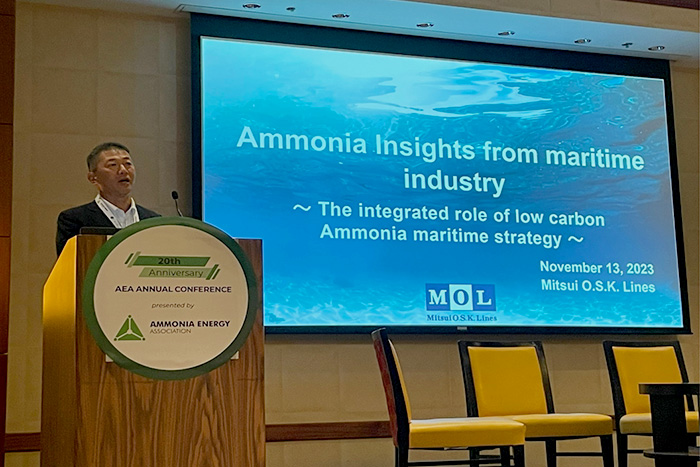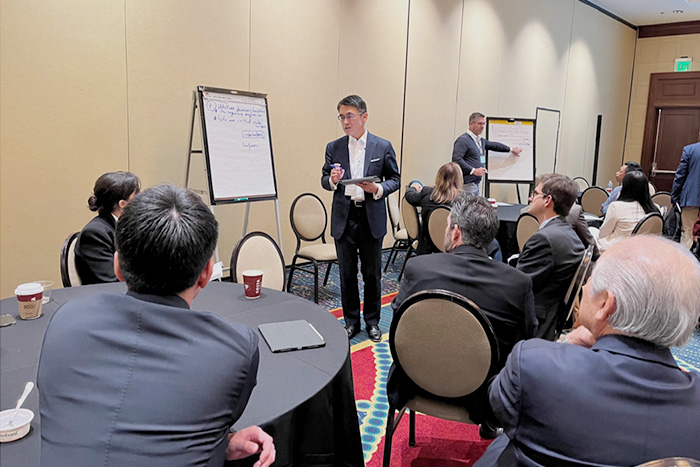 MOL has established the MOL Group Environmental Vision 2.2 and is pursuing environmentally friendly initiatives in line with five strategies, including the adoption of clean alternative fuels.
For the next generation on board this planet, from the blue oceans, the MOL Group sustains people's lives and ensures a prosperous future with contributions for the sustainable development of society and the preservation of nature.
(Note 1) Established in 2004, Ammonia Energy Association is one of the world's largest organizations engaged in promoting the use of ammonia as a clean energy source for a sustainable society. The business scope of member companies and organizations covers the entire ammonia energy value chain, from ammonia production to safety regulations, distribution, trading, transport, storage, and utilization. As of September 30, 2023, the association's membership includes more than 227 companies and organizations, and MOL has been a member since October 2021.
Official website: https://www.ammoniaenergy.org/members/
(Note 2) LCA stands for life cycle assessment, a method for evaluating the environmental impact of a product or service over its entire life cycle.
---
MOL Group 5 Sustainability Issues
MOL Group identifies "Sustainability Issues" (Materiality) as our key issues for sustainable growth with society through realization of the Group Vision.
We anticipate this initiative to contribute especially to the realization of "Environment -Conservation for Marine and global environment-".