The Vision of Diversity Management in Our Company
The MOL Group views diversity as encompassing not only such superficial attributes as gender, nationality, and age but also each individual's inner characteristics, including experience, natural aptitudes, skills, and values.
In April 2021, MOL group established a new basic policy, which was later revised in Aug 2023 as the "Diversity, Equity and Inclusion Basic Policy". This basic policy clarifies our group's policy on "diversity, equity & inclusion," one of the basic principles of the Human Capital Vision, which is the basic principles of the group's human resources policy in the future. This "Diversity, Equity and Inclusion Basic Policy" is central to our human resources strategy, and we move forward a framework that can combine the diverse individual abilities of every group employee all over the world to create new values.
The MOL Group will create new value by combining the diverse individuality and capabilities of our groupwide Human Capital, all over the world, and ensure sustainable enhancement of corporate value. We positiondiversity, equity and inclusion as driving force of new growth, and will implement the following initiatives:
Provide opportunities for diverse range of human capital to get together and grow, and enable every one of them to bring out the best of their abilities.
Foster a corporate culture that enables them to express their diverse individuality, sense of value, and points of view, freely and openly.
Flexibly establish a human resource system and workplace environment that can leverage the diversity of the group.
Established in April 2021
Revised in August 2023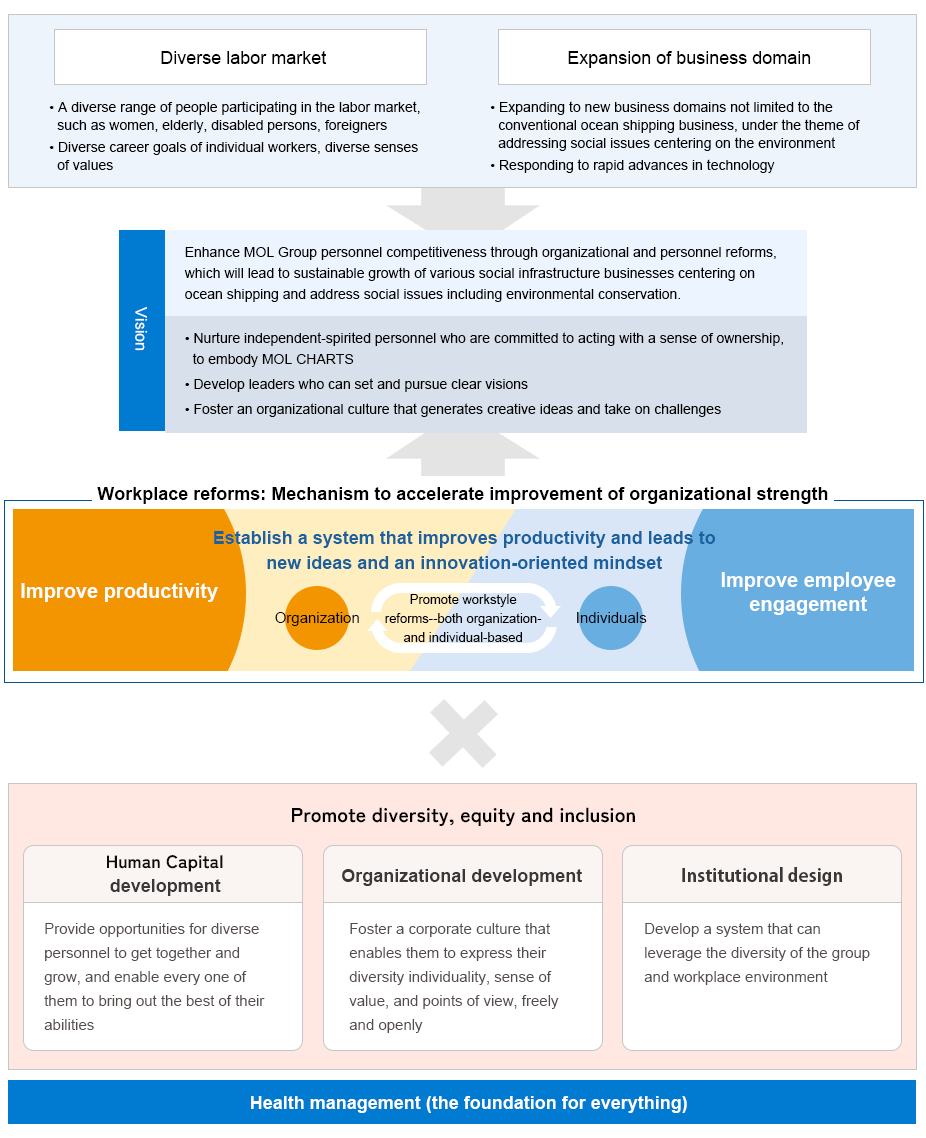 ---
Activities of Global Human Capital
The MOL group, which develops businesses globally, has employees of various nationalities. We have worked to develop an environment that will increase our group-wide comprehensive strength and allow multi-national, diversified personnel including women to play more active roles.

Ratio of Employees by Region (Consolidated)

Ratio of Seafarers on Company-Operated Vessels
by Region (Consolidated)
At the Head Office cafeteria, in consideration of employees of different ethnicities, cultures, and religions, the menu features icons designating the content of fish and meat products used (including seasoning extracts), and a vegetarian menu is available. We will continue to deepen our efforts to provide a place where a diverse range of employees can interact with each other and to create a workplace where everyone can work comfortably.
---
Promoting more active roles for women in the workplace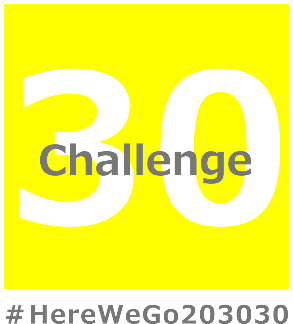 More active roles for female employees are indispensable to promote diversity and inclusion. The group takes a proactive stance in various initiatives such as enhancing systems needed during different life stages such as childcare support, extensive support for career development, training programs for build awareness at managerial levels, and dialogues to support the MOL Group's women in networking and career development. This phase of our efforts was highly regarded and earned use the honor of selection as a "Nadeshiko Brand," companies recognized for encouraging women's success in the workplace. (Selected for 3 consecutive years in fiscal 2023) In addition, in March 2021, we renewed the action plan based on the Act on Promotion of Women's Participation and Advancement in the Workplace. We proactively press forward with various initiatives such as selection of diverse careers by double-tracking career path-setting, allocating personnel according to individual capabilities by strengthening talent management and providing growth opportunities.
In September 2022, we endorsed the aims of the Women's Empowerment Principles (WEPs) (*Note 1), and the president signed the statement to act in accordance with those principles. In the same month, the president participated in the "Male Leaders Coalition for Empowerment of Women" (*Note 2), an initiative of the Japanese government's Cabinet Office, and as we position diversity and inclusion as new growth drivers, we will accelerate our initiatives to further promote gender equality and women's advancement.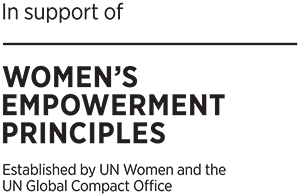 (*Note 1) Women's Empowerment Principles (WEPs)
The UN Global Compact (GC) and the United Nations Development Fund for Women (UNIFEM, now UN Women) jointly developed a set of seven principles for promoting women's advancement. Companies that agree with these principles are expected to utilize them to promote women's activities. More than 7,000 companies worldwide have endorsed the program.
https://www.weps.org/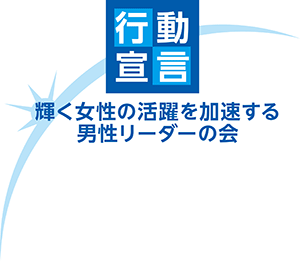 (*Note 2) the "Male Leaders Coalition for Empowerment of Women"
The association is a gathering of business executives and others to promote initiatives in line with the "Declaration of Action" to promote gender equality and women's advancement, which was formulated at the direction of the Cabinet Office, and to accelerate corporate efforts by building a network among participants and sharing initiatives and issues. Currently, approximately 280 business executives and other participants, as well as prefectural governors and mayors of municipalities, are involved with the association.
https://www.gender.go.jp/policy/sokushin/male_leaders/index.html
Objectives
The MOL Group is looking at ways to foster more active roles for female employees from the viewpoint of recruiting talented human capital, growing our businesses, and ensuring diverse perspectives in risk management.
We confirm and discuss our progress in expanding opportunities for women in the workplace at the annual meeting of the Human Capital Development Committee, which includes members of the Executive Committee take part.
Action plan
The MOL Group promotes more active roles for women in the workplace in compliance with an action plan based on the Act on Promotion of Women's Participation and Advancement in the Workplace, which was established at the end of March 2021.
Original (in Japanese only)
https://www.mol.co.jp/sustainability/human/diversity/img/woman-action-plan.pdf[336KB]
English version. / Unofficial translation
MOL Establishes Action Plan Based on 'Act on Promotion of Women's Participation and Advancement in the Workplace'[226KB]
Percentage of Women in Managerial Positions
MOL sets a goal of percentage of women in managerial positions as follows with an action plan based on the Act on Promotion of Women's Participation and Advancement in the Workplace.
Increase the percentage of women employees in managerial positions both on land and at sea to 7% or higher.
Increase the percentage of land-based women employees in managerial positions to 10% or higher.
Increase the percentage of land-based women employees (equivalent to team leaders) in leadership positions to 20% or higher.
* The HC Vision/Action1.0, which was formulated in April 2023, sets a new goal of achieving the goal by the end of fiscal 2025: Percentage of female employees in managerial positions (Office workers, non-consolidated) will be 15%
https://www.mol.co.jp/en/sustainability/management/issues/
Action Plan based Based on 'Act on Advancement of Measures to Support Raising Next-Generation Children'
MOL helps all employees achieve work-life harmony, demonstrate their maximum enthusiasm and vitality to perform at their full potential, and gain fulfillment from their work in compliance with an action plan based on 'Act on Advancement of Measures to Support Raising Next-Generation Children', which was established in the end of March 2023.
Original (in Japanese only)
https://www.mol.co.jp/sustainability/human/diversity/img/next-generation-action-plan.pdf[213KB]
English version. / Unofficial translation
MOL Establishes Action Plan Based on 'Act on Advancement of Measures to Support Raising Next-Generation Children'[202KB]
Personnel System Allowing for Diverse Workstyles
In July 2018, MOL introduced a new personnel system, based on changes in the areas of businesses-and the different characteristics of those business fields-as well as changes in workers' sense of value in society. We are moving ahead to create multi-faceted career paths based on individual employees' career orientatation, values, and life stage. Specifically, we nurture and retain top professionals, and establish job categories that limit work locations. We can also provide our employees with more flexible, diverse workstyles through an occupational change system.
In addition, we developed a system to support autonomous career development to maximize employee performance. This allows each and every employee to realize their own value and potential, perform to the best of their ability and expertise, and approach their work with an ideal balance of good work environments and rewarding jobs.
Various Supporting Systems
The MOL Group has developed support measures to keep up with life events, to help all employees to maximize their skills even as their life stages change due to marriage, childbirth, childcare, and so on.
[ Details of the systems ]
★ Programs/systems that exceed legal requirements
☆ MOL's original programs/systems
* It is unpaid during childcare leave, but the childcare leave benefits is paid by the employment insurance.
[ Various systems to support work and childcare balance ]
Other systems related to women's health issues
Gynecology checkup (breast cancer, uterine cancer, bone density test): Employees can have a medical exam at no cost.
Menstrual leave: Employees are eligible for leave in case of difficulty working during their menstrual periods.
Training program related to women's health issues: MOL seeks to improve health literacy by providing lectures related to women's health by a public health nurse from the medical office and holding health seminars featuring outside lecturers.
System Usage Stats
Other initiatives
To promote more active roles for female employees, MOL not only enhances systems centering on support for childcare, but also provides expands support for their career path and provides seminars to improve motivation.
MOL Group D&I Hot Dialogue
MOL has held the "MOL Group Women's HOT dialogue" for the group's female employees since 2017. Through lectures, panel discussions and dialogues, participants, both men and women, have the opportunity to think about and become aware of what is needed to shape their careers to suit their life stage. In fiscal 2022, in the conjunction with International Women's Day, we held the W Dialogue with Mazda Motor Corporation, in which approximately 430 people from both companies and Group companies participated. It was an invaluable opportunity for each company to share role models across companies and industries as they strive to become an organization where diverse human resources can flourish for the next generation. After the event, a dialogue session was held with participants from the MOL Group companies to share their views on diversity.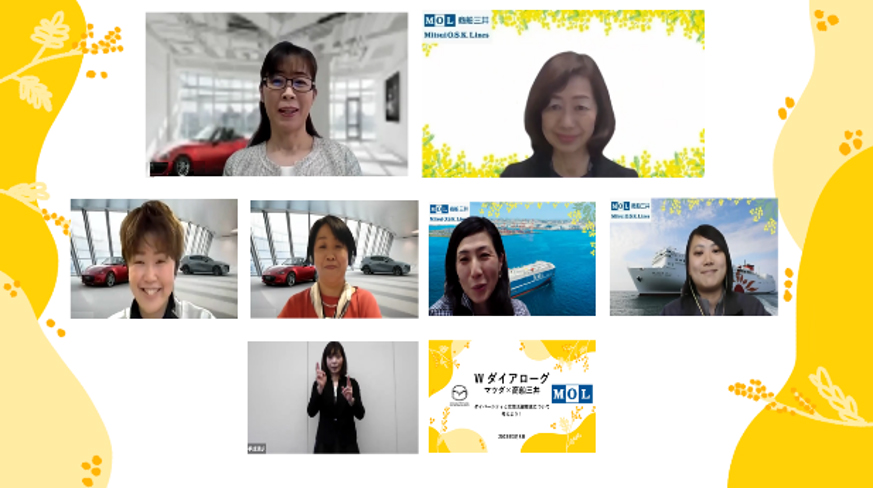 Diversity Promotion Lecture/Training Program
MOL provides the following training programs according to career path/level
"Relationships among diverse personnel, their active roles, and results of business performance/Training program to encourage understanding of the importance of a workplace where diverse personnel can play active roles"
"Training program about understanding diverse attributes of employees, how to ensure smooth communication"
"Training program to promote understanding of inhouse systems related to childcare/nursing"
"Unconscious bias training program"
"Promoting understanding of human rights and LGBT"
Assigning female employees to an outside training program to support more active roles for women
In addition, we conduct diversity promotion courses, lectures, and training programs, management poisition-specific training, and so on, regardless of gender.
---
Recruitment of athletes
To promote the development of an environment where diverse employees play active roles, MOL recruited an athlete for the first time in 2016, Kae Kurahashi, a wheelchair rugby player. She balances work and athletic activities.
As One MOL, MOL Group executives and employees support Kurahashi, who participates in games in Japan and overseas, and played a tremendous role in the wheelchair rugby World Championship in August 2018.
Wheelchair rugby is a sport that can maximize the team's strength with all the players demonstrating their ability to perform, depending on the degree of disability, and playing their own roles. It is an ideal sport to embody diversity. MOL aims to convey the attractiveness of wheelchair rugby, encourage a greater appreciation of diversity and energize the company going forward.
MOL is an official supporter of the wheelchair rugby team AXE. It serves as an official partner of the Japan Wheelchair Rugby Federation, and supports wheelchair rugby through co-sponsorship of the World Wheelchair Rugby Challenge 2019.
MOL continues to promote the growth of wheelchair rugby and works to develop an environment that celebrates the diversity of employees inside and outside the company.
About Wheelchair Rugby
Wheelchair rugby is a game combining elements of rugby, basketball, volleyball, ice hockey, to name a few, and played in the same space as a basketball court. It is a team sport for athletes who have disabilities requiring them to use wheelchairs. This is the only sport in the Paralympic Games that permits contact between wheelchairs. Players are allotted from 0.5 to 3.5 points depending on their level of disability. Under this system, the total points of four players on the court must be within 8.0 points. The wheelchairs used in the game are reinforced to make them durable enough to withstand extreme contact, and modified for players in different positions.
---
Employment of disabled workers
Realizing that disabled workers can have meaningful lives as members of the local community
MOL leased part of the "Work Happiness Farm: Saitama Koshigaya Farm" (*) in Koshigaya-shi, Saitama Prefecture, and started operation of its own "MOL RAISE" program in April 2021. Harvested vegetables are used in lunch menus at the employee canteen in the Head Office, helping to maintain and enhance the health of employees.
MOL believes that indoor vegetable farming is one of the workplaces where every disabled employee can move toward achieving their full potential. We hope we can help them take a step into participation in society and enjoy rewarding lives as members of the local community through their work at "MOL RAISE."
(*) A rental farm for companies, established in Koshigaya-shi, Saitama Prefecture, by S. Pool, Inc. (Headquarters: Tokyo), which supports the employment of disabled persons.
The second plantation was also leased in December 2022.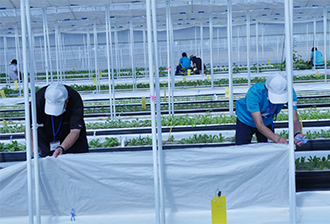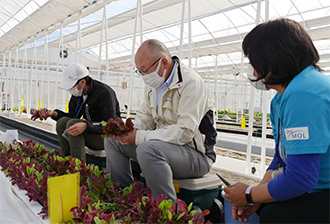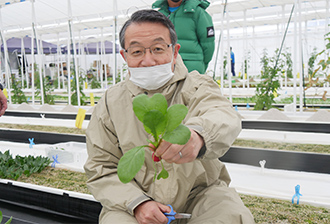 ---
Development of the employee workplace environment
MOL has moved forward to create a workplace environment and corporate culture in which all employees, all over the world, can maximize their enthusiasm and dynamism and contribute their own diverse personalities and abilities.
Implementing projects to improve the onboard lifestyle
Implementing free address offices through workplace reforms
Institutionalization of telework on working remotely
Recommendations on going home early [Smart WORK project]
Since fiscal 2022, we have renovated offices across the company under the concept of "always connected office". We expect to increase productivity by selecting desks and areas according to the nature of our work, and to promote communication with various people and generate new ideas.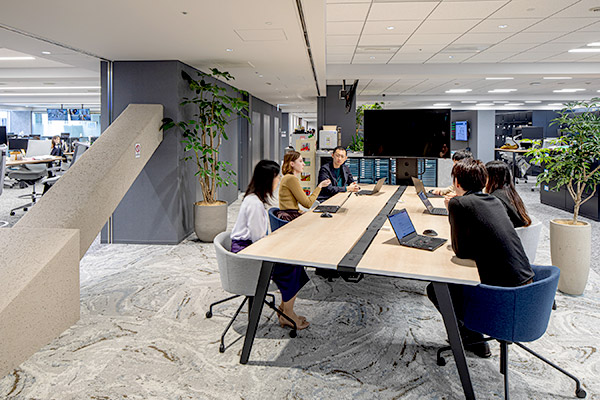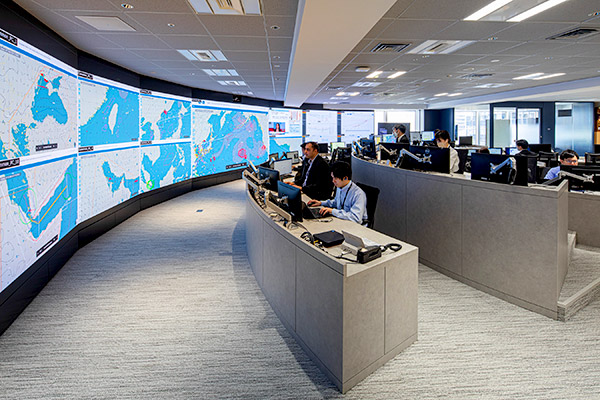 MOL Implements Dramatic Workplace Reforms at Head Office; Internal Staircase Connects 3 Floors, Linking Safety Center and Business Divisions While Streamlining Communication - Strengthen Safe Operation Support and Promote Reform in Workstyle -
In consideration of changes in life stages and lifestyles of employees and crewmembers, and for them to work energetically, MOL enhances career support, realizes flexible workstyles, and promotes approaches to work that are effective and emphasize the proper perspective while striking an overall balance. To work in excellent health, both mentally and physically, we strive toward the development of a workplace environment that helps employees manage their health and work in comfort, as well as comply with laws, regulations, and treaties, and seek to accelerate communication.