Safe Operation Support System
24/7/365 Support from the Safety Operation Supporting Center (SOSC)
MOL's Commitment to Safe Operation
Four serious marine incidents occurred in 2006. After those incidents, MOL thoroughly investigated the causes, and in 2007, we established the SOSC, with the motto "Never let the captain get isolated." MOL Group executives and employees, working together, took the lessons learned from those incidents to heart, and developed measures that will help us "forge ahead to become the world leader in safe operation."
Various Risks Surrounding Vessels
MOL Group vessels navigate oceans all over the world. Not only in bad weather situations such as winter storms, hurricanes and typhoons, and frozen river ports, but also in places like the Middle East, where political situations can be volatile, we must always be ready to take appropriate measures. We also go where there is a risk of piracy. In other words, we must appropriately address myriad situations on a daily basis.
In recent years, the power of tropical depressions has increased, bringing stronger winds and fiercer accompanying rains, so the linkage between vessels and shore is more important than ever. In addition, ship-to-shore cooperation becomes more crucial as deteriorating international conditions require greater preparation against possible pirate or terrorist attacks.
Our SOSC grasps these risks in real time, confirming that communication among vessels, ship management companies, marine technical teams, and personnel responsible for vessel operation is clear and constant. The SOSC's motto is "Never let the captain get isolated," and its initiatives are built on that premise. There are always two people on watch at the SOSC, one of whom must have experience as a captain of a vessel. Information on weather, reports from overseas media, and other things that might have something to bear on vessels underway is gathered. Thus, the SOSC is always ready to offer timely information and advice, making a commitment to preventing serious accidents before they happen.
Sea ice/Icebergs

(Around Newfoundland/Okhotsk Sea)

Close
Frozen river port

(Great Lakes, Baltic Sea, Yamal, Nakhodka)
Close
Earthquake/Tsunami

(all sea areas)
Alert vessels for evacuation as needed based on tsunami forecasts following earthquakes.

Close
winter storms

(High latitude sea areas such as North Pacific Ocean and North Atlantic Ocean)

Close
Experimental missile launches

(North Korea, India)
Close
Typhoons

(Northwest Pacific Ocean)
Find evacuation route based on typhoon course and vessel movement.
Close
Cyclones

(Indian Ocean/South Pacific Ocean)
Find evacuation route based on cyclone course and vessel movement.
Close
Piracy

(Strait of Malacca-Singapore, Gulf of Aden off Somalia/Indian Ocean, Gulf of Guinea off West Africa)
Give advice to vessels in areas where piracy occurs, not to close to piracy within 100 miles

Close
Stormy weather by seasonal winds

(Indian Ocean/South China Sea)
Close
Stormy weather

(All sea areas)
Close
Hurricanes

(Northeast Pacific Ocean/Atlantic Ocean)
Find an evacuation route based on the hurricane course and vessel movement.
Close
24hours
0:00
Broadcast information on typhoon information to vessels in harbors/ports and under way.
12:00
Broadcast information on typhoon information to vessels in harbors/ports and under way.

Gathering information
(Overseas media, or international information agencies(*2), Maritime security information companies on piracies, etc.)

(*2) International information agencies: IMB Piracy Reporting Centre, UKMTO (UK Marine Trade Operations), NATO (North Atlantic Treaty Organization)

Video conference with Weathernews. Confirming the conditions surrounding vessels that might need warnings.
1:00
13:00
2:00
14:00
3:00
15:00
Broadcast information on rough weather areas around the world as well as coastal storm areas.
4:00
16:00
5:00
17:00
6:00
Broadcast information on typhoon information to vessels in harbors/ports and under way.
18:00
Broadcast information on typhoon information to vessels in harbors/ports and under way.
7:00
Inform internal divisions of the operating conditions of vessels steaming in the Indian Ocean or the Persian Gulf.
19:00
Watch coming on apprised of current situation.
8:00
Watch coming on apprised of current situation.
20:00
9:00
21:00
10:00
22:00
Video conference with the Weathernews.
Confirm observation of vessels than need warning.
11:00
23:00
Confirmation System between Vessels and Shore Helps Avoid Danger
(1) Pirate Attack!
(2) Developing tropical depression
(3) Earthquake alert Tsunami warning
---
Ship Inspections
Ship Inspection Activities Targeting All Operated Vessels
MOL conducts periodic ship inspections, based on our unique safety standards, targeting all MOL Group-operated vessels, regardless of whether they are owned or chartered.
These inspections verify that the vessels are properly maintained and can operate safely.
With chartered vessels, we communicate closely with the shipowners and assigned ship management companies, to make sure they have a full understanding of the safety standards we require. We also cooperate with them to pursue safety measures while building mutually trusting relationships.
Thorough Investigation by Highly Skilled Ship Inspectors
Two ship inspectors, who have a thorough knowledge of MOL's safety standards through onboard experience as captains or chief engineers, personally visit ships and conduct detailed investigations based on a checklist of about 500 items, such as the vessels' operational and maintenance status of the vessel, ship management status, and so on.
If they spot an unsafe or non-conforming condition, they make sure the vessel and its ship management company take appropriate corrective measures so the ship meets MOL's strict safety standards.
Their completed report, which covers the entire inspection and is illustrated with photographs, is circulated among relevant divisions including the responsible business division. Thus, the quality of the vessel is confirmed. In the case of chartered vessels, the shipowner receives any corrective guidance through the business division. This consistent, professional approach ensures the safety of both owned and chartered ships.
---
On-the-job Training (OJT) Instructor System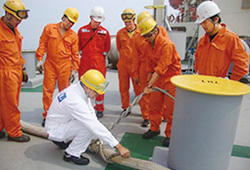 The system involves experienced captains and chief engineers who understand MOL safe operation standards traveling onboard ships to identify unsafe practices and latent risks only discoverable on the ships in service, and order immediate improvements. Information on near misses, best practices, and the like is also disseminated on each ship to help raise safety awareness and prevent human error.
---
Emergency Response System
MOL continues to strengthen its systems so that it can provide an effective response in the unlikely event of an emergency.
Accident Response Drills
MOL regularly conducts accident response drills on vessels while at sea. These drills simulate various situations such as an on-board fire or water immersion, or act of piracy or terrorism, so that seafarers can respond swiftly and appropriately in an emergency. The Head Office conducts serious marine incident emergency response drills once a year with the cooperation of the Regional Coast Guard Headquarters. The drills involve MOL's president, other corporate officers, representatives of relevant departments and ship management companies, and vessels. In October 2017, we conducted an emergency response drill based on the premise of a fire in the engine room of a car carrier while the ship was underway, leaving it adrift and then stranded. An emergency response drill in November 2018 used the scenario of an LNG carrier colliding with another ship near Akashi Kaikyo Bridge. Furthermore, MOL Group companies that operate ferries and cruise ships conduct regular emergency response drills, including evacuation guidance, as they put the highest priority on ensuring customer safety in an emergency.
---
Enhancing Countermeasures on Piracy and Terrorism
The best solution is to avoid navigating in dangerous waters whenever possible. In pirate-infested waters, we increase the number of watchkeepers for 24-hour visual monitoring and strengthen radar-based monitoring activities.
In the internationally recommended transit corridor (IRTC) in the Gulf of Aden, ships susceptible to pirate attacks travel in convoys escorted by the Japan Maritime Self-Defense Force or naval ships from other countries.
The pirates are extending the range of their activities, so via industry associations and other bodies, we are requesting that the Japanese government widen the escort area and institute legal measures that allow armed security guards to travel aboard Japanese-flagged vessels.
To ward off pirate attacks, the ship is equipped with razor wire and crew members wear bulletproof vests and helmets. Another feature to prevent hijacking is an onboard evacuation compartment called a "citadel," where the crew can take refuge if the pirates board the vessel. The citadel is built for strength, equipped with several days' supply of water and food, and wired for communication with the outside. It allows crew members to evacuate to safety until a naval ship or other help arrives.
---
'MOL Body FIT Exercise' Program Receives Best Practice Award from MLIT
MOL has actively encouraged adoption of the "MOL Body FIT Exercise" program as a daily routine, with the goal of reducing the incidence of onboard injuries. The program includes calisthenics based on stretching, which develops strength in the trunk and leg muscles, while improving the mariners' sense of balance and reducing the risk of falls. It was awarded the "The Best Practice Award of Seafarers Onboard Safety 2016" from Japan's Ministry of Land, Infrastructure, Transport and Tourism (MLIT).
---
Family Day for Crewmembers
In consideration of crewmembers who are separated from their families for long periods of time, and their families who must cope with their absence, MOL has worked to develop an onboard Internet environment, and taken various other measures including holding Family Day events. We placed consultation service desks for crewmembers and their families in our local offices, providing detailed services reflecting regional cultures and needs.
In the Philippines, our main source nation for crewmembers, annual Family Day events are held throughout the nation. Particularly in Manila, this is a major event - an entire theme park is reserved for the enjoyment of some 4,000 participants.
The purpose of this event is to build bonds between MOL and its crewmembers and their families. Through this activity, the dedicated seafarers can head out to sea with peace of mind, knowing that their families are supported and cared for. These bonds are made even more solid as they are key factors behind MOL's safe operations.