MOL's R&D Advisor Ouchi Receives Japan Society of Naval Architects and Ocean Engineers Award
June 24, 2022
TOKYO-Mitsui O.S.K. Lines, Ltd. (MOL; President: Takeshi Hashimoto) today announces that its R&D Advisor Kazuyuki Ouchi (Note 1) received this year's Japan Society of Naval Architects and Ocean Engineers (JASNAOE) Award for inventions, devices, etc. (Note 2) along with Professor Kiyoshi Uzawa of the Kanazawa Institute of Technology.
The award recognizes their invention of the vertical telescoping hard sail, which is unprecedented anywhere in the world, and the design of its basic mechanism for contributing to the advancement of naval architecture and ocean engineering technology. This vertical telescoping hard sail is the underlying technology of MOL's Wind Challenger Project (Note 3).
MOL will continue its efforts to reduce greenhouse gas (GHG) emissions and thereby realize a low- and de-carbonized society, through the development and advancement of environmental technologies including the Wind Challenger.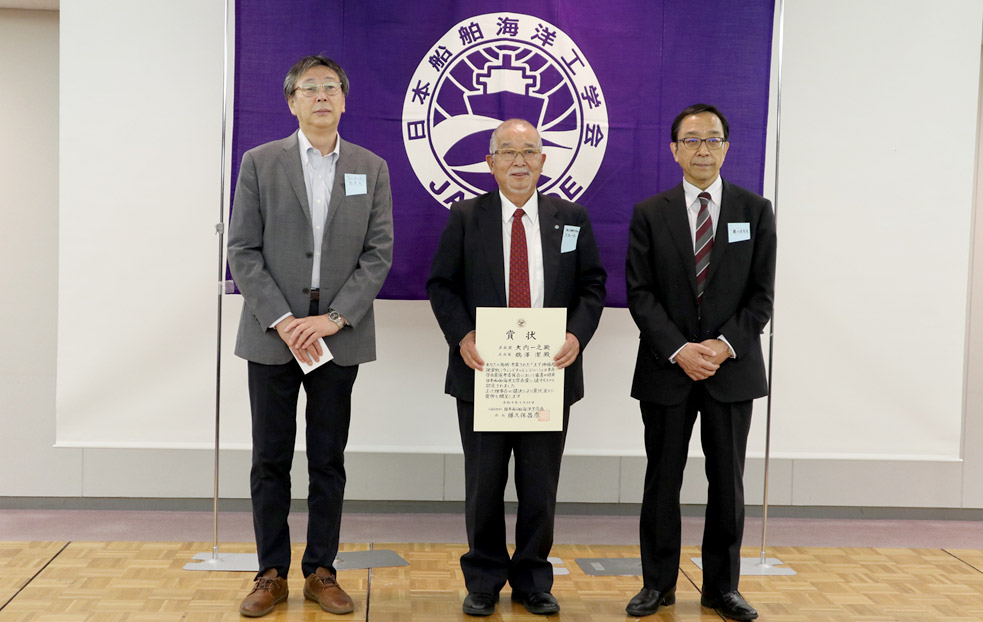 (Note 1)
Kazuyuki Ouchi is CEO of Ouchi Ocean Consultant, Inc.
(Note 2)
The award recognizes contributions to the development of naval architecture and ocean engineering and advancement of industrial technologies.
(Note 3)
The Wind Challenger Project started in 2009 as the "Wind Challenger Plan," an industry-academia joint research project led by The University of Tokyo, and in 2013, the project was chosen to receive the "Subsidy for Next-generation marine environment-related technology research" by Ministry of Land, Infrastructure, Transport and Tourism. In January 2018, MOL and Oshima Shipbuilding succeeded the project and now play a central role in it.
For details, please refer to the following website and press release.
- MOL Service Website: https://www.mol-service.com/service/windchallenger
- Press release:
- October 3, 2019: "Wind Challenger" Design Acquires Preliminary Approval - Realizing Japan's 1st Large Cargo Ship with 'Sail', Aiming at Reduction of GHGs -
- December 10, 2020: MOL, Tohoku Electric Power Sign Deal for Transport Using Coal Carrier Equipped with Hard Sail Wind Power Propulsion System (Wind Challenger)
- February 1, 2022: Hard Sail Completed for 'Wind Challenger Project' and Installation Underway on Large-scale Vessel -Using Wind as Vessel Propulsive Force-