November 30, 2022
TOKYO-Mitsui O.S.K. Lines, Ltd. (MOL; President & CEO: Takeshi Hashimoto) today announced that on November 17, it held an online ceremony to inaugurate "MOL Student Ambassadors.", who are in Elementary and Junio High School.
The nine elementary and junior high school students appointed as "MOL Student Ambassadors" (selected from among more than 100 applicants nationwide) will learn the importance of protecting the world's beautiful oceans and the promoting the appeal of the ocean shipping industry through their ambassadorial activities, and will be responsible for communicating this information to their peers in the same generation, who will create the future.
The ambassadors, who were presented with letters of appointment, spoke of their aspirations, such as one who said, "I was impressed to learn that more than 99% of Japan's trade is supported by ships. I would like to learn and spread the importance of the shipping industry, which supports our daily lives." Added another, "I am excited to be an ambassador. I would like to study a lot in the future and plan various projects that will convey the appeal of the shipping industry." Another ambassador commented, "When I told my friends at school, I was sad that they did not know about the shipping business at all. I would like to do my best to tell more and more friends about the shipping industry."
MOL Executive Vice President and Executive Officer Toshiaki Tanaka, who also serves as Chief Environment and Sustainability Officer, said, "I am very happy to see their interest in the sea and vessels, and I am very encouraged by their appointment as ambassadors," and expressed his pleasure and expectations to learn along with the students.
In the future, MOL plans to hold workshops at the Head Office, as well as tours of simulators and actual vessels. Through these events, the ambassadors will deepen their knowledge of the sea and the shipping industry, and will play active roles in online work experience events (Note 1) and other activities. MOL is committed to inspiring a new generation to work in the ocean shipping industry, which connects the world and supports logistics 24 hours a day, 365 days a year. The company also works to develop various technologies aimed at addressing environmental issues, promotes initiatives to realize a sustainable society, and continues its activities to ensure a prosperous future from the blue oceans.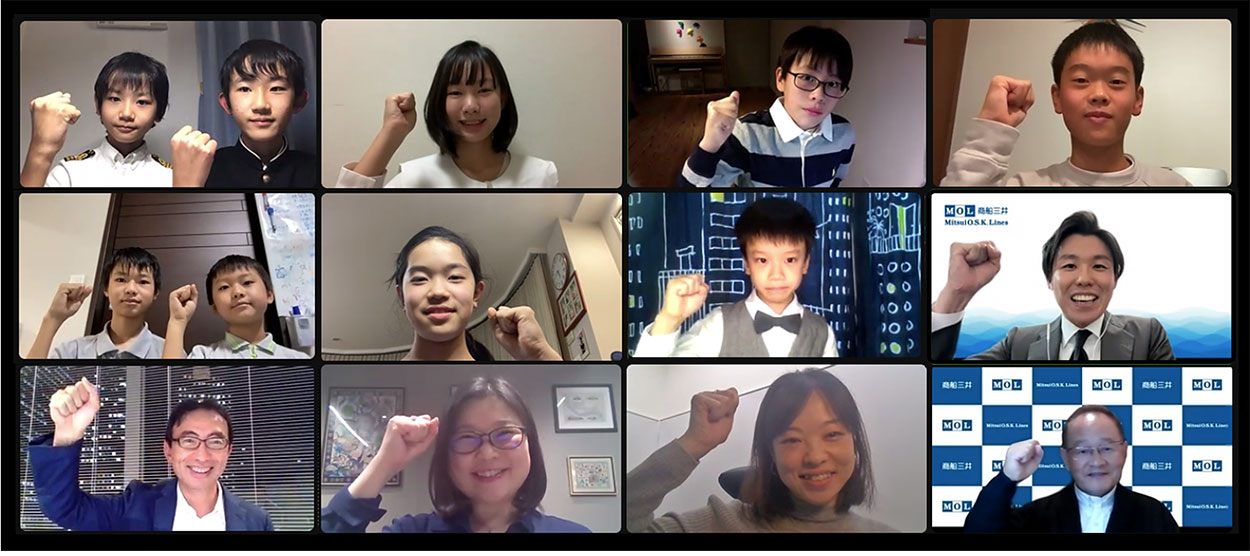 (Note 1) MOL has hosted online work experience events for elementary and junior high school students since 2021. It has held three events so far. It introduced the ocean shipping industry in general in the first event, ship types and the jobs of seafarers in the second event, and ship technologies that protect the environment, such as the Wind Challenger and next-generation clean-fueled vessels, in the third event. Please click here for details of the third online work experience event.