Car Carrier
Cougar Ace

Situation Update
August 16, 2006
TOKYO - Mitsui O.S.K. Lines, Ltd. (MOL, President: Akimitsu Ashida) reported that the MOL-operated car carrier Cougar Ace, disabled at sea south of the Aleutian Islands on Monday, July 24, has been towed to a calm area in the Bering Sea to ensure the safety of recovery operations. At present, it is being moored at Dutch Harbor in the Aleutian Islands.
The hull, which had been listing severely, was restored to a nearly upright position on August 15 (JST). This completely eliminated threat of submergence, and the vessel is now moored safely.
Safety measures will be executed to secure the cargo, hull, and engine of the Cougar Ace, and preparations will get under way for towing to a discharging port.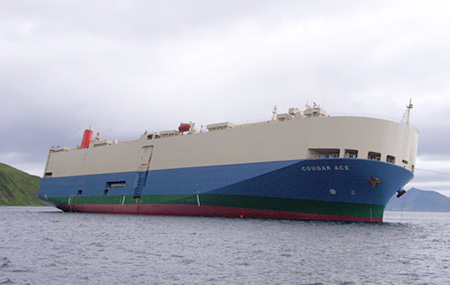 COUGAR ACE (August 15, 2006)