MOL Patents Wind Resistance-Reducing Car Carrier Design
- Earth-friendly, fuel-saving ships can now be adopted by other companies -
September 26, 2006
TOKYO - Mitsui O.S.K. Lines, Ltd. (MOL, President: Akimitsu Ashida) today announced that the design of the company's wind resistance reducing pure car carrier (PCC), has been patented in Japan and South Korea. This design was adopted on MOL-operated car carriers launched since March 2003.
Summary of Patent Registration (refer to attached figure)
The vessel's bow is aerodynamically rounded and bevelled along the bow line to help reduce pressure from headwinds.
The upper deck has cargo space (called the garage deck) to maximize load capacity. The vessel also has different levels, with square cut corner sections, all along the sides of the vessel at the top of the garage deck, which help reduce pressure from side winds.
The design effectively reduces leeway caused by wind pressure. As a result, the design improves both fuel efficiency, which in turn reduces emissions of CO2, NOx, and SOx in vessel engine exhaust, and speed.
More than a year of voyages by PCCs of the new design proved, as expected, that the design reduces leeway, improves speed, and results in an annual fuel efficiency improvement exceeding 5% over similar PCCs of conventional design.
Background and Future Approaches
The design was developed through joint research with Universal Shipbuilding Corp. MOL has launched 17 car carriers with this design, starting with the Courageous Ace in March 2003. Our company already registered the design in 2004. We considered its high intellectual property and reached at a conclusion of the patent registration.
Our company will license this technology to other companies to help reduce the environmental impact of the shipping industry, and to encourage broader use.
[Reference]
No.3841712 (Japan)
No.10-0609820 (South Korea)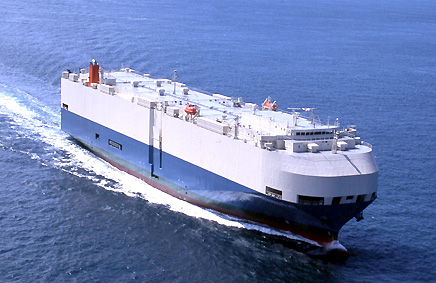 M.V. Courageous Ace (named Ship of the Year 2003)