March 22, 2007
MOL Group Introduces
New Midterm Management Plan MOL ADVANCE
TOKYO - Mitsui O.S.K. Lines, Ltd. (MOL, President: Akimitsu Ashida) today announced that the Group has formulated new midterm management plan called MOL ADVANCE for the three-year period from April 2007 to March 2010.

In MOL ADVANCE, MOL set forth "growth with enhanced quality" as the main theme and formulated five overall strategies including measures to reinforce safe operation. The MOL Group also set financial targets for FY2012 ending in March 2013 as well as profit goals for each of the three years from April 2007 to March 2010.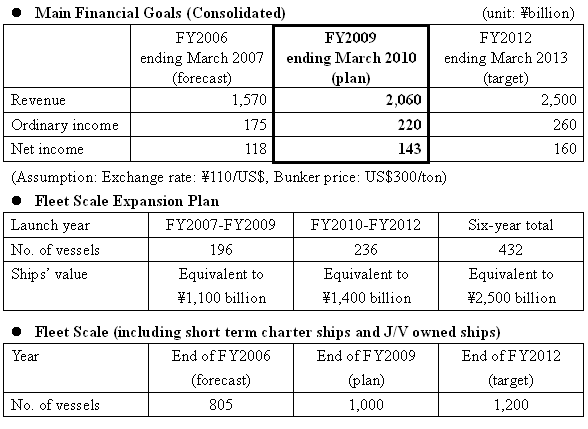 This plan and target are including forward-looking statements as of today. The forward-looking statements are subject to a number of risks and uncertainties that include, but not limited to, world economic conditions, currency exchange rates. MOL therefore cautions readers that actual results may differ materially from these predictions.
Attachment: MOL Group FY2007-2009 Midterm Management Plan Overall View
[289KB]
For detailed information, please visit our Web site: http://www.mol.co.jp/ir-e/