TOKYO-Mitsui O.S.K. Lines, Ltd. (MOL, President: Koichi Muto) today announced the publication of the English version of its Environmental and Social Report 2011.
The report introduces MOL's approach to corporate social responsibility (CSR), its philosophy on the environment and its latest initiatives for stakeholders.
More than a year has passed since launch of the midterm management plan, "GEAR UP! MOL", based on the main theme "Challenge to Create New Growth." Newly setting the CSR policy "Pursuing CSR activities that benefit both the company and society" under the "GEAR UP! MOL", the company expresses its commitment to becoming a sustainably growing company through various CSR initiatives closely linked to business strategies.
This year's report features the company's main initiatives centering on three overall strategies of "GEAR UP! MOL." The section titled "Acceleration of Business Development in Growing Markets" explains how MOL has responded to the economic and social needs of emerging markets from the aspects of business activities and CSR.
In the section on "Enhancing Safe Operation," the report explains measures MOL has taken to upgrade safe operation, which is a fundamental social commitment, to the level that makes it the "company of choice" and enhance the visibility of its safety initiatives.
The "Environmental Strategy" section discusses how MOL has promoted the next-generation vessel concept Senpaku ISHIN based on its road map to reduce the environmental impact of its operations.
And in response to readers' requests, the report provides an in-depth examination of MOL's business, a look at the duties and onboard life of seafarers, and a question-and-answer section. It also introduces MOL's response to the Great East Japan Earthquake.
The MOL Group Corporate Principles state: "As a multi-modal transport group, we will actively seize opportunities that contribute to global economic growth and development by meeting and responding to our customers' needs and to this new era," and "promoting an open and visible management style that is guided by the highest ethical and social standards." The principles also pledge to "promote and protect our environment by maintaining strict, safe operation and navigation standards."
Through those efforts, the MOL Group will strive to grow continuously and synergistically with society.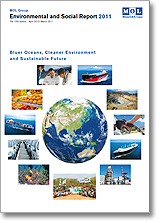 Cover
Outline of MOL Environmental and Social Report 2011
A4 size, 47 pages, English version
*The report is also available online at:
http://www.mol.co.jp/csr-e/report/download/index.html