Philippine House of Representatives Commends MOL for Support of Typhoon Relief Efforts in Mindanao
February 14, 2012
TOKYO-Mitsui O.S.K. Lines, Ltd. (MOL; President: Koichi Muto) yesterday received a commendation from the Philippine House of Representatives for its support of relief efforts in the wake of the deadly typhoon on Mindanao in December.
MOL Chairman Akimitsu Ashida attended the commendation ceremony held in the House and received the commendation from Speaker of the House Feliciano "Sonny" Belmonte. "I would like to show our deep gratitude for your support of the Philippine typhoon relief efforts," Belmonte said. "We ask you for further support toward strengthening the cooperative relationship between Japan and the Philippines."
MOL and the Philippines have a deep relationship, and the company has recruited and educated many of its seafarers at the training center it established there. MOL takes a proactive stance in continual social contribution activities in the Philippines and other countries.
Following Typhoon Sendong (known internationally as Typhoon Washi and in Japan as Typhoon No. 21), MOL took several steps to support relief efforts. In addition to contributing US$30,000 in cash, the company dispatched the training ship Spirit of MOL to transport aid supplies provided by MOL and the Philippine government from Manila to the disaster area. Captain Ponnappa and cadets distributed the supplies directly to those affected by the storm and helped with cleanup efforts at a school damaged by the typhoon.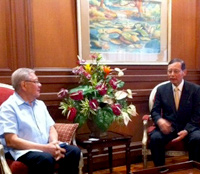 MOL Chairman Ashida talking with House Speaker Belmonte