MOL Earns Competence Management System(CMS) Certification from DNV for LNG Carrier Operations
- DNV Recognizes Effectiveness of MOL's Independent Seafarer Education and Training Management Program -
November 13, 2012
TOKYO-Mitsui O.S.K. Lines, Ltd. (MOL; President: Koichi Muto) today announced that the company has acquired Competence Management System (CMS) (*1) certification in the LNG Carrier category from Oslo-based Det Norske Veritas (DNV) (*2) for its independently developed "MOL RankSTEP (*2),adopted in 2007, which also complies with Society of International Gas Tanker & Terminal Operators Ltd. (SIGTTO) (*3).
On April 13, MOL received the CMS certification from DNV in the Tanker category (crude oil tankers, LPG carriers, product tankers, chemical tankers) for its similar seafarer education and training program.
In addition to its past programs, the introduction of CMS will help MOL identify problems after determining gaps between skill required of seafarers in previous programs and those currently needed, ensuring ongoing improvement of the program.
As the company continues to expand its LNG fleet, MOL strives to develop skill of seafarers who will help it become the world leader in safe operation by continually reviewing and updating its seafarer education program.
(*1)CMS (Competence Management System)
The management system determines gaps between "the skills seafarers currently possess" and "the qualifications needed to fulfill the corporate philosophy," and continually improves the education program.
(*2)MOL RankSTEP (MOL Rank Skill Training & Evaluation Program)
MOL seafarer skill requirements by position, which unifies skills to be acquired, acquisition methods, and evaluation methods for different types of jobs.
(*3)SIGTTO (Society of International Gas Tanker & Terminal Operators Ltd.)
SIGTTO engages in dialogue to promote the safety of the entire business from LNG and LPG production and transport to consumption, and sets forth international SIGTTO Standards for LNG seafarer training, etc.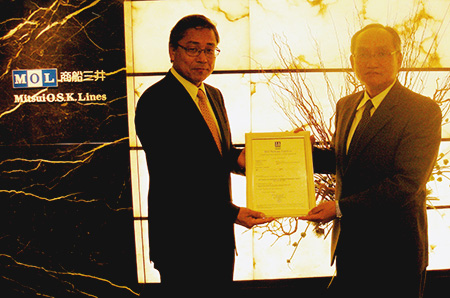 Det Norske Veritas Principal Surveyor Taku Shimizu (left)
and MOL Senior Managing Executive Officer Soichi Hiratsuka