NOx-reducing SCR System Efficacy Confirmed in Shipboard Tests
March 13, 2014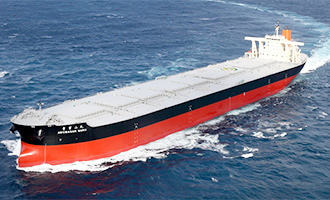 TOKYO-Mitsui O.S.K. Lines, Ltd. (MOL; President: Koichi Muto) today announced that the company installed Selective Catalytic Reduction (SCR) systems on the power generators aboard the MOL-owned and operated Capesize vessel Awobasan Maru (hereinafter "the vessel") and confirmed that after catalytic reduction the NOx in exhaust emissions meet Tier III regulations (*) set by the International Maritime Organization (IMO).
With the cooperation of Yanmar Co., Ltd. (President: Takehito Yamaoka; Headquarters: Osaka City, Osaka), we installed SCR systems on the vessel to be operational from its delivery in December 2013. Since then, the systems have been operated for more than 1,000 hours of testing each.
Fuel for the power generators being tested was selected to match the type that would be available in Emission Control Areas (ECAs) (*) and would meet future reduce sulfur regulations as well. The systems were evaluated during normal generator operation under normal steaming conditions and under estimated future stricter regulations. Their efficacy was duly confirmed.
These operational evaluations will continue for two years, and we plan to conduct tests with C heavy fuel oil (HFO) as well.
This initiative reflects MOL's effort to prevent air pollution as one of the environmental strategies in its single-year management plan RISE 2013. The company takes a proactive stance in introducing various technologies that will reduce the environmental burden of its business activities.
Further, this R&D program received research assistance from the ClassNK's "Joint R&D with Industries and Academic Partners" program.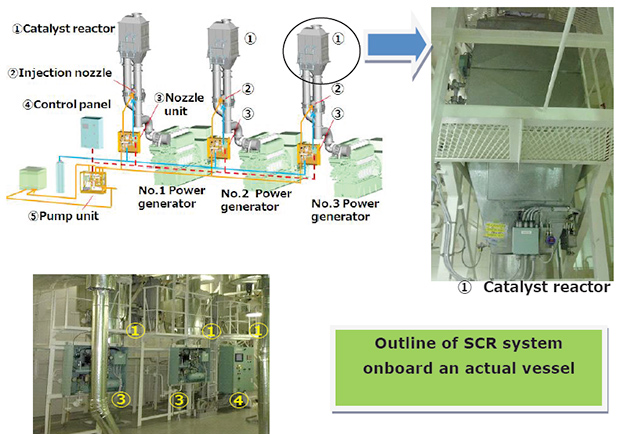 Outline of onboard SCR system and details of test operation
Install catalytic reactors with bypass systems onboard an actual vessel. This will save space in the engine room and simplify the naval architects in the engine room.
Reduce space required for peripheral equipment by integrating control of three NOx-reducing SCR devices.
Test operation onboard an actual vessel is scheduled for two years, confirming the following points related to operability, as well as procedures for refilling the aqueous urea solution.

Monitor performance of three NOx-reducing devices under normal use on power generators.
Maintain performance of devices even when using fuel such as C heavy fuel oil, which is high in impurities.
[Outline of Awobasan Maru]
| | |
| --- | --- |
| Length | : 319m |
| Breath | : 54m |
| Deadweight tonnage | : About 225,000MT |
| Shipyard | : Namura Shipbuilding Co., Ltd. |
*International Maritime Organization (IMO) Tier III regulations
The International Convention for the Prevention of Pollution from ships, MARPOL Annex VI regulates NOx emissions from vessels. If all goes smoothly, the diesel engines used on vessels built after 2016 will be required to reduce NOx emissions by more than 80% from the Tier I NOx emission standards in the Emission Control Areas, including North America.