Hazard Map to Supplement 'Capt.'s DOSCA' Optimum Ship Routing System
- MOL Starts Initiative to Develop Enhanced Operational Support Tool, Aiming at a New Level of Safety -
May 24, 2017
TOKYO-Mitsui O.S.K. Lines, Ltd. (MOL; President & CEO: Junichiro Ikeda) today announced that the company will add a hazard map to the Captain's Dynamic Operation System for Counter planning and Analysis (Capt.'s DOSCA)(Note), which is provided by Weathernews Inc. (President: Chihito Kusabiraki; headquarters: Chiba-shi, Chiba Prefecture), and used onboard MOL ships when they are underway.
MOL already uses the system on many of its operated vessels. It will add its own selected hazard information and use it as "Capt.'s DOSCA with Hazard Map." The content of the hazard map includes past incidents involving operated vessel incidents with the objective to uphold lessons it has learned, incident information of other shipping companies' vessels with the objective of highlighting lessons learned and preventing similar occurrences, displays of hazardous sea areas and regions subject to special regulations, and actual measured weather information shared by MOL Group vessels in operation.
The enhanced system makes it easier for crewmembers to recognize potential hazards near the routes they are going, such spots where vessel groundings have occurred in the past, areas subject to special regulations, and so on. Mariners who have this kind of information in advance can recognize problems before they occur and operate their vessels with greater safety and efficiency.
The system also reduces the workload on crewmembers, freeing them from the need to collect too much pre-voyage information. It provides a wide range of information that is not displayed in the burden to collect information before voyage, will be reduced by displaying a wide variety of Electronic Chart Display and Information System (ECDIS), thus reducing the risk of crewmembers overlooking critical information regarding sea conditions, regulations, and other factors that affect safe operation.
In the future, MOL plans to enhance the system's functions, for example, by introducing voyage information that can be shared among operated vessels in real time via the internet, and adding information that meets the specific needs of individual vessels.
MOL continually engages in support for safe operation of vessels from various aspects to provide world's best standards of safe operation to customers.
| | |
| --- | --- |
| (Note) | An optimal operational support system developed by Weathernews Inc., featuring software that helps vessels develop the ideal navigation plan based on global weather, sea conditions, and vessel performance. |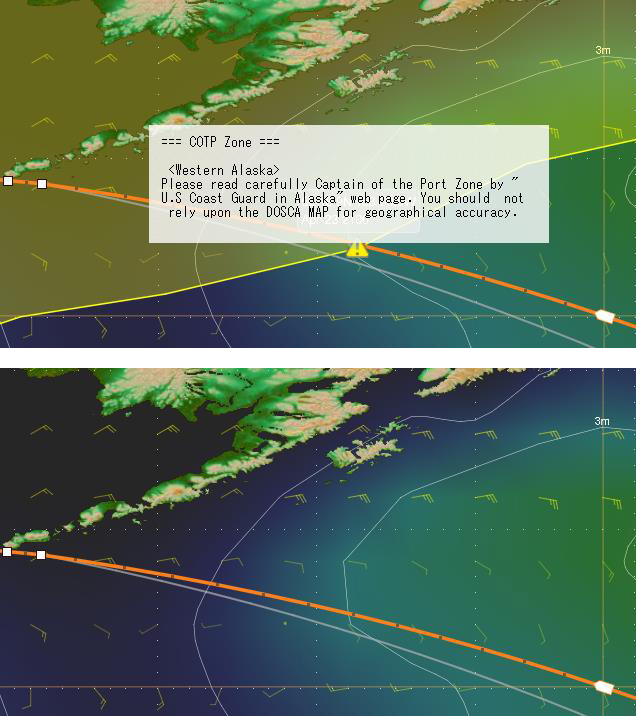 New "Capt.'s DOSCA with Hazard Map" (upper) and "Capt.'s DOSCA" (lower)