Yamal LNG Project Ice-Breaking LNG Carrier "Vladimir Rusanov" Completes First Eastern Transit via the Northern Sea Route, heading to East Asia
July 06, 2018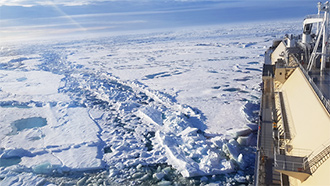 TOKYO-Mitsui O.S.K. Lines, Ltd. (MOL: President & CEO: Junichiro Ikeda) today announced that the Ice-Breaking LNG Carrier "Vladimir Rusanov", which is jointly owned by MOL and China COSCO Shipping Corporation Limited (China COSCO Shipping), has successfully arrived at the Bering Strait. The vessel carried out a LNG loading operation in the Yamal LNG plant at Sabetta port, before sailing for the Far East via the Northern Sea Route on 25 June. The vessel safely arrived at the Bering Strait on 6 July, and is planning to call Jiangsu Rudong port in China for an unloading operation of its LNG cargo.
The vessel is the first of three newbuilding vessels destined for the MOL and China COSCO Shipping fleets in the Yamal LNG Project, as announced in July 2014(*1). Since the vessel started LNG transportation services in the end of March 2018(*2), she has transported four LNG cargos to Europe via transiting westwards. With the arrival of the summer transit season in the Arctic, the vessel had its first opportunity to navigate eastwards along the Northern Sea Route to East Asia via the Bering Strait without ice-breaker support. This voyage also marks a first for the Yamal LNG Project's direct LNG delivery to East Asia.
The voyage sets a new benchmark in the transportation of natural resources from the Arctic via the shorter Northern Sea Route, giving further momentum of natural resource development in the Arctic. This will be of considerable benefit to meet the growing energy needs of many natural resource importing Asian countries, including Japan and China.
MOL continues to work assiduously to contribute for stable LNG transportation from the Yamal LNG plant, as well as accumulating a deeper knowledge and understanding of vessel operation in the Arctic region to aid the company in future Northern Sea Route projects.
(*1) For details, please refer to the 9 July, 2014 press release:
MOL signs Ship Building Contracts with DSME for ice class carriers
(*2) For details, please refer to the 29 March, 2018 press release:
Ice-Breaking LNG Carrier "Vladimir Rusanov" for Yamal LNG Project Started the First Loading Operation in the Yamal LNG Plant at Sabetta Port