MOL Cooperates in Demonstration Test of Class Survey Using Drones
- Conducting Flight Test on Vessel in Service -
December 20, 2018
TOKYO-Mitsui O.S.K. Lines, Ltd. (MOL; President & CEO: Junichiro Ikeda) today announced that it participated in a demonstration test of ship class survey using aerial drones to inspect an MOL-operated coal carrier in service, along with Nippon Kaiji Kyokai (ClassNK; Chairman & President: Koichi Fujiwara; Head Office: Chiyoda-ku, Tokyo), Hitachi Systems, Ltd. (President: Masahiro Kitano; Headquarters: Shinagawa-ku, Tokyo), and Mitsui Co., Ltd. (President: Tatsuo Yasunaga; Headquarters: Chiyoda-ku, Tokyo).
The demonstration test included a simulated ship inspection inside the cargo hold and ballast tank (which holds water used to balance the ship when it is not carrying cargo), using video shot from an aerial drone. The test verified the effectiveness of using drones to monitor rust, corrosion, and the presence of cracks.
ClassNK has conventionally conducted visual inspections while ship management companies handle maintenance and inspection works by assembling scaffolds during dry docking. The use of drone is expected to contribute to improved operational safety and efficiency, since these processes require work to be done at great heights and in dangerous environments.
MOL continually seeks new applications in the ocean shipping industry for rapidly advancing drone technology.
[ Demonstration test by ClassNK ]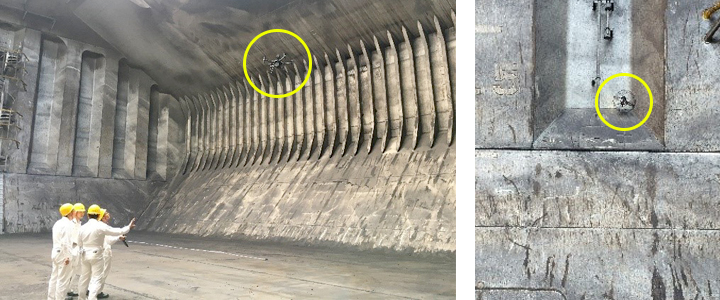 [ Drone ]
DJI MATRICE210
Camera: ZENMUSE Z30 (inspect rust/corrosion)/ZENMUSE X5S (3D model)
FlyAbility ELIOS
Flight test inside the cargo hold (left: MATRICE210, right: ELIOS)