March 11, 2019

TOKYO-Mitsui O.S.K. Lines, Ltd. (MOL; President & CEO: Junichiro Ikeda) today announced that, in partnership with MOL Coastal Shipping, Ltd. (President Masatoshi Nakajima; Headquarters Minato-ku, Tokyo), and MOL Information Systems, Ltd. (President: Tsuyoshi Yoshida; Headquarters: Minato-ku, Tokyo), it will start a demonstration test of a mooring rope with a built-in sensor, along with a rope status monitoring system.
The project focuses on the mooring ropes that connect vessels to piers and other port facilities.
In general, the tension on mooring ropes is hardly determined in accurate, except at certain ports equipped with tension monitors. So ropes may break because crewmembers do not take effective measures against external forces that are stronger than anticipated due to weather and sea conditions. In addition, visual inspections alone cannot always identify ropes that are damaged or deteriorating faster than expected, even if they are at the proper tension, and this may lead to premature breakage.
Broken mooring ropes pose a risk of serious accidents that may damage port equipment and facilities, not to mention vessels. To address this issue, MOL, Teijin Limited, and Tesac Corporation jointly developed a mooring rope with a built-in sensor, as well as a status display system that allows crewmembers to readily determine the tension and strength of the rope. In addition, the mooring rope adopts Teijin's "Technora®" para aramid fiber, which offer excellent dimensional stability *. This test marks the first use of this rope aboard MOL Group.
The demonstration test will be conducted with MOL Coastal Shipping-operated dry bulkship Cedros, which will be equipped with the ropes and monitoring system.
Based on the results of the demonstration test, MOL plans to adopt the mooring ropes and status monitoring system to enhance safety during cargo handling operations in port and onboard. And in the future, it plans to leverage this experience to developing a more advanced mooring monitoring system to achieve even greater safety and effectiveness in cargo handling.
This effort is a part of MOL's technological development initiative, the "ISHIN NEXT - MOL SMART SHIP PROJECT." MOL will draw upon the knowledge and expertise gained through the development process for various ship types, while taking a proactive stance in adopting the Internet of Things (IoT) to enhance safe operation and reduce vessels' environmental impact.
* Dimensional stability refers to the ability of the fibers to return to their original dimensions even after repeated expansion and contraction due to tension.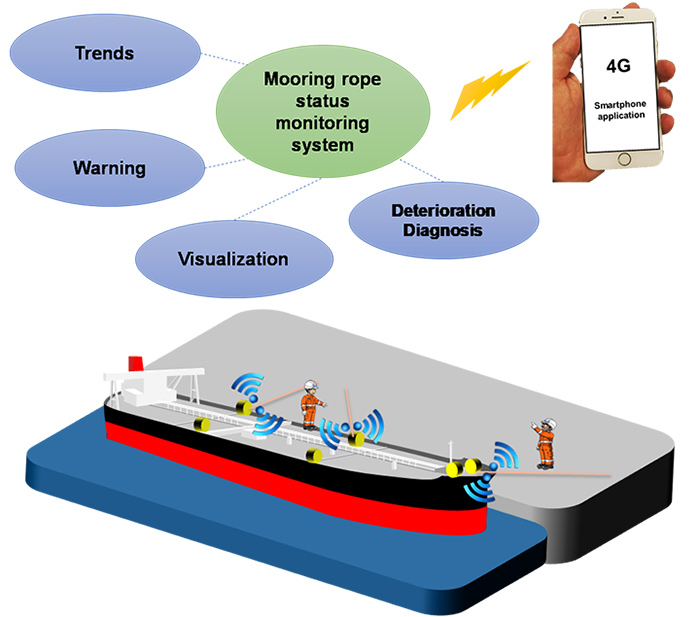 Outline of the system
Data gained from a measuring device built into the onboard mooring rope is uploaded to the cloud, and staff can check the status remotely from offices and smartphones.


Mooring ropes under development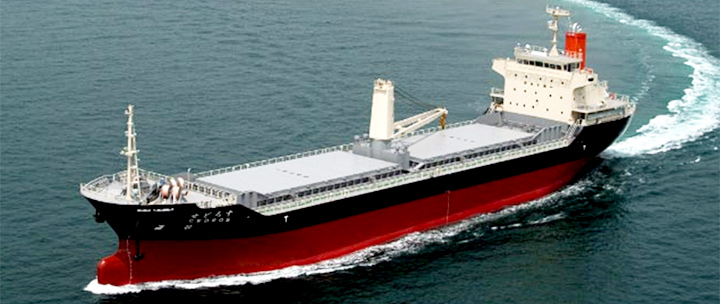 The dry bulkship Cedros, used for the demonstration test