Mitsui O.S.K. Passenger Line Receives Award for Outstanding Performance in 'Cruise of the Year 2019'
December 19, 2019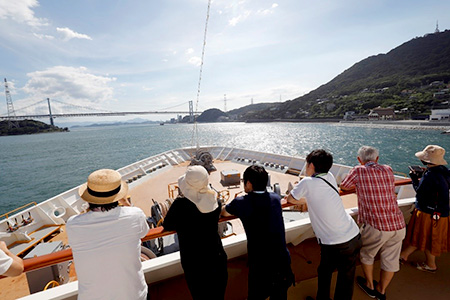 TOKYO-Mitsui O.S.K. Lines, Ltd. (MOL; President & CEO: Junichiro Ikeda) today announced that its group company, Mitsui O.S.K. Passenger Line, Ltd. (MOPAS; President: Naohiko Yamaguchi; Headquarters: Minato-ku, Tokyo), has received the award for outstanding performance in the "Cruise of the Year 2019" program (Note 1), organized by the Oceangoing Passenger Ship Association (JOPSA), for its Seto Inland Sea cruises aboard the Nippon Maru.
The award-winning cruises are:
(1) Autumn Weekend Seto Inland/Oo-mishima Cruise (October 18-20), and (2) Nippon Maru Seto Inland International Art Festival Cruise in/outbound Hakata (October 20-22)
The award reflects efforts by MOPAS, to successfully market the most popular Seto Inland Sea cruise nationwide. MOPAS effectively promoted these travel packages by adding value through cooperation and tie-ups with a broad range of related companies, organizations, and communities, and as a result creating a new generation of cruise customers. Navigation in the Seto Inland Sea is limited to vessels of less than 200m LOA, and because of its mobility, the Nippon Maru could offer cruises that fully showcase the beauty of the area.
The awards ceremony was held on December 18, and the JOPSA presented a commemorative memento to MOPAS. (Note 2)
The Nippon Maru will mark the 30th anniversary of its launching in 2020, and a 50-day remodeling project is slated for next spring. MOPAS takes a proactive stance in continually improving its services and opening the enjoyment of the cruise experience to more passengers.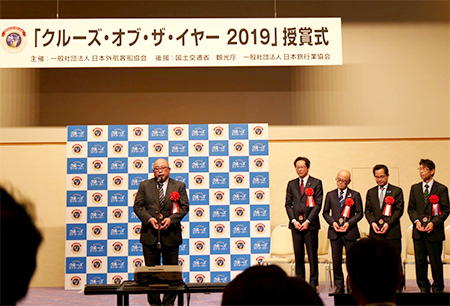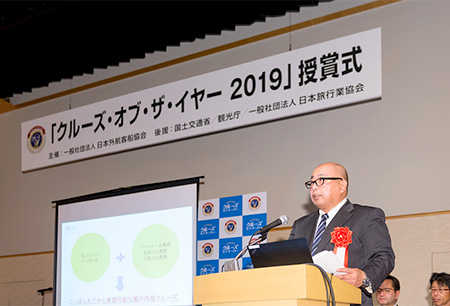 (Note 1)
The "Cruise of The Year 2019" is a program that recognizes travel companies and cruise ship companies that plan and offer original cruise products that contribute to the growth of the Japanese cruise market. The program, now in its 12th year, is backed by the Japan Oceangoing Passenger Ship Association (organizer), Ministry of Land, Infrastructure, Transport and Tourism, Japan Tourism Agency, and the Japan Association of Travel Agencies.
(Note 2)
The awards also recognize companies that jointly sponsored the winning cruises: JTB Corp., Setouchi Triennale Executive Committee Office, West Japan Railway Company, and Fukutake Foundation.