New Content of 'MOL Service Website' Released
- Leveraging MOL's Marine Technology to Deliver Solutions for Customers -
March 23, 2021
TOKYO-Mitsui O.S.K. Lines, Ltd. (MOL; President & CEO: Junichiro Ikeda) announced that the company has added new pages related to four services on "MOL Service Website*1," which was launched on September 2, 2020: Next-Generation Wind Powered Vessel, Maritime Consulting, Maritime Education & Training, Global HR Consulting.
URL: https://www.mol-service.com/ja/(Japanese Ver.)
Currently only Japanese language version is available for the new four services but English language version will be released at the end of May, 2021.
Next-Generation Wind Powered Vessel
(Wind Challenger)
Focusing on wind as a clean energy source, revive sailing vessels in the modern era with the aim of significantly reducing greenhouse gas (GHGs) emissions
Maritime Consulting
Offer specialized maritime consulting services to help clients respond to the ever-changing global logistics environment
Maritime Education & Training
Share the experience and know-how accumulated through education
Global HR Consulting
Leveraging experiences in recruiting and training of seafarers, offer Filipino personnel development and staffing service in a broad range of non-maritime business fields other than seafarers
These four services are provided by utilizing marine engineering and technology capabilities based on ocean transport knowledge and experience the MOL Group has accumulated in its 130-plus years of history. Through these added features on the web page, the group will help customers respond to the many challenges they face today and address future issues beyond the framework of conventional ocean transport.
In addition, the concept video "For the future of the planet, We challenge with the Wind -Wind Challenger Project-", one of the newly released topics, is now available to the public on the MOL official YouTube channel (MOL Channel). By introducing energy-saving technology, the MOL Group is making a concerted effort to contribute to environmental conservation.
URL: https://youtu.be/yXbvG6VrwNc(English Ver.)
MOL continually updates the website's content to meet customers' needs and strives to become customers' partner of choice by sharing a broad range of information in a proactive manner.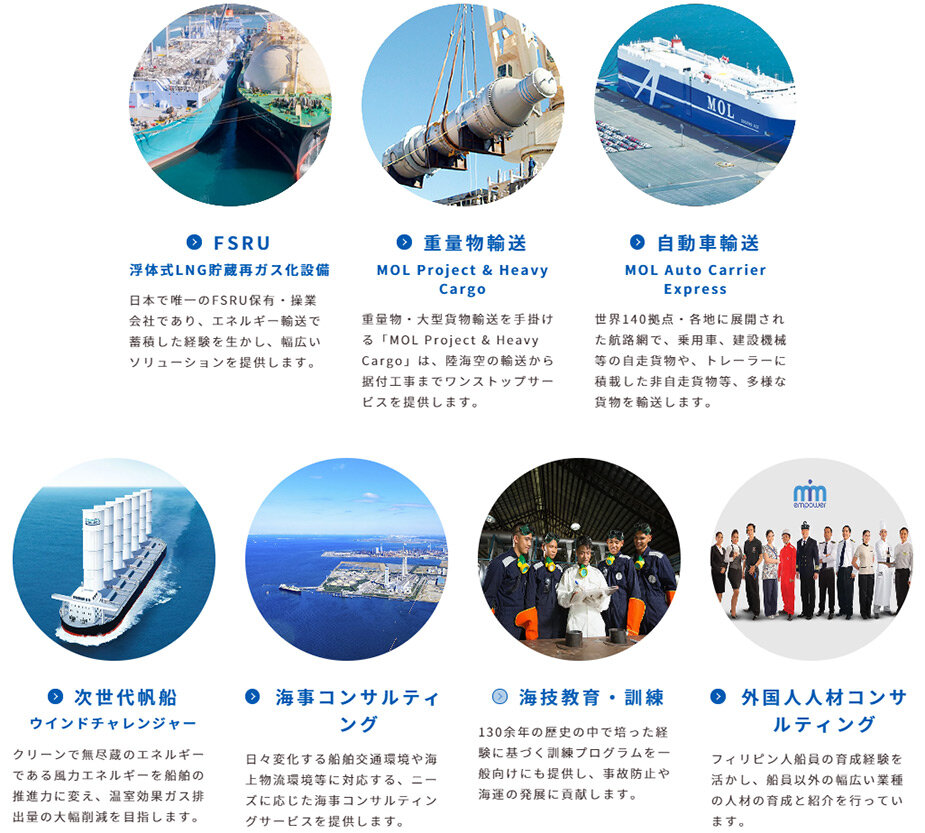 (*1) In contrast to the corporate website, which introduces a broad range of information for various stakeholders, on the independent "MOL Service Website," the contents are posted and shared to address the needs of every customer planning or considering the use of MOL Group services.
In the first phrase, three services-Floating Storage and Regasification Unit (FSRU) business, project and heavy cargo transport, and car carriers-are already available to viewers in both English and Chinese.
MOL provides the following information for customers on the website:
| | |
| --- | --- |
| Service | Outline of each business, MOL's unique approaches, flow of business negotiations, and so on. |
| Cases/achievements | Past cases showing how MOL solved customers' problems and track records of various projects. |
| Reasons why customers choose MOL | Over 130-year history of challenges and innovations, and efforts to ensure safe operation. |
| FAQs | Answers to questions frequently received from customers. |
| Words and terms | Explanation of technical terms in each business. |
| Blog | Provides updated information on new projects, economic information discussed from the viewpoint of an ocean shipping company, and so on. |
| Download information | Informative material which anyone can download such as details of business services, track records of the projects, and tips for customers when using MOL services. |