MOL signs "Call to Action for Shipping Decarbonization" toward decarbonization of international shipping
September 28, 2021
TOKYO-Mitsui O.S.K. Lines, Ltd. (MOL; President & CEO: Takeshi Hashimoto; Headquarters: Tokyo) has signed the "Call to Action for Shipping Decarbonization" (Note 1), which is called for by the "Getting to Zero Coalition" (Note 2), a coalition of companies aiming to decarbonize shipping. The Call to Action requires governments to take action to achieve decarbonization of shipping, stating that concrete actions by governments are essential to decarbonization in addition to efforts by the private sector.
In June 2021, MOL announced the "MOL Group Environmental Vision 2.1" (Note 3) , aiming to realize a sustainable society. As a pioneer among Japanese shipping companies, has set a goal of achieving net zero GHG emissions by 2050. The Call to Action is in line with MOL's efforts to achieve net zero GHG emissions and our corporate mission.
In addition, Takeshi Hashimoto, Representative Director President at MOL was invited as a speaker to the public launch event of the Call to Action held on September 22, where he introduced MOL's efforts towards decarbonization.
MOL group will continue to work together to achieve sustainable GHG net zero emissions and contribute to the realization of a decarbonized society.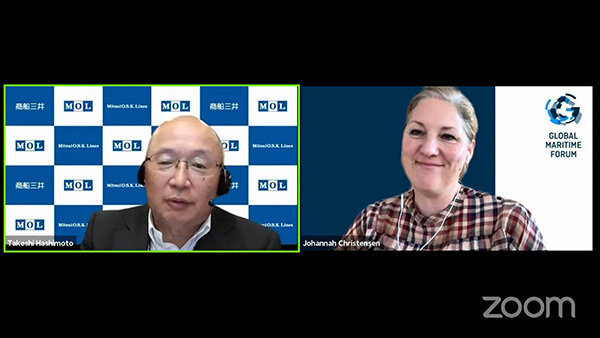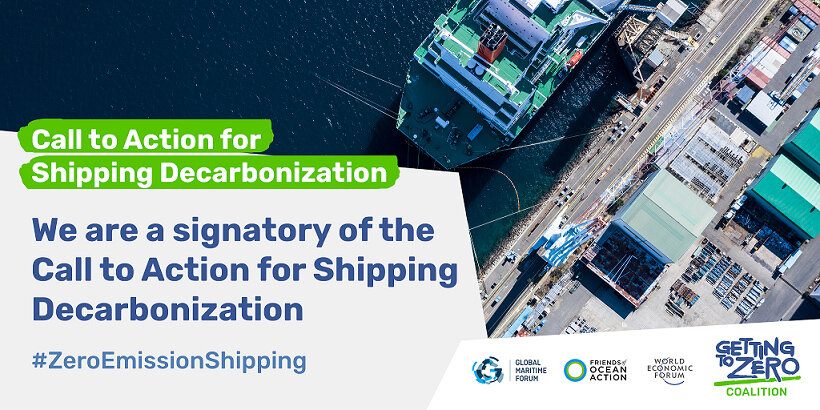 (Note 1) Call to Action for Shipping Decarbonization
Commit to decarbonizing international shipping by 2050
Set an unambiguous target to decarbonize international shipping by 2050 and deliver a clear,achievable, and equitable implementation plan to achieve this when adopting the IMO GHGStrategy in 2023.
Support industrial scale zero emission shipping projects through national action
Support industrial scale demonstration projects addressing vessels, port infrastructure, and fuelproduction to de-risk first movers and accelerate innovation starting now, for instance by settingclear decarbonization targets for domestic shipping and providing incentives and support tofirst movers and the broader deployment of zero emissions fuels and vessels.
Deliver policy measures that will make zero emission shipping the default choice by 2030
Adopt policy measures, including meaningful market-based measures, taking effect by 2025that will support the commercial deployment of zero emission vessels and fuels in internationalshipping and make ordering zero emission vessels the default choice no later than 2030.
(Note 2) Getting to Zero Coalition
The Getting to Zero Coalition is a powerful alliance of more than 150 companies within the maritime, energy, infrastructure and finance sectors, supported by key governments and IGOs. The Coalition is committed to getting commercially viable deep sea zero emission vessels powered by zero emission fuels into operation by 2030.
Getting to Zero Coalition site: https://www.globalmaritimeforum.org/getting-to-zero-coalition
(Note 3) MOL Group Environmental Vision 2.1
MOL group aims to achieve net zero GHG emissions by 2050 with 3 medium- to long-term targets and 5 initiatives.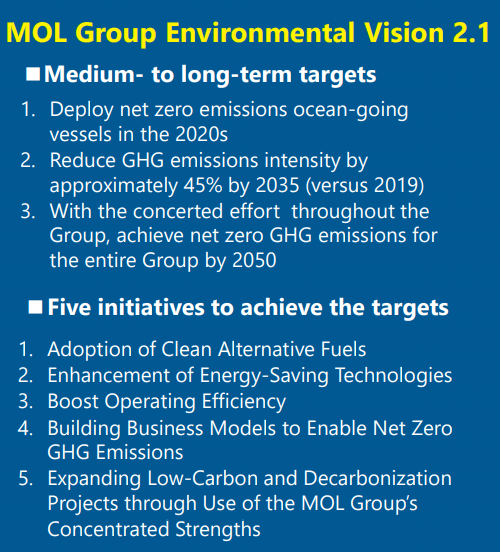 See below for details
https://mol.disclosure.site/en/themes/101
---