January 16, 2023
TOKYO-Mitsui O.S.K. Lines, Ltd. (MOL;President & CEO: Takeshi Hashimoto) today announced that the first of Japan's first two LNG-fueled ferries, the Sunflower Kurenai, owned by MOL and operated by its group company Ferry Sunflower Co., Ltd. (President: Mitsujiro Akasaka; Head Office: Oita-shi, Oita Prefecture), entered service on January 13. The ferry serves the Osaka-Beppu route between Sunflower Ferry Terminal (Osaka Prefecture) and Beppu International Tourist Port (Oita Prefecture) as a replacement for the ferry Sunflower Ivory (Note 2).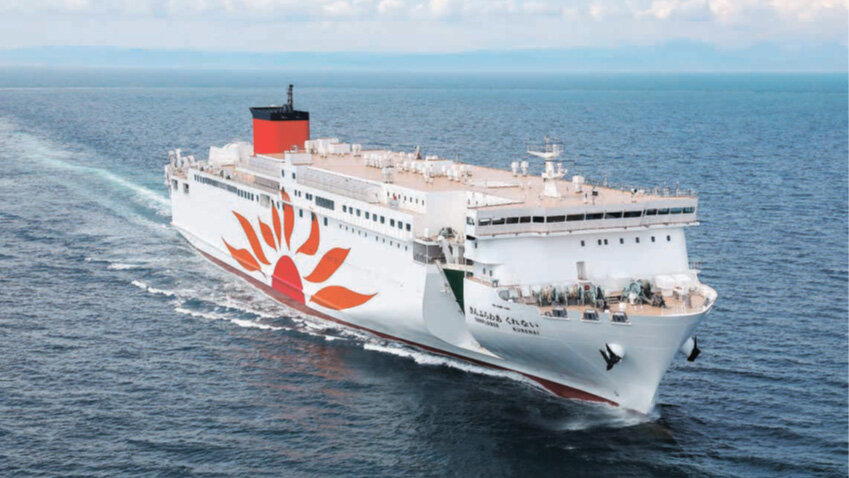 Compared to earlier ferries, the new ferry offers greater transport capacity and convenience for both cargo and passenger transport. In freight transportation, it has greater capacity to load trucks and provides a larger, more comfortable room for truck drivers. In addition, the floor area of the Grand Bathroom is doubled and the number of seats in the restaurant was enlarged 1.5 times, and spacious and open public areas including a three-layer atrium were newly created (Note 3). The new vessel is intended to promote and enhance the company's "Casual Cruise Concept" (Note 4).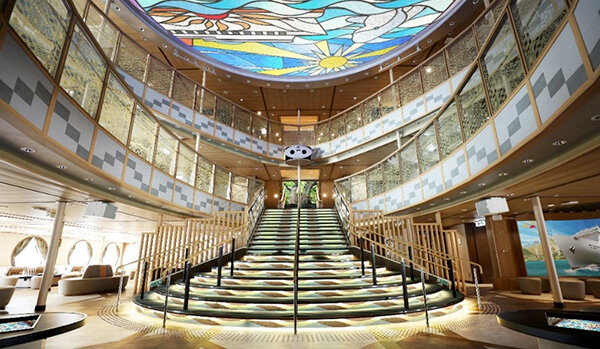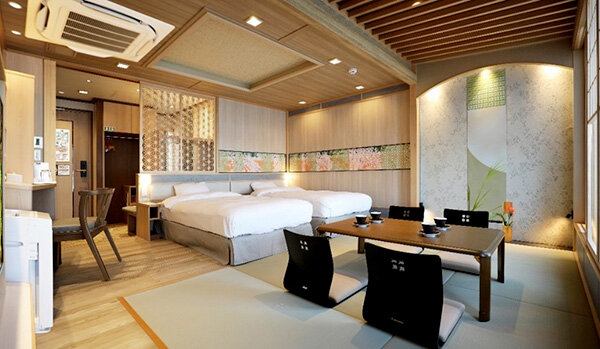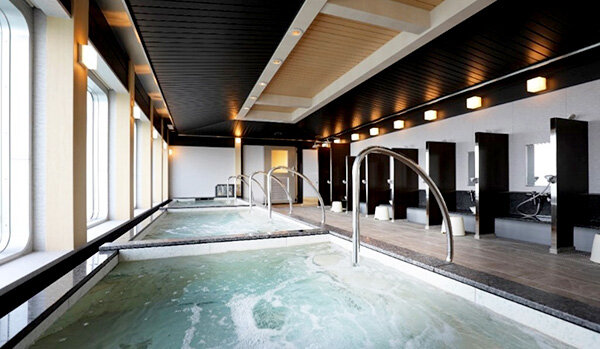 Inside the Sunflower Kurenai
It is Japan's first ferry to adopt the latest environmental-friendly specifications including a high-performance dual-fuel engine, which can run on both LNG and heavy fuel oil. The use of LNG fuel is expected to reduce emissions of carbon dioxide (CO2) by about 25%, and sulfur oxide (SOx) by virtually 100%.
The MOL Group set the target to achieve net zero GHG emissions by 2050 in the "MOL Group Environmental Vision 2.1" established in June 2021, and it is promoting the wider adoption of LNG fuel through development and advancement of an LNG fuel supply system in Japan and overseas.
In the ferry business, MOL has already ordered four LNG-fueled ferries, including the vessel. Following the Sunflower Kurenai and the Sunflower Murasaki, the first and second LNG-fueled vessels operated by Ferry Sunflower, the company plans to build two state-of-the-art LNG-fueled ferries and put  them into service in 2025 to replace vessels currently plying the Oarai-Tomakomai route operated by MOL Ferry Co., Ltd. (President & CEO: Naotoshi Omoto; Headquarters: Chiyoda-ku, Tokyo) (Note 5).
MOL will further expand the adoption of LNG-fueled vessels, accelerate its efforts to reduce total greenhouse gas (GHG) emissions, and contribute to the realization of a low-carbon, decarbonized society through the concerted efforts of the entire Group.
(Note 1) Please refer to related press releases
<Mitsui O.S.K. Lines>
<Ferry Sunflower>
[Comparison with ferries currently in service]
Kurenai/Murasaki
(Newbuilding)
Ivory/Cobalt
(In service)
Passenger capacity
716
710
Truck loading capacity (Units) (converted to 13m)
137
92
Speed
22.5 knots
22.4 knots
LOA
199.9m
153.0m
Gross tonnage
About 17,300 tons
9,245 tons
Fuel
LNG/Heavy oil
Heavy oil
(Note 3) For details of the vessel, please refer to the following "Ferry Sunflower" website.
大阪~別府航路 新造船さんふらわあ くれない・さんふらわあ むらさき | フェリーさんふらわあ (ferry-sunflower.co.jp)
(Note 4) The basic concept of the MOL Group's ferry business, which allows passengers to casually enjoy a high-quality cruise with regular routes and schedules.
(Note 5) Please refer to the related press release.
February 17, 2022: MOL and MOL Ferry to Build 2 Cutting-edge LNG-powered Ferries - Introducing Super Eco Ferries Adopting Wind Power: Responding to Accelerating Modal Shift -
[MOL Group 5 Sustainability Issues]
MOL Group will contribute to realizing a sustainable society by promoting responses to sustainability issues, which are identified as social issues that must be addressed as priorities through its business.
We anticipate this initiative to contribute especially to the realization of "Safety & Value -Provide added value through safe transportation and our social infrastructure business-," "Environment -Conservation for marine and global environment-," "Human & Community -Contributing to the growth and development of people and communities-," and "Innovation -Innovation for development in marine technology-."