March 06, 2023
TOKYO-Mitsui O.S.K. Lines, Ltd. (MOL; President & CEO: Takeshi Hashimoto) today announced the signing of a memorandum of understanding (MoU) on building a clean hydrogen and ammonia value chain derived from renewable energy sources in southern Thailand, with the Electricity Generation Authority of Thailand (EGAT; Chairman: Kulit Sombatsiri; Head Office: Bang Kruai District, Thailand), Mitsubishi Company (Thailand) Ltd. (Mitsubishi Thailand; President: Shoichi Ogiwara; Address: Bangkok, Thailand), and Chiyoda Corporation (Chiyoda; President & CEO: Masakazu Sakakida; Head Office: Yokohama, Kanagawa).
The signing ceremony was held at the Asia Zero Emissions Community (AZEC) (Note 1) Ministerial Meeting held in Tokyo on March 4, 2023.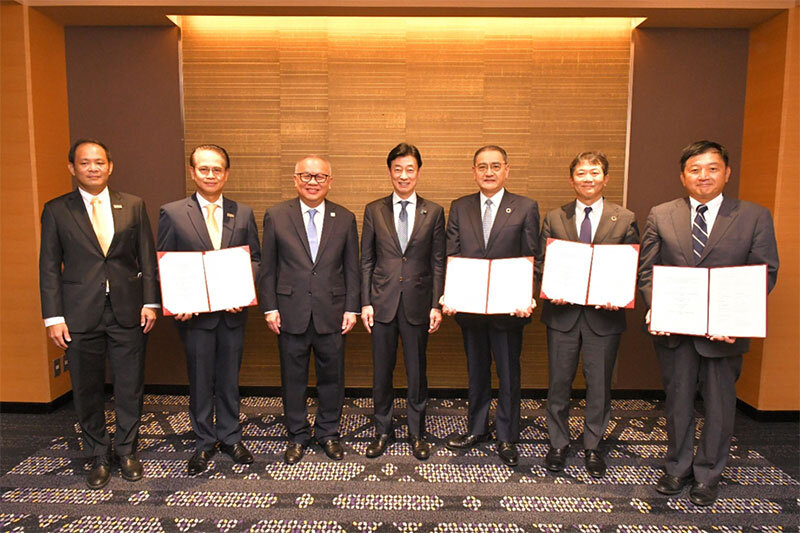 The MoU stipulates that MOL, Mitsubishi Thailand, and Chiyoda will cooperate with EGAT, Thailand's leading state-owned power generation company, in decarbonization projects to achieve the nation's decarbonization targets. The companies will jointly study ways to establish a series of supply chains for the production, storage, transport and utilization of clean hydrogen and ammonia derived from renewable energy sources in southern Thailand, and supplying them to domestic and international markets.
Thailand is positioned as a key country in the Japanese government's AZEC concept, and the movement toward carbon neutrality is expected to further accelerate in the future. Through the MoU, MOL and its partners will study safe and efficient methods of transporting hydrogen and ammonia, based primarily on MOL's extensive experience and knowledge in the transport and handling of resources and energy. MOL will also contribute to the development of the clean energy sector in Thailand and initiatives on carbon neutrality around the world by proceeding with the study in collaboration with EGAT, a top player in Thailand's energy and power industry; Mitsubishi Thailand, which has an expertise and extensive network in Thailand; and Chiyoda, an integrated engineering company that has undertaken projects around the world.
The MOL Group set forth the "MOL Group Environmental Vision 2.1" to promote the reduction of greenhouse gas (GHG) emissions from the group and from society at large through a concerted group-wide effort and contribute to the establishment of a supply chain for clean energy resources such as ammonia and hydrogen.
(Note1) Asia Zero Emissions Community (AZEC) is a concept announced by Japanese Prime Minister Fumio Kishida in January 2022 to encourage Asian countries to share a common philosophy of decarbonization and work together to promote energy transition.
About MOL
MOL, founded in 1884 and headquartered in Tokyo, is one of Japan's top shipping companies. It operates about 800 vessels that transport a variety of goods, including resources, energy, raw materials, and finished products. In addition to its traditional shipping business, the company is also engaged in social infrastructure services such as real estate, terminal and harbor transport, offshore wind power generation, and associated businesses.
For more information, please visit http://www.mol.co.jp/en/
About EGAT
A state-owned company under the supervision of the Ministry of Energy and the Ministry of Finance of the Kingdom of Thailand, EGAT generates and acquires electricity and sells electricity to the Metropolitan Electricity Authority (MEA), Provincial Electricity Authorities (PEA), and many other direct customers as required by law, and to neighboring countries.
Website: https://www.egat.co.th/home/en/
About Mitsubishi Thailand
Subsidiary of Mitsubishi Corporation, a global integrated business enterprise that operate across virtually every industry. In Thailand, Mitsubishi Company (Thailand) Ltd operate and work together with over 80 subsidiaries and investment companies of Mitsubishi Corporation in Automobile Value Chain Business, Food Business, Consumer Business, Infrastructure Business and Metal, Gas, Petroleum and Chemicals Business.
Website: https://www.mitsubishicorp.com/th/en/
About Chiyoda Corporation
Main business: Integrated engineering business including consulting, planning, engineering, procurement, construction, commissioning and maintenance of facilities related to gas, electricity, petroleum, petrochemicals, chemicals, pharmaceuticals, antipollution, environmental protection, preservation, and other services. Its business also encompasses exploration of oil, gas, and other mineral resources, and investment and financing for such activities.
Website: https://www.chiyodacorp.com/en/
[MOL Group 5 Sustainability Issues]
MOL Group will contribute to realizing a sustainable society by promoting responses to sustainability issues, which are identified as social issues that must be addressed as priorities through its business.
We anticipate this initiative to contribute especially to the realization of "Safety & Value -Provide added value through safe transportation and our social infrastructure business-", "Environment -Conservation for Marine and global environment-" and "Innovation -Innovation for development in marine technology-".