March 23, 2023

March 23, 2023, TOKYO/U.S.-AMOGY Inc. (CEO; Seonghoon Woo; Head Office: Brooklyn, New York, U.S.), Mitsui O.S.K. Lines, Ltd. (MOL; President & CEO: Takeshi Hashimoto; Head Office: Minato-ku, Tokyo), and MOL PLUS Co., Ltd. (Representative: Takuya Sakamoto; Head Office: Minato-ku, Tokyo) today announced the signing of a Memorandum of Understanding (MoU) on the adoption of ammonia-to-power systems (Note 1) developed by AMOGY for ships, and for the establishment of an ammonia supply chain. In accordance with the signing of the MoU, MOL PLUS invested in the Series B financing of AMOGY.
With the objective of supporting social implementation of AMOGY's ammonia-to-power system technology, MOL will consider collaboration with the company on using ammonia-to-power system on MOL Group-operated vessels and initiatives to establish an ammonia value chain, including the supply of ammonia fuel to ships equipped with ammonia-to-power system.
MOL PLUS participated in this financing round to promote collaboration. With the investment, MOL PLUS expects AMOGY to make significant contributions to the decarbonization of ships and trucks and to the reduction of GHG emissions.
AMOGY has already demonstrated its innovative technology in a drone (5 kW), tractor (100 kW), and most recently, a Class 8 truck (300 kW). AMOGY plans to commercialize its technology to maritime shipping and potentially industrial power generation applications in the next few years.
(Note 1) Rendering of AMOGY's ammonia-to-power system technology.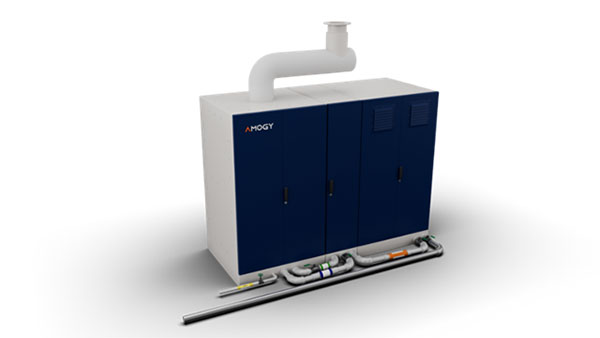 ---
The ammonia-to-power system developed by AMOGY can generate hydrogen from liquid ammonia to produce electricity. The proprietary system does not emit CO2 and can efficiently and economically power ships, automobiles, drones, and other heavy transportation vehicles.
<AMOGY Inc. Corporate outline>
| | |
| --- | --- |
| Company name | AMOGY Inc. |
| Representative | Seonghoon Woo |
| Established | November, 2020 |
| Address | 19 Morris Avenue, Brooklyn, NY 11205 |
| Business | Zero emission ammonia-to-power system for heavy transportation |
| Website | https://amogy.co/ |
Products used to demonstrate AMOGY's ammonia-to-power system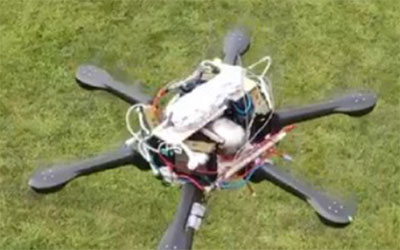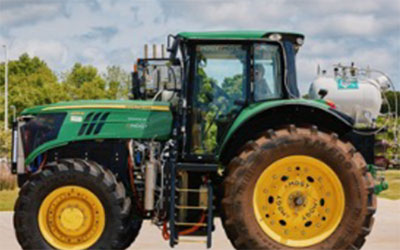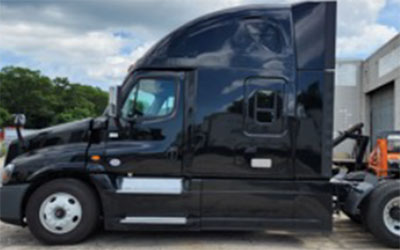 About MOL
Mitsui O.S.K. Lines is a global leading shipping company operating about 800 ships across the world, headquartered in Japan. MOL develops various social infrastructure businesses centering on ocean shipping, technologies and services to meet ever-changing social needs including environmental protection. MOL fleet includes dry cargo ships, liquefied natural gas carriers, Ro-Ro car carrier ships, oil tankers, etc. In addition to the traditional shipping businesses, MOL offers social infrastructure businesses such as real estate, terminal and logistics, offshore wind power, and associated businesses. With one of the largest merchant fleets, 130-plus years of history, experience, and technology, MOL Group aims to be a strong and resilient corporate group that provides new value to all stakeholders.
For more information about MOL, please visit https://www.mol.co.jp/en/index.html
About MOL PLUS
MOL PLUS is a Corporate Venture Capital (CVC) driving force for MOL. The company will make a broad range of investments, mainly in early and middle-stage startup companies around the world, that can reform ocean shipping business models and create new businesses from mid-to-long-term viewpoints.
MOL PLUS continually works to generate synergetic effects based on startup companies' innovative ideas and technologies and MOL Group's resources through investment in and collaboration with startups, aiming to create new businesses "PLUS" new value for the ocean shipping industry and society.
For more information about MOL PLUS, please visit: https://en.molplus.net/
About AMOGY
AMOGY offers ammonia-based, emission-free, high energy-density power solutions to decarbonize transportation for a sustainable future. Founded in 2020 by four MIT PhD alumni with a shared vision, AMOGY aims to enable the decarbonization of the heavy-duty transportation sector, accelerating the global journey towards Net Zero 2050. The company's investors include Amazon's Climate Pledge Fund, AP Ventures, SK, Saudi Aramco and DCVC. To date, AMOGY's scalable ammonia-powered, zero-emissions energy system has been demonstrated with success in a drone, heavy-duty tractor, and semi truck. More info at: www.amogy.co