September 06, 2023
TOKYO-Mitsui O.S.K. Lines, Ltd. (MOL; President & CEO: Takeshi Hashimoto) today announced that MOL and Sawayama Shokai Marine Co., Ltd. (Sawayama Marine; President: Shigehiro Sawayama; Headquarters: Nagasaki-shi, Nagasaki Prefecture) (Note 1) established a joint venture for the recruitment of global human resources. The two companies will draw upon the joint venture to strengthen their recruitment of global workers in the Kyushu region, centering on Nagasaki Prefecture, with the goal of recruiting about 200 global personnel over the next five years.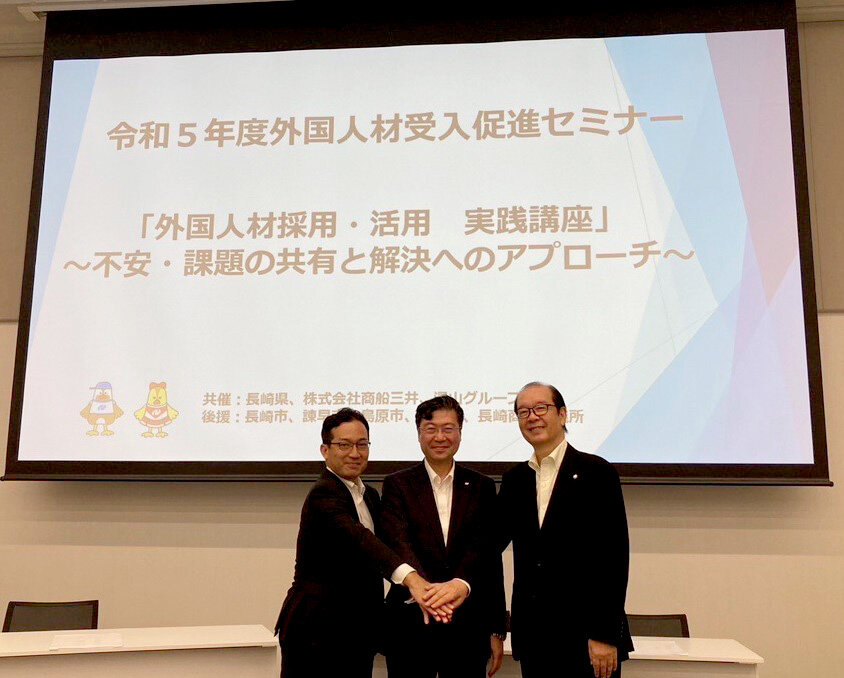 Leveraging the experience and expertise it has accumulated over many years in training foreign seafarers, MOL has developed a global resources consulting business, which trains and recruits workers in a wide range of industries, serving companies that are considering hiring new employees from abroad or expanding their recruitment of global personnel. Sawayama Marine is part of the Sawayama Group, which has a long history that originated in the business of supplying ships with water and selling ship equipment, and now encompasses a wide range of businesses, including ship agency services. Along with Sawayama Marine, which has long-standing ties in the shipping industry, the Sawayama Group has recently stepped up its efforts in the global human resources business, introducing global personnel to companies in Nagasaki Prefecture and holding seminars for 100 officials from the Nagasaki prefectural government regarding the use of workers from overseas. The Nagasaki prefectural government and MOL have signed a memorandum of understanding(Note 2) regarding the above initiatives and expect to further strengthen our collaboration in Nagasaki area.
Sawayama Marine was selected by the Nagasaki prefectural government as a "Nagasaki Next Leading Company" (Note 3) in 2022 for its highly regarded matching service for global human resources and retention support business, and its activities are attracting more attention from local companies.
Recently, semiconductor factories have moved into Kyushu as a "silicon island," and the surrounding manufacturing and service industries are positioned for growth. It is important to secure human resources in the area, which is expected to emerge as a more internationalized and economically powerful region. MOL aims to develop and expand the scale of its business in the Kyushu region, particularly in the areas of manufacturing, tourism, and construction, by using the Sawayama Group's network, which has deep roots in the region.
With extensive experience in recruitment of global personnel, MOL will contribute to the revitalization and continued growth of local industries in the Kyushu region and the development of a multicultural society through its partnership with Sawayama Marine, which has a strong network in Nagasaki Prefecture.
[Outline of Joint Venture]
Name
Kabushiki Kaisha SAWAYAMA&MOL
Address
3-10 Dejima-cho, Nagasaki-shi, Nagasaki Prefecture
Representative
President/Part-time: Seiichiro Sawayama (President of Sawayama Group)
President/Part-time: Tsunemichi Mukai (MOL Managing Executive Officer)
Business
(1)Recruitment of global human resources (Paid employment placement business)
(2) Business development in new fields other than (1)
Establishment
1 August, 2023
(Note 1) Sawayama Marine also develops new businesses such as overseas enterprises (offshore business, environmental recycling, soil improvement) and medical tourism.
For details, please refer to the following websites.
SAWAYAMA GROUP
長崎県からのネクストリーディング認定証授与について – 澤山グループ This website is only available in Japanese
(Note 2) The Nagasaki prefectural government and MOL have signed a "Memorandum of understanding on industrial and regional revitalization through the utilization of foreign human resources" dated January 26th 2022.
For details, please refer to the following websites.
https://www-pref-nagasaki-jp.translate.goog/bunrui/shigoto-sangyo/koyosokushin-shokugyonoryokukaihatsu/httpwww-pref-nagasaki-jpsectionwakamonoindex-html/torikumi-httpwww-pref-nagasaki-jpsectionwakamonoindex-html/?_x_tr_sl=ja&_x_tr_tl=en&_x_tr_hl=ja
(Note 3) In November 2022, the Nagasaki prefectural government selected 32 companies in the prefecture for their dynamism and strong potential, and are expected to achieve high growth over the next five years.
---
[MOL Group 5 Sustainability Issues]
MOL Group identifies "Sustainability Issues" (Materiality) as our key issues for sustainable growth with society through realization of the Group Vision.
We anticipate this initiative to contribute especially to the realization of "Safety & Value -Provide added value through safe transportation and our social infrastructure business-" and "Human & Community -Contributing to the growth and development of people and communities-".