September 11, 2023
Mitsui O.S.K. Lines, Ltd. (MOL; President & CEO: Takeshi Hashimoto) today announced that the company invests in a floating wind technology start-up, TouchWind (*1).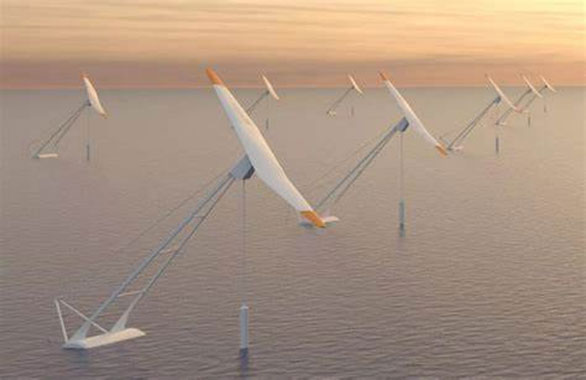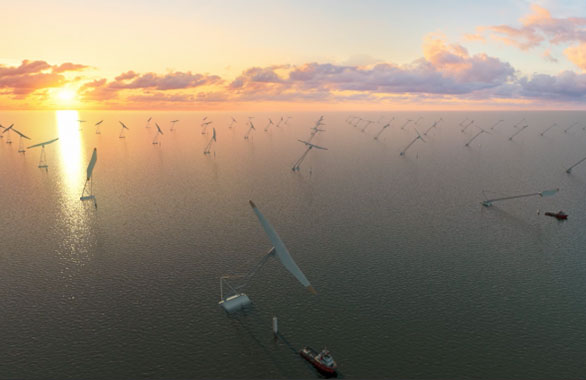 Conceptual design of TouchWind's floating wind turbines
The tilting angled one-piece rotor wind turbine which is being developed by TouchWind is expected to reduce wind interference between wind turbines (*2) that tends to occur in large wind farms and improve overall wind farm power generation efficiency. In addition, its unique design enables the wind turbines to operate in strong winds, reduces the weight of the wind turbine and floating parts, and is expected to improve the utilization rate and the economics of the wind turbine equipment through their lifecycle.
Since 2019, TouchWind has been conducting tests to demonstrate the principle of its wind turbine technology with the help of grants from the Government of the Netherlands and supporting companies. In July 2023, TouchWind received a grant from the Netherlands Enterprise Agency, Government of the Netherlands, to manufacture up to 10 wind turbines with a rotor diameter of 6 m (output 12 kW). From 2024 to 2025, TouchWind plans to conduct tests to verify the effect of reducing wind interference between wind turbines on land and in the sea in the Netherlands.
Ryota Hayashi, General Manager responsible for Wind Power Projects Unit in MOL states: 'We are pleased that we can continue the journey with TouchWind and have become a shareholder of the company as we see exciting potential in their technology.'
Founder and CEO of TouchWind, Rikus van de Klippe welcomes MOL as a shareholder of TouchWind states: 'we have been working together for over a year now on the further development of our tilting angled one-piece rotor floating wind turbine. Field testing with a 6m diameter rotor is in full preparation at the Oostvoorne lake in the Netherlands. With MOL as a shareholder and their investments, we can speed up our testing program to prove our technology.'
With the participation of investment in TouchWind, MOL will advance technology development for the practical application of its wind turbines and aim to acquire business opportunities within the supply chain of next-generation floating offshore wind turbines in Europe, Japan and other Asian regions in the future. In accordance with the "MOL Group Environmental Vision 2.2, " we set a goal of achieving net zero emissions by 2050. In order to create a sustainable world, we will contribute to the reduction of GHG emissions not only from our own company but also from society through the promotion of renewable energy businesses.
(*1) TouchWind was founded in Amsterdam, the Netherlands in 2018 and is now based in Eindhoven. With the help of Dutch government grants and supporting companies, the company has demonstrated the principles of the technology. It has constructed a wind turbine with a 6m diameter rotor and started demonstration testing at a lake facility in the Netherlands.
TouchWind HP URL: www.touchwind.org
(*2) In general, it is called "wake effect." It has been confirmed that wind turbines located upwind take in a portion of wind energy, resulting in wind speed loss and wind turbulence, and reducing power generation at wind turbines located downwind. Construction of large-scale offshore wind farms is expected to progress in the future, and reducing the efficiency degradation caused by wake effect is attracting attention from the viewpoint of improving the power generation efficiency of the whole farm.
---
MOL Group 5 Sustainability Issues
MOL Group identifies "Sustainability Issues" (Materiality) as our key issues for sustainable growth with society through realization of the Group Vision.
We anticipate this initiative to contribute especially to the realization of "Safety & Value -Provide added value through safe transportation and our social infrastructure business-", "Environment -Conservation for Marine and global environment-" and "Innovation -Innovation for development in marine technology-".