Facilities, Equipment and ICT that Support Safe Operation
Working Closely with Shipyards
Shipbuilding supervisors have three duties at a shipyard: (1)quality management, (2)process control, and (3)Health, Safety and Environment (HSE) management.
Quality management verifies that shipyards reliably meet required specifications that contribute to safe operation, rules for each ship type, and other standards.
Health, Safety and Environment (HSE) management aims to secure the safety of employees onboard, for example, establishing safety rules prohibiting crewmembers from entering an enclosed space alone, or requiring them to warn each other when they encounter unsafe behavior onboard.
MOL assigns two to three marine engineers from the group company and MOL engineering personnel to the shipyard for supervisory duties during the construction of a vessel. They work on-site at the shipyard for one to two years from the initial stage (about a month after steel cutting) to the completion of the vessel.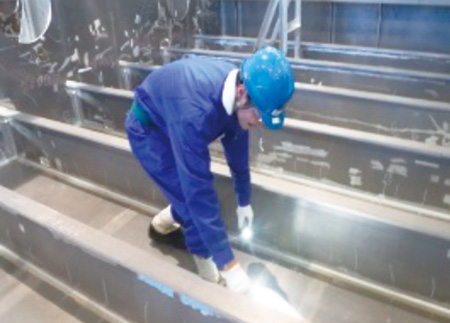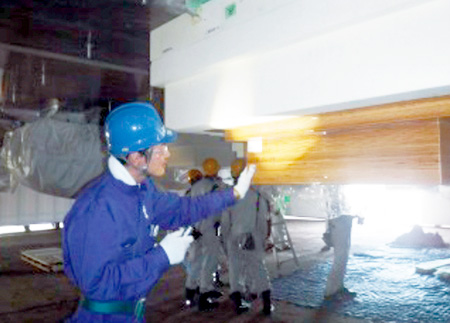 ---
MOL Safety Standard Specifications
With the goal of effectively maintaining the safety of our operated vessels, MOL formulated the first edition of the "MOL Safety Standard Specifications" in the aftermath of serious marine incidents in 2006, and since then has been revising it accordingly. Serious incidents such as collisions and groundings, fires, sinking, loss of hull stability, and oil spills and other environmental pollution can have a huge impact on both society at large and the group's profitability, not to mention the loss of trust from customers and other stakeholders. In FY2016, we expanded the scope of the specifications to include workplace accidents.
"MOL Standards" systematically compile knowledge and expertise-gained through many years of experience in ship operation. This includes countermeasures for issues such as inferior quality oil, which inhibits ship operation, effective maintenance procedures, and policies and practices that contribute to life saving, security, and environmental protection, based on extensive technical and economic analysis.
Some of these countermeasures are as follows. (Click Countermeasures to see the details.)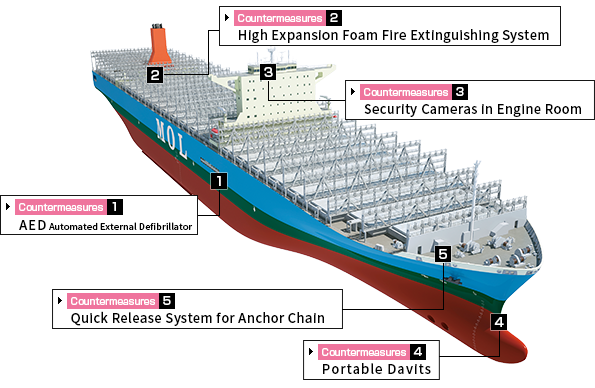 Countermeasures 1 AED-Automated External Defibrillator

Just in case a crewmember suffers cardiac arrest, one of his or her shipmates can use the AED to administer an electric shock to return the heartbeat to normal, often a life-saving procedure.

Close
Countermeasures 2 High Expansion Foam Fire Extinguishing System

In the past, engine rooms were filled with CO2 gas to fully extinguish fires, but if there are any crewmembers on the scene, they may not be able to exit quickly enough and run the risk of oxygen deprivation. Or air could be pumped back into the engine room if the air vent is not closed properly, and the fire will not be extinguished as quickly. To eliminate such risks, MOL introduced the foam extinguisher system that fills the engine room with a massive amount of foam to put out fires.

Close
Countermeasures 3 Security Cameras in Engine Room

Security cameras in the engine room are set to monitor the equipment that supplies the main engine and generator with fuel. They are also placed along the evacuation route from the engine room. The cameras help us accurately assess the situation when a fire occurs, secure the safety of crewmembers during fire extinguishing operations and evacuation, and review the security camera footage after the fact.

Close
Countermeasures 4 Portable Davits

We assume that crewmembers may not able to move during operations in closed zones such as ballast tanks. Use of portable davits allows for speedy and reliable rescue.

Close
Countermeasures 5 Quick Release System for Anchor Chain

During the incident that led to the grounding and sinking of an iron ore carrier in 2006, the anchor chain could not be released quickly. This was one of the factors that greatly worsened the situation. Based on this bitter experience, we introduced a quick release system for our vessels' anchor chains. In an emergency, if the anchor cannot be winched aboard by the windlass, or when there is no time to winch the anchor and anchor chain aboard, the quick release system lets the vessel drop the anchor chain by quickly releasing the connection between the anchor chain and the hull to free the vessel, ensuring the safety of the ship and saving lives.

Close
MOL Integrated Bridge
The bridge is the nerve center of a merchant ship. MOL has adopted the "integrated bridge" approach, which clarifies the bridge position of officers on duty and ensures their traffic flow and communication lines by integrating instruments and gauges in one central location. In addition, they can obtain updates on ever-changing conditions surrounding the vessel more quickly than with a standard bridge layout, allowing them to make swifter, better decisions regarding vessel operating safety.
Officers can see 360° around the vessel, enhancing visual watch-keeping.
Traffic flow and communication lines of the officers on duty can be secured without inhibiting the forward visibility of the helmsman. Everyone on duty-the captain, pilots, and officers-can independently operate and monitor nautical gauges and instruments, strengthening Bridge Resource Management (BRM*).
Integration of nautical gauges and instruments also allows their wiring to be integrated. This helps prevent a reoccurrence of a past incident in which wires to nautical instruments burned out.
* BRM:Bridge Resource Management (BRM)
BRM prevents human errors or remedies the effects of those errors at an early stage. The concept is based on making the best use of human resources (captain, officers, and other crewmembers on deck) and resources such as information available on the bridge.
Introduction of Iridium Satellite Mobile Phones
MOL verified the effectiveness of iridium satellite mobile phones as a backup to existing telecommunications equipment when an engine room fire resulted in an electric power outage on an MOL Group-managed vessel. In response, we have established iridium satellite mobile phones as a backup for existing communications equipment so that communications with the outside world can be carried out smoothly in the event of an emergency. They are installed not only on new vessels but also on existing vessels.
Advanced Support Technologies for Safer Vessel Operation
Technological Innovation - MOL's Projects
---
ICT supporting safe operation
The Safe Operation Support Center (SOSC) monitors and supports operating vessels based on information obtained from various systems and external information. This section introduces the ship motion monitoring system and the stranding risk monitoring system, which are representative of these systems.
vessel movement monitoring system
SPIRIT (Sustainable Platform with Intellectual Resource and Innovative Technology), released in January 2021, is a system capable of monitoring where our company vessels are around the world and in what kind of weather and sea conditions.
In addition to monitoring at SOSC, the system is also used by operators and company personnel to support the vessel.
This system can monitor not only weather and sea conditions, but also pirates, exercises, high risk areas (HRA), and other information while comprehensively assessing risks. Since April 2022, the vessel's navigation plan has been incorporated into the system to further strengthen support.
grounding risk monitoring system
Fleet Intelligence Navigational Risk Monitoring is a grounding risk monitoring system that combines a number of data sources, such as ship position, water depth, and chart information, to alert SOSC operators when a vessel is judged to be entering an area with a high risk of grounding.
The system was put into full operation at the end of January 2022 to prevent a recurrence of the WAKASHIO grounding accident that occurred on July 25, 2020. SOSC, which monitors vessels in operation 24 hours a day, 365 days a year, constantly monitors the system and initiates the system when an alert is issued.