Incident Situation Update : Crude Oil Tanker
Bright Artemis
August 28, 2006
Tokyo - Mitsui O.S.K. Lines, Ltd. (MOL, President: Akimitsu Ashida) has conducted a second crude oil spill status survey after the incident involving the tanker Bright Artemis. Oil spill control and response experts surveyed the area from a chartered airplane on August 24 and observed emulsified oil films, which were not apparent during the first air survey on August 16. The spots were in an area 10 miles long and one-half mile wide.
The oil was observed about 160 miles (about 300 kilometers) west of Andaman and Nicobar Islands within India's exclusive economic zone. As a result, MOL also made a second report to India's Coast Guard.
Oil spill control and response experts say the natural neutralization process is under way in which the highly volatile components in the crude oil are vaporizing, and the remainder mixes with seawater and becomes further emulsified. MOL continues to monitor the areas, and will take appropriate response as necessary.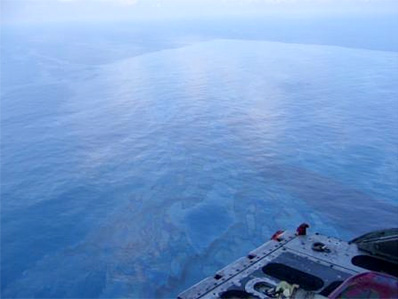 The white spots indicate emulsified oil on the sea surface.