MOL Introduces New Group Logo Mark
March 22, 2007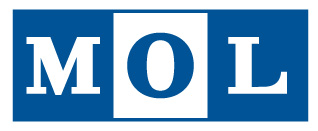 [MOL Group Logo Mark]
TOKYO - Mitsui O.S.K. Lines, Ltd. (MOL, President: Akimitsu Ashida) today introduced its new Group logo mark. MOL, aiming at the long-term vision "To make the MOL Group an excellent and resilient organization that leads the world shipping industry," will use this new logo mark all over the world beginning on April 1.
The new logo mark is the acronym of Mitsui O.S.K. Lines, and uses the three letters M (em). O (o). L (el), which have been familiar for a long time, as the motif. The deep blue symbolizes the sea.
With this new logo mark, MOL will reinforce its group-wide strength and further expand its global business, as the world's leading, sustainably growing ocean shipping group.