MOL, Weathernews Introduce Japan's 1st Real-Time Display System to Monitor Ship Operation
-Symbolizing Commitment to Safe Operation-
September 28, 2009
TOKYO - Mitsui O.S.K. Lines, Ltd. (MOL, President: Akimitsu Ashida) and Weathernews, Inc. (CEO: Chihito Kusabiraki, Head Office: Minato-ku, Tokyo) today announced development of the FMS.Globe*, a system that displays vessels' operational status as well as marine and terrestrial weather, in real time.
Weathernews cooperates fully with MOL to ensure the safe management of MOL-operated vessels. The FMS.Globe is placed in the reception area on the seventh floor of the MOL Head Office (Minato-ku, Tokyo). This is the first such comprehensive system introduced in Japan. It stands as a symbol of MOL's commitment to safe operation which is the highest priority for the entire MOL Group, and visually conveys a message of both companies' approach to safety management.
* FMS.Globe: Stands for Fleet Management System (ship management system), and Globe (the earth)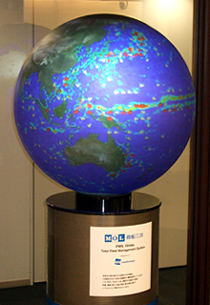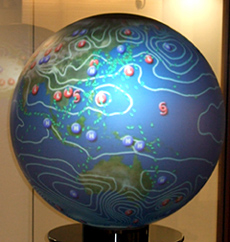 The FMS.Globe takes various data from the FMS.SAFETY, the system used to manage the operation of all vessels at MOL's Safe Operation Support Center.
It provides real-time displays the positions of all vessels and the latest global weather information that can affect ship operation, including atmospheric pressure, typhoons, tidal currents, seawater temperature, and clouds.
Background
MOL established the Safety Operation Support Center to provide 24/7 support for MOL-operated vessels in February 2007. Weathernews has supported MOL vessel operation over the years, and assisted in the startup and operation of the center with the Total Fleet Management Service (TFMS) to support safe vessel operation of all vessels at sea and in port.
FMS.Globe specifications
Dimension: 

Height: About 2m, Width: Base: About 50cm
Diameter of the globe screen: 83cm

How to display: 

The projector installed on the base projects contents (images) onto a special globe screen.
MOL and Weathernews continue to their collaborative efforts on safe operation.