MOL Joint CO2 Reduction Project Selected as Industry Support Program sponsored by MLIT
-MOL R&D Focuses on Hybrid Car Carrier Aiming at Zero Emissions While in Berth-
January 14, 2010
TOKYO - Mitsui O.S.K. Lines, Ltd. (MOL; President: Akimitsu Ashida) today announced that its joint research and development (R&D) project will be incorporated into a government-industry initiative aimed at reducing CO2 emissions. This is a technology development support program sponsored by Japan's Ministry of Land, Infrastructure, Transport and Tourism (MLIT).
MOL, Mitsubishi Heavy Industries, Ltd., and Sanyo Electric Group are jointly promoting R&D on a hybrid car carrier using renewable energy. This is part of MOL's CO2 reduction technology R&D initiative.
Details of the R&D project are follows:
The company will develop a hybrid power supply system by combining solar power generation technology with lithium-ion batteries. The goal is zero emission while the vessel is in berth by effective use of renewable energy. Electricity generated by solar panels while the vessel is under way is stored in the lithium-ion batteries. The batteries then supply power while the vessel is in berth, allowing the diesel generator to be shut down.
MOL will also construct a hybrid car carrier equipped with this system (slated for launching in 2012), and validate and assess its CO2 reduction effect in actual operation. This project is aimed at establishing more effective CO2 reduction technology for future vessels.
MOL has already adopted solar power generation systems on the Euphony Ace, constructed in November 2005, and on the Swift Ace, which joined the fleet in May 2008. The company will further advance this R&D with those vessels.
This R&D project is a step toward realization of MOL's vision for the car carrier of the future, announced as "ISHIN-I" in September 2009. MOL continues to work aggressively on R&D to reduce the environmental burden of its vessel operations.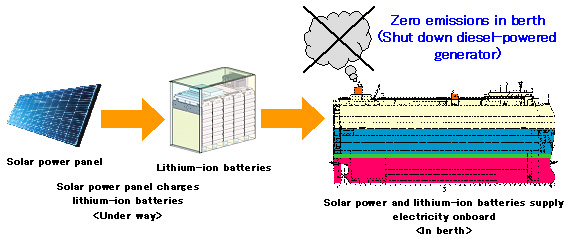 * Sanyo Electric Group also issued news releases about this project today.