Post-quake Update on Support for Victims of the 2011 Tohoku-Pacific Ocean Earthquake
-Update report on Cruise Ship
Fuji Maru

Calls at Ports in Iwate Prefecture-
April 19, 2011
TOKYO - Mitsui O.S.K. Lines, Ltd. (MOL; President: Koichi Muto) today reported that its ocean cruise ship, the Fuji Maru, which had been assigned to support activities in areas stricken by the Tohoku - Pacific Ocean Earthquake, returned to Tokyo port 10 a.m. today (Tuesday) after successfully completing its mission.
The Fuji Maru called at ports in Iwate Prefecture - Ofunato (three days), Kamaishi (two days), and Miyako (two days) - from Monday, April 11 to Sunday, April 17 to provide free day-use services such as meals, baths, and rest for quake survivors. The number of people who used the services is as follows:
| | |
| --- | --- |
| Ofunato | 1,786 people |
| Kamaishi | 593 people |
| Miyako | 2,072 people |
| Total | 4,451 people |
MOL received an outpouring of joy and gratitude from the visitors. Typical comments included:
I, my daughter, and grandchildren will never forget today.
This was such an unexpected expression of thoughtfulness. I really felt happy. My tears from this terrible experience turned to tears of happiness.
I really want to thank you for giving us peace of mind and a smile!
I got to take a breather today. I will hang in there again starting tomorrow.
Thank you for making so many people's dreams comes true. I hope to see you again.
Captain Seiji Kuba concluded, "Considering a hearty welcome we had received at every port of call in the past, we thought perhaps we could give a little of that welcome back by taking our vessel to the stricken areas and providing a little relief. It made me so happy to see the people smiling and relaxing. I sincerely hope for the recovery of the quake-stricken areas as quickly as possible. This is also the hope of every seafarer aboard the Fuji Maru."
MOL also expressed appreciation for the support and cooperation of Japan's Ministry of Land, Infrastructure, Transport and Tourism, Iwate Prefecture, and various cities, towns, and villages that made it possible for the Fuji Maru to visit these hard-hit areas in spite of innumerable challenges. MOL and the MOL Group network pledge continued efforts to contribute to the reconstruction of the region.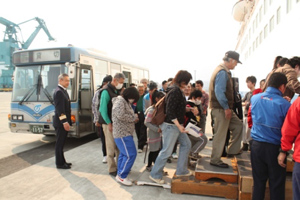 April 14 Quake survivors boarding the Fuji Maru at Kamaishi port


April 15 After their visit, thankful citizens give the Fuji Maru a sendoff at Ofunato