MOL Earns Commendation from Cambodian Government for Role in Transport of Medical Vehicles and Equipment
August 26, 2011
TOKYO- Mitsui O.S.K. Lines, Ltd. (MOL; President: Koichi Muto) today announced that it has received a commendation from the government of Cambodia for its support of a project to supply the nation with medical vehicles and equipment in Phnom Penh.
MOL cooperated with non-profit organization (NPO) Side By Side International (SBSI)* to transport 34 medical vehicles and other equipment to help the nation develop an emergency first-aid system. Starting in June 2010, the vehicles and equipment were delivered to five medical facilities in Cambodia, including two national hospitals, and are now playing a vital role in front-line emergency response.
The Cambodian government honored three organizations for their roles in the project - The Nippon Foundation, which supplied the vehicles, SBSI, and MOL.
The commendations were presented at a ceremony, attended by about 300 people from police and fire departments, the Ministry of Health, hospitals, and the military. "We express our thanks on behalf of the royal government for your continual cooperation and generous efforts for establishment of Cambodian emergency first-aid system," said His Excellency Om Yentieng who is Senior Minister, Deputy Director of National Counter-terrorism Committee (NCTC), in presenting the commendation to MOL. The event received extensive coverage on Cambodian television and in leading newspapers.
MOL set "Contribution to Local Communities" as one of its social contribution activities' principles and takes a proactive stance in the activities unique to an ocean shipping company with a global network, and seeks sustainable growth in synergy with societies around the world.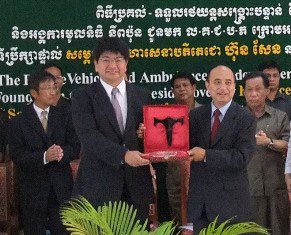 Junichi Nagata, General Manager of CSR and Environmental Office, Cooperate Planning Division, MOL, left, receives the commendation from His Excellency Om Yentieng who is Senior Minister, Deputy Director of NCTC at the August 22 ceremony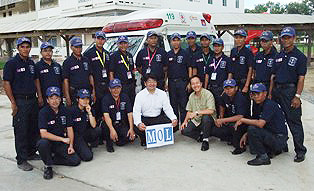 Mr. Koji Sasaki, Director of SBSI (third from right, front row) and emergency service officials pose with an ambulance transported by MOL.
*Authorized NPO Side By Side International (SBSI)
SBSI focuses on establishment of emergency medical systems, support for emergency hospitals, assistance to pregnant women, and medical services for mothers, children, and others in Cambodia. It began its activities in Cambodia in 1997 with a project for the Ministry of Health, and in 2008, it received Cambodian government authorization as an international NGO. SBSI has transported ambulances, fire trucks, and medical equipment donated to Cambodia, built an emergency first-aid system network, trained emergency medical personnel, and so on.