Opening Ceremony Held for Daycare Center in the Philippines Backed by MOL Donations
- From 2011 donations to the International NGO Habitat for Humanity Philippines -
November 20, 2012
TOKYO-Mitsui O.S.K. Lines, Ltd. (MOL; President: Koichi Muto) today announced the opening of a daycare center in Tanza, Navotos City, the Philippines, that was built with the support of MOL donations. The multipurpose facility will provide education for pre-school children, health checkups, meals for underprivileged people, and other services.
MOL Chairman Akimitsu Ashida was on hand for the opening ceremony. Charlie T. Ayco, CEO/President of the international NGO Habitat for Humanity Philippines, said the theme of the project was "Ayos Bahay, Ayos Buhay, Ayos Bayan (good housing, good life, good country)," and expressed his gratitude for MOL's support. Fifty pupils from 2 to 6 years old, who attend preschool at the daycare center, received schoolbags featuring MOL logo mark, and their families and other visitors watched the first class session.
MOL donations funded the construction of the center, and MOL Filipino seafarers, their families, and Magsaysay MOL Marine, Inc. (MMM) land-based staff volunteered to help with the work.
On Saturday, November 17, before the opening ceremony, 20 doctors from an MMM-affiliated seafarer medical institute and other organizations provided free health checkups to about 300 local citizens, including preschool pupils, and distributed vitamins.
Habitat for Humanity Philippines is an NGO that supports self-reliance by constructing houses in impoverished nations and disaster-stricken areas. It was founded in 1976 in the United States, and its Philippine affiliate was established in 1988. It is intended to foster dignity, a sense of common bonds with families and fellows, and the emotional attachment to their local areas, and build peaceful communities by constructing their own houses with volunteers and local people. Until now, they have constructed about 350,000 homes, schools, and community centers in 100 nations around the world.
In the community in Tanza, Navatos City of the Philippines, where the daycare center was constructed, about 500 houses are under construction. Thirteen of the homes are being built with donations from MOL Group companies including MMM.
Magsaysay MOL Marine, Inc. is an MOL seafarer manning company in Manila. It was jointly established by MOL and its partner in the Philippines, Magsaysay Maritime Corporation, in March 1997.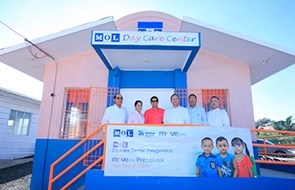 Overall view of Daycare Center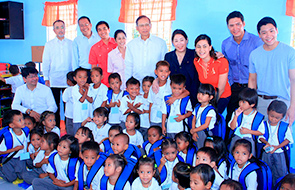 Photo taken with Daycare Center children