MOL Issues Environmental and Social Report 2013
October 31, 2013
TOKYO-Mitsui O.S.K. Lines, Ltd. (MOL; President: Koichi Muto) today announced the publication of the English version of its Environmental and Social Report 2013.
MOL has enhanced this year's report from the viewpoint of environmental, social, and governance (ESG) issues, focusing on group-wide sustainability to meet the continually rising expectations of our various stakeholders. The report emphasizes the MOL Group's most important goals: "safe operation" and "environmental protection", highlighting our approach and how we are working to achieve those goals.
Features
Feature 1: "Forging Ahead to Become the World Leader in Safe Operation"
The section showcases unique training programs that foster the MOL Group seamanship for seafarers at the frontline of safety. It also explains about onshore system for supporting vessels and shows how we are cultivating a group-wide safety culture both on shore and on board. Building upon those efforts, the MOL Group forges ahead to become the world leader in safe operation.
Feature 2: "Aiming to Reduce Environmental Impact-Progress with Senpaku ISHIN"
The ISHIN series MOL concept ships incorporate feasible technologies to reduce environmental impact. It reviews the Group's progress under the concept Senpaku ISHIN, exemplified by the world's first hybrid car carrier Emerald Ace, which was delivered in 2012, along with past milestones in MOL's environmentally-friendly ship technologies.
The MOL Group continually strives to grow sustainably with society while earning the trust of stakeholders.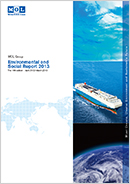 Outline of the Environmental and Social Report 2013
A4 size, 40 pages, English version
*The report is also available online at:
http://www.mol.co.jp/csr-e/report/index.html