Vessel Installed with Waste Heat Energy Recovery System Delivered
- More than 5% reduction in fuel consumption with vessel in service confirmed -
July 02, 2014
TOKYO-Mitsui O.S.K. Lines, Ltd. (MOL; President: Koichi Muto) today announced that offshore testing confirmed more than 5% reduction in fuel consumption as a result of installation of a waste heat energy recovery system on the bulk carrier Azul Brisa. The vessel was delivered at Ariake shipyard of Japan Marine United Corporation (President: Shinjiro Mishima; Headquarters: Minato-ku, Tokyo) on June 16, 2014.
MOL has pushed to advance the development of waste heat energy recovery systems, which are key element technologies in the ISHIN-III next-generation series project.
The system recovers waste heat energy of the main engine and uses it to generate electricity with a hybrid supercharger equipped to generate power, and a turbo generator, which is combined with steam turbine. The electricity generated not only meets onboard power demands but also assists the ship's propulsion via the shaft motor fitted to the crankshaft of main engine. This reduces fuel consumption of both the power generator and the main engine, which contributes to a reduction in CO2 emissions as well.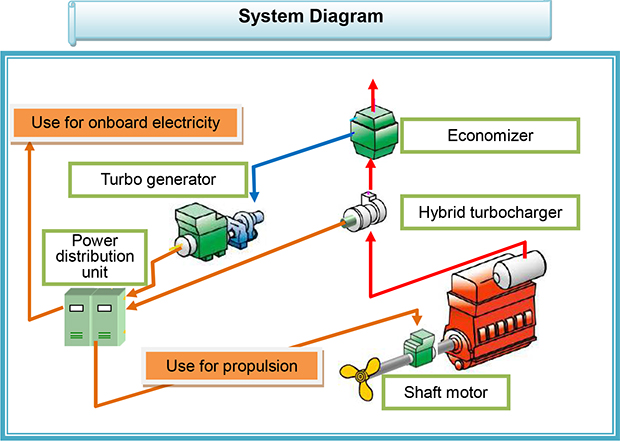 The waste heat energy recovery system is one of the steps taken toward future marine engines in the ISHIN-III next-generation series of vessels that MOL announced in April 2010. MOL continues its aggressive approaches toward developing technology to reduce the impact of oceangoing vessels on the environment.
[ Azul Brisa ]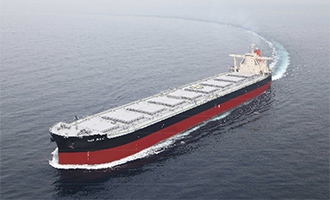 Length: 299.99m
Breadth: 50m
Deadweight Tonnage: 209,000 MT