MOL Introduces Tablet Computer System for Onboard Inspection, Enhancement of Safe Operation - Electronic Checklist Means More Efficient, Higher Quality Inspections -
November 04, 2015
TOKYO-Mitsui O.S.K. Lines, Ltd. (MOL; President & CEO: Junichiro Ikeda) today announced the start of full operation of the "Enekarte" (*1) tablet computer-based vessel inspection system developed in cooperation with Azbil Corporation (President and CEO: Hirozumi Sone; Headquarters: Chiyoda-ku, Tokyo), a major Japanese provider of instrumentation devices.
The system features digitalized inspection checklists, many of which have been used onboard, to improve the efficiency and quality of inspection operations. This makes it easy to collect inspection results as data. Accumulated data is analyzed and used for safe operation, education and training, and technology development, ensuring the safe, reliable transportation of customers' cargo.
MOL continues to develop its safety culture to realize its goal of becoming "the world leader in safe operation," as stated in the midterm management plan STEER FOR 2020.
[Advantages of electronic checklists]
Digitalizing inspection results


Data is graphed, making it easy to track changes over time.
Abnormalities detected can immediately be stored as photo and video images.
Inspection results can be displayed immediately, leading to smoother communication among crewmembers.
Data can be transmitted from onboard to the safe operation management database on shore.
Checklists can be utilized as crew education and training tools.
Audiovisual data helps prevent abnormalities from being overlooked.

Reducing crews' workload


Eliminates the need for paper forms, reducing waste generated onboard.
Easy to carry, so inspectors can move around the ship safely and efficiently.
Inspectors can easily check various guidelines and rules in work areas.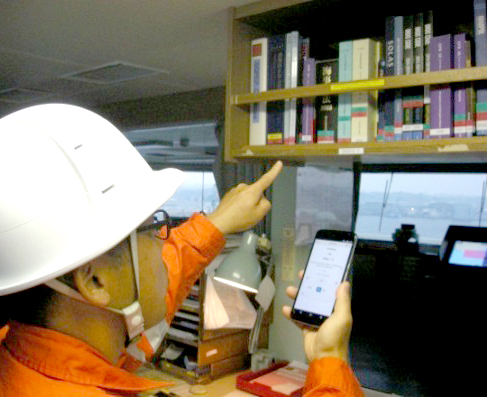 Bridge inspection using a tablet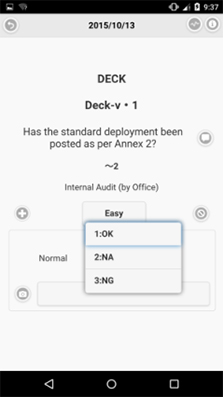 Example of data displayed on tablet
(*1)The routine inspection system produced by Azbil Corporation.