MOL Enhances Operation Data Collection and Monitoring Functions for Development of 'Next-generation Ship Management Support System'
October 27, 2017
- Enhancing Grasp of Operational Status, Reducing Environmental Impact through Prevention of Problems and Reduction of Fuel Consumption -

TOKYO-Mitsui O.S.K. Lines, Ltd. (MOL; President & CEO: Junichiro Ikeda) today announced that MOL and Mitsui Engineering & Shipbuilding Co., Ltd. (MES; President: Takao Tanaka; Headquarters: Chuo-ku, Tokyo) have been jointly developing practical use applications and commercialization of the "next-generation ship management support system" (Note 1) and the current data collection and monitoring systems (Note 2), providing the basis for an advanced new system, have upgraded the functionality.
This initiative will allow enhanced operating support from shore-side systems and personnel. The two companies are working to reduce environmental impact of vessel operation by preventing problems and reducing the consumption of oil consumption, such as bunker fuel oil, which in turn cuts exhaust emissions.
Details of the upgrades are as follows.
Clearly identify and display abnormal values
This prevents problems by visually identifying abnormal values in onboard instruments.
Enhance display of bunker oil and lubricant consumption
This aims at ensuring more efficient consumption of bunker oil and lubricant by displaying the correlation between the ship's operational status and consumption rates.
Display alert list
This makes it easier to determine the ship's operating status for sure and in a moment and prevents problems by displaying a list of abnormal values in onboard instruments over the past 12 hours.
MOL and MES will continuously engage in joint development of the new "next-generation ship management support system," while adopting more advanced technologies through open innovation approaches.
MOL continually promotes safer vessel operation and reduction of its environmental impact, as stated in the "ISHIN NEXT - MOL SMART SHIP PROJECT -" announced in November 2016, and aims to make MOL the first company customers think of when they look for a logistics business partner that fully utilizes information and communications technology.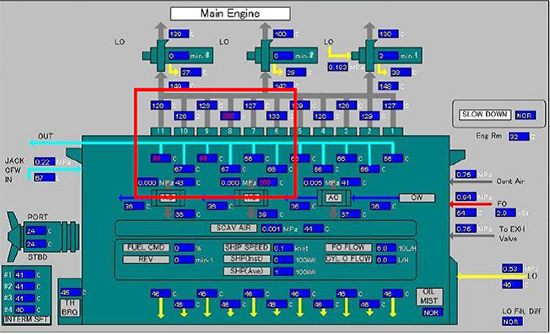 The example of screen in the enhanced system
(Note 1)
Press release on June 23, 2017:
MOL-MES Joint Development "Next-generation Vessel Monitoring and Support System"
(Note 2)
The current system, "Fleet Monitor," is the MES-developed vessel operation monitoring system, and has been installed on over 60 MOL-operated vessels.
The system is an Internet-based ship-to-shore integrated information infrastructure system that manages ship operation while sharing operation information of vessels in service with offices on land.