Ice-Breaking LNG Carrier "Vladimir Rusanov" first call ceremony at PetroChina LNG Jiangsu Terminal
July 20, 2018
TOKYO-Mitsui O.S.K. Lines, Ltd. (MOL: President & CEO: Junichiro Ikeda) today announced that the Ice-Breaking LNG Carrier "Vladimir Rusanov", which is jointly owned by MOL and China COSCO Shipping Corporation Limited for the Yamal LNG project(*1), made its first call at PetroChina LNG Jiangsu Terminal in China on 17 July. A ceremony celebrating this milestone was held on 19 July.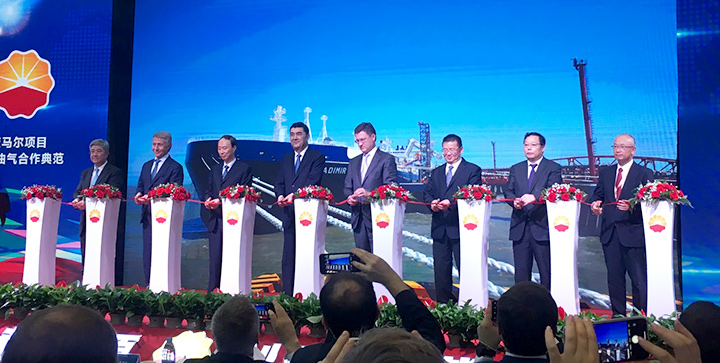 China COSCO Shipping, Executive Vice President, Sun Jiakang (first from left)
PAO Novatek, Chairman of the Management Board Leonid Mikhelson (second from left)
Director of the National Energy Administration of China, Nur Bekri (fourth from left)
Minister of Energy of Russia, Mr. Alexander Novak (fourth from right)
CNPC, Board Director, President, Zhang Jianhua (third from right)
MOL, Senior Managing Executive Officer, Takeshi Hashimoto (first from right)
At the end of March 2018, the vessel started transportation services for LNG produced by the Yamal LNG plant at Sabetta port in Russia (*2). For its latest voyage, the vessel departed from Sabetta port on 25 June, and had its first opportunity to navigate independently eastwards along the Northern Sea Route without ice-breaker support. The vessel passed the Bering Strait on 6 July(*3), and safely made its first call at PetroChina LNG Jiangsu Terminal in China on 17 July. The net voyage time from Sabetta to Jiangsu excluding stoppages for adjusting arrival time was 19 days only - much shorter than time usually taken for a route through Suez Canal, that is, more than a month. This voyage also marked the first direct LNG delivery to China for the Yamal LNG Project.
On 19 July, a ceremony celebrating the vessel's first call at PetroChina LNG Jiangsu Terminal was held by the China National Petroleum Corporation (CNPC), the parent company of the terminal owner/operator, PetroChina Company Limited. This ceremony marked a new milestone for the Yamal LNG project and enjoyed the participation of many VIPs and personnel related to the project. These included Mr. Leonid Mikhelson of PAO Novatek, the major shareholder in the Yamal LNG project; Mr. Zhang Jianhua of CNPC; Mr. Alexander Novak,Minister of Energy for the Russian Federation; and Mr. Nur Bekri of the National Energy Administration (NEA) of China.
LNG, as a clean energy source, is drawing attention in China due to rising awareness of environmental issues. In 2017, LNG imports by China reached 38.13 million tones, an increase of 46 percent compared to the previous year. This makes China the world's second-biggest importer of LNG this year, overtaking South Korea. Furthermore, demand from China's LNG market is projected to increase significantly in the coming years.
MOL continues to work assiduously to contribute to reliable LNG transportation from the Yamal LNG plant. The company also works to maintain the strong, trusting relationship it has built with its Chinese partners through previous projects, and hopes, primarily through transportation, to continue playing a part in China's expanding LNG demand.
(*1) For details, please refer to the 9 July, 2014 press release:
MOL signs Ship Building Contracts with DSME for ice class carriers
(*2) For details, please refer to the 29 March, 2018 press release:
Ice-Breaking LNG Carrier "Vladimir Rusanov" for Yamal LNG Project Started the First Loading Operation in the Yamal LNG Plant at Sabetta Port
(*3) For details, please refer to the 6 July, 2018 press release:
Yamal LNG Project Ice-Breaking LNG Carrier "Vladimir Rusanov" Completes First Eastern Transit via the Northern Sea Route, heading to East Asia