Yamal LNG Project Ice-Breaking LNG Carrier "Vladimir Rusanov" Completes First Ship-to-Ship Transfer Operation at Norway
- Key Step in Utilization of Ice Breaking Vessel for Ship to Ship Operation in LNG Transportation Field -
November 27, 2018
TOKYO-Mitsui O.S.K. Lines, Ltd. (MOL: President & CEO: Junichiro Ikeda) today announced that the Ice-Breaking LNG Carrier "Vladimir Rusanov", which is jointly owned by MOL and China COSCO Shipping Corporation Limited (China COSCO Shipping) (*1), has successfully completed the first Ship-to-Ship Transfer ("STS") operation at Honningsvåg, Norway.
On November 24, Vladimir Rusanov, which started LNG transportation services for the Yamal LNG project in March(*2), completed unloading of Yamal LNG cargo to a lower ice class LNG Carrier named "Pskov". The two vessels were directly moored alongside each other during the STS operation in the calm sheltered waters of Honningsvåg. The fact that neither vessel was moored to the jetty was a unique feature of this STS operation.
Without this STS operation, the Ice-Breaking LNG Carrier would have been required to navigate to a LNG receiving terminal in continental Western Europe necessitating more than two weeks navigation for the round trip. However, by carrying out this open sea STS operation at Honningsvåg, the Ice-Breaking LNG Carrier was able to shorten by approximately a week needed to transport its cargo, enabling the vessel to carry out more frequent cargo lifting from Sabetta, where access by non-Ice-Breaking vessels is limited in the winter period. Immediately after completion of the STS operation, the Ice-Breaking LNG Carrier headed back to Sabetta for her next cargo loading.
The STS sets a new milestone in the transportation of LNG from the Arctic. MOL continues to take a proactive stance and remains focused on providing value-added transport services for its customers.
[ Location Description ]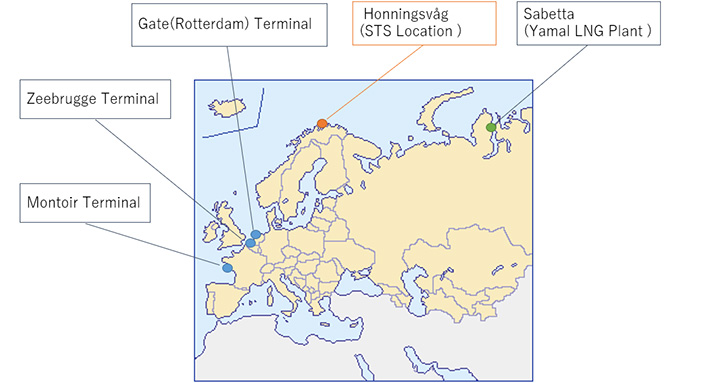 [ Photos taken during the STS at Honningsvåg ]
(*1) For details, please refer to the 9 July, 2014 press release:
MOL signs Ship Building Contracts with DSME for ice class carriers
(*2) For details, please refer to the 29 March, 2018 press release:
Ice-Breaking LNG Carrier "Vladimir Rusanov" for Yamal LNG Project Started the First Loading Operation in the Yamal LNG Plant at Sabetta Port