Mitsui O.S.K. Passenger Line Receives Award for Outstanding Performance in 'Cruise of the Year 2018'
December 14, 2018
TOKYO-Mitsui O.S.K. Lines, Ltd. (MOL; President & CEO: Junichiro Ikeda) today announced that its group company, Mitsui O.S.K. Passenger Line Ltd. (MOPAS) was recognized for its "efforts on market development by the Nippon Maru One Night Cruise," and received the award for outstanding performance in the "Cruise of the Year 2018" program.(Note)
MOPAS was honored for its One Night Cruise programs based on three themes, which attracted a majority of passengers (70%) who boarded the Nippon Maru for the first time. While elaborately planned, all of the cruise themes offered a casual atmosphere, and made a great contribution to expanding the range of the Japanese cruise market.
"Yokohama-Kobe Nippon Maru Bread Festival Cruise" provides a wide range of fresh-baked Nippon Maru specialty breads (September 21-22)
"Autumn Setonaikai Inland Sea One Night Cruise" sold specialties from nine prefectures in Setonaikai and provided special Japanese or Western-style breakfasts showcasing local ingredients from each prefecture. (October 22-23)
"Kobe-Yokohama C to Sea Cruise" included various events for C (every citizen) in the seafaring country Japan to discover the pleasures of the sea. (December 25-26)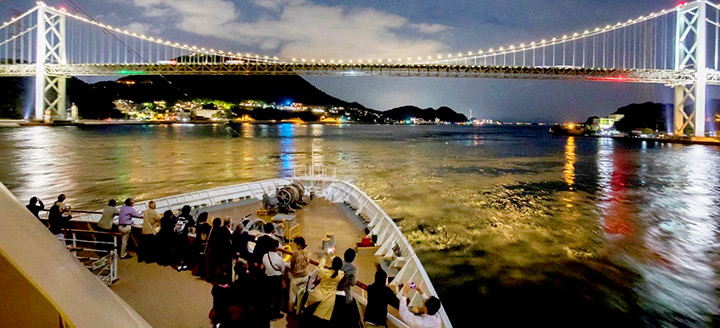 The "Autumn Setonaikai One Night Cruise"
The awards ceremony was held on December 13, and the Japan Oceangoing Passenger Ship Association presented a commemorative memento to MOPAS. The MOL Group continually works to develop new products and enhance services in a proactive manner to encourage more passengers to experience the joys of cruising.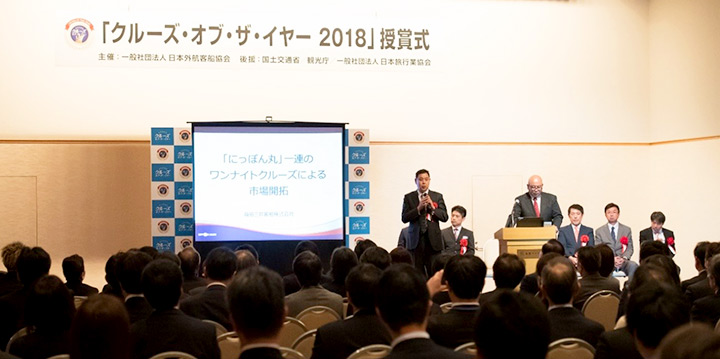 Director Fumitaka Koide making a presentation at the Awards ceremony
(Note)
The Cruise of the Year is the system under which the Japan Oceangoing Passenger Ship Association (host) and the Ministry of Land, Infrastructure, Transport and Tourism, Japan Tourism Agency, and Japan Association of Travel Agents (sponsors) recognize travel agencies and cruise ship companies that develop original and innovative cruise travel products contributing to the expansion of Japan's cruise market.