MOL Signs Deal for Long-term Charter Contract of LNG Bunkering Vessel with Singapore's State Energy Company Pavilion Gas
- Supplying LNG Fuel at World's Largest Bunkering Port -
February 25, 2019
TOKYO-Mitsui O.S.K. Lines, Ltd. (MOL; President & CEO: Junichiro Ikeda) today announced that it has signed a long-term charter contract to operate Asia's largest (12,000m3-class) LNG bunkering vessel in Singapore, the world's largest fuel supply port, with Pavilion Gas Pte Ltd. (PGPL; CEO: Frédéric Barnaud; Headquarters: Singapore), a wholly-owned subsidiary of Pavilion Energy Pte Ltd..
Demand for LNG as bunker fuel is expected to grow on a global scale as stricter SOx regulations take effect in January 2020 (Note 1). Singapore's Maritime and Port Authority (MPA) is focusing considerable effort on development of an LNG fuel supply infrastructure and implementing policies aimed at creating the world's largest LNG fuel supply port.
The Japanese government also concluded a "Memorandum of understanding in relation to the cooperation on the development of LNG as a marine fuel" with seven other countries, including Singapore.
Since then the Japanese government has worked closely with Singapore to promote the use of LNG fuel and develop a supply framework.
MOL has proceeded on the project with PGPL to build a cooperative structure in the private sector. They have teamed with Sembcorp Marine Specialised Shipbuilding Pte. Ltd., a subsidiary of Singapore-based Sembcorp Marine Group, for construction of the vessels, and Sinanju Tankers Pte. Ltd., which is a major bunker barge company, for a partner of ship management. The new ship will be the second LNG bunkering vessel in Singapore and is slated to start services after its delivery to PGPL in early 2021.
In April 2017, with the aim of speeding up progress on business related to alternative bunker fuels such as LNG, MOL established the Bunker Business Division to enter the bunker business in an integrated fashion. In other regions besides Singapore, in February 2018, it signed a long-term charter contract for the world's largest (18,600m3-class) LNG bunker vessel with Total Marine Fuels Global Solutions, which will offer services in northern Europe (Note 2). In Japan, it will launch the LNG-fueled tugboat Ishin (Note 3) in Osaka Bay in April. MOL continually promotes development of infrastructure to supply LNG fuel and drives LNG fueled vessels.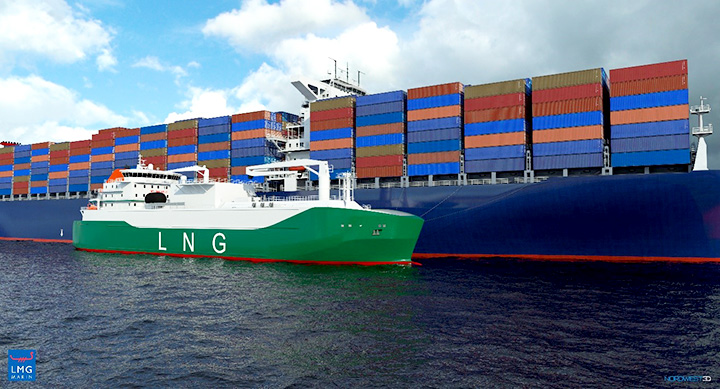 LNG bunkering vessel supplying a containership
About Pavilion Energy
Pavilion Energy is a wholly-owned subsidiary of Temasek with a fully integrated energy business that encompasses upstream investments, global LNG trading, shipping and optimisation as well as energy hedging and financial solutions. Its wholly-owned subsidiary, Pavilion Gas, is responsible for the marketing and distribution of natural gas in Singapore and the region, including small-scale LNG and LNG bunkering initiatives. Pavilion Gas is a licenced LNG importer for Singapore and an LNG bunker supplier in the Port of Singapore.
[ Outline of the vessel ]
| | |
| --- | --- |
| Length  | About 112 m |
| Breadth | About 22 m |
| LNG tank | Membrane type (GTT Mark III) |
| Shipyard | Sembcorp Marine Specialised Shipbuilding |
| Tank capacity | 12,000 m3 |
| Main engine | 2 electric propulsion Azimuth Thrusters |
| Speed | 11.5 knots |
| Registry | Singapore |
| Other | Use of reliquefied boil-off gas generated in fuel tanks |
(Note 1)
The International Maritime Organization (IMO) is limiting the sulfur content of bunker fuel to reduce vessel exhaust emissions of SOx and prevent air pollution. The current limit of 3.5% sulfur content in bunker fuel is being reduced to 0.5% as of January 2020. Main measures include installation of onboard scrubbers, use of complied fuel, and transition to LNG as fuel.
(Note 2)
Please refer to the following press release for details:
February 6, 2018:
Total and Mitsui O.S.K. Lines sign a long-term charter contract for a pioneer Liquefied Natural Gas (LNG) bunker vessel
(Note 3)
Please refer to the latest press release for details on the Ishin:
January 31, 2019
LNG-fueled Tugboat Ishin Marks 1st Bunkering of LNG Fuel in Kansai Region