November 02, 2021
TOKYO-Mitsui O.S.K. Lines, Ltd. (MOL; President & CEO: Takeshi Hashimoto) today announced an agreement with Vale International SA (Note 1) to conduct a joint study on installation of a wind propulsion system called "Rotor Sail" (Fig.1) on a 200,000-ton class in-service bulk carrier, which mainly transports iron ore for steel production. The goal is to reduce greenhouse gas (GHG) emissions from the vessel while underway.
(Fig. 1) Rendering of Rotor Sail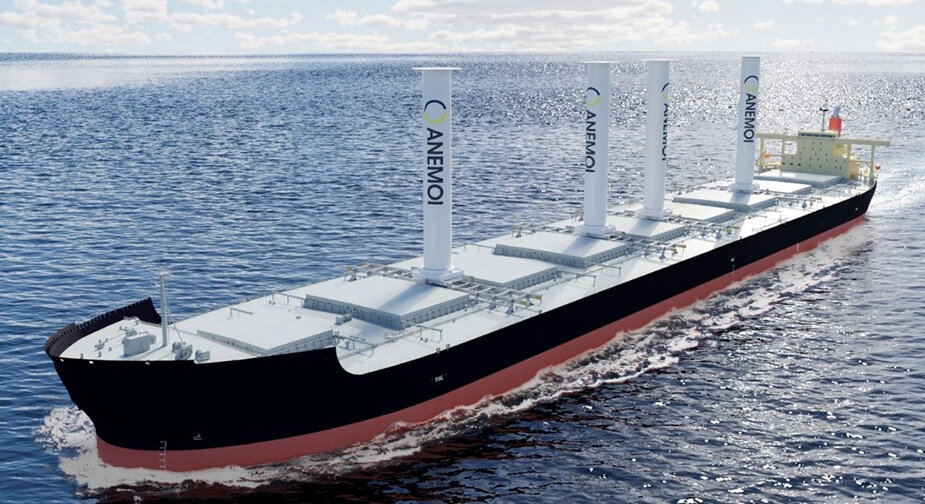 The Rotor Sail produces propulsive force as the wind generates differential pressure around the slewing rotor while the vessel is underway. It offers high efficiency because the natural energy of the wind directly propels the vessel rather than being converted in to electricity, for example.
The joint study team will examine and verify the number of Rotor Sails to be installed and the effect of GHG reduction, working closely with Anemoi Marine Technologies Ltd (Anemoi), the manufacturer of the Rotor Sail. Anemoi, based in the U.K., installed world's first Rotor Sail on a newbuilding Ultramax bulk carrier in 2018.
The MOL Group is implementing five initiatives (Fig.2) to realize the mid-to-long-term targets set out in the "MOL Group Environmental Vision 2.1" (Note 2). Including this opportunity, we will pursue one of the initiatives "Enhancement of Energy-Saving Technologies" and continually strives to reduce GHG emissions in cooperation with leading companies in various industries, with the goals of "Achieving net zero GHG emissions by 2050."
(Note 1)
Vale International SA
The world's leading mining company, with annual iron ore production capacity of about 335 million tons.
Official website: http://www.vale.com/en/pages/default.aspx
(Note 2)
MOL Group Environmental Vision 2.1 | Environment | Sustainability | Mitsui O.S.K. Lines (disclosure.site)
(Fig.2)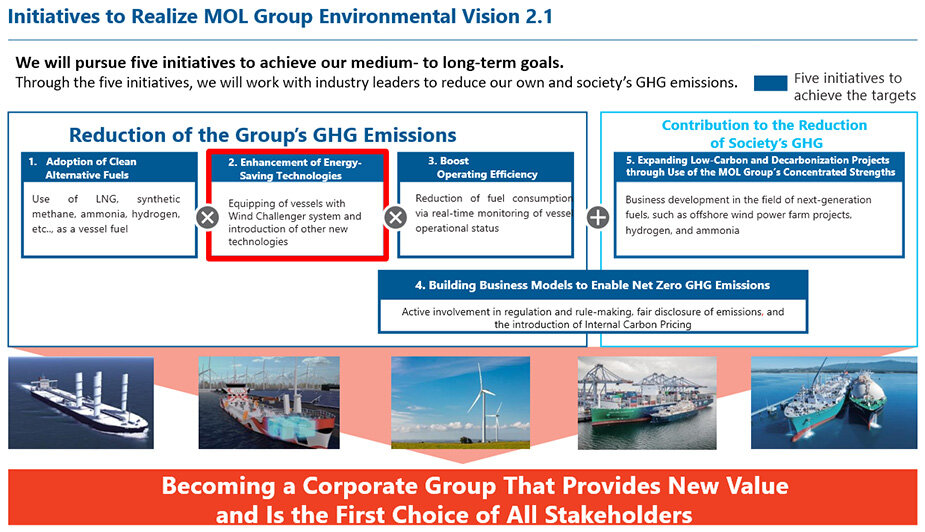 ---