'Kurotakisan Maru Ⅲ' Delivered
- 1st Ship of Next-generation Coal Carrier 'EeneX' Series -
December 02, 2021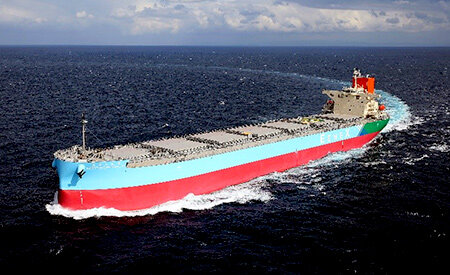 TOKYO-Mitsui O.S.K. Lines, Ltd. (MOL; President: Takeshi Hashimoto; Headquarters: Minato-ku, Tokyo) today announced that on December 2, the next-generation coal carrier, Kurotakisan Maru Ⅲ, which will serve Electric Power Development Co., Ltd (J-POWER; President; Toshifumi Watanabe; Headquarters: Chuo-ku, Tokyo), was delivered at Oshima Shipbuilding Co., Ltd. (President: Eiichi Hiraga; Headquarters: Saikai City, Nagasaki Prefecture). J-POWER President Watanabe and MOL President Hashimoto and their wives attended to the naming and delivery ceremony and the ship embarked on its maiden voyage.
MOL will operate the vessel, which will transport coal for J-POWER plants. The name of the Kurotakisan Maru Ⅲ is derived from Mt. Kurotaki in Takehara-shi, Hiroshima Prefecture, where J-POWER's Takehara thermal power plant is located, and harkens back to its predecessors, the Kurotakisan Maru (delivered in 1981) and the second-generation Kurotakisan Maru (delivered in 1995).
The Kurotakisan Maru Ⅲ is the first vessel in the "EeneX" (Note 1) series of next-generation coal carrier based on Japanese shipbuilding's accumulated know-how and technology in development and construction of coal carriers, along with MOL's expertise in operating these vessels. Adoption of a double-hull structure eliminated the need to fill cargo holds with ballast water, reducing the risk of marine pollution and minimize cargo contamination with salt and rust. In addition, the vessel is equipped with an SOx scrubber to reduce its environmental impact.
MOL offers the optimal "stress-free" transport service for customers and the environment, by achieving both safe and stable transport of an important energy resource for Japan and cost-effective performance.
[Outline of Kurotakisan Maru Ⅲ]
LOA: 234.96m
Breadth: 38.00m
Draft: 20.05m
Deadweight tonnage: 89,999 tons
(Note 1) [Main characteristics of EeneX]
The adoption of a double-hull structure
The semi-box shape of the hold
Separating ballast water from cargo hold
EeneX expresses MOL's intention to promoting the spread of global energy ("ene") by continually playing a part in coal-fired thermal power generation, combining "E," which stands for the key words below in the development of the ship, with "X," which conveys synergy.
(1) Efficient
(2) Ease
(3) Ecological
(4) Economical
(5) Evolve
For details, please refer to June the 19, 2019, press release: MOL and Japanese shipyards design Next Generation Coal carrier 'EeneX' - Contributing to Clean Energy Transport -, and December 12, 2019, press release: MOL Orders 2 Next-generation 'EeneX' Coal Carriers - Aiming for Energy-efficient Transport Services -