January 05, 2023
MOL President & CEO Takeshi Hashimoto delivered the following "2023 New Year Message" to all MOL Group officers and employees on January 4.
---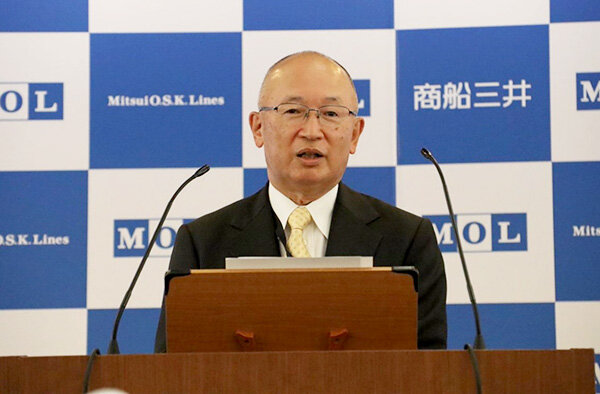 Happy New Year to everyone at the MOL Group. As we start off the year, I would like to share some of my thoughts with you.
Looking Back at 2022
Last year was a year in which I gradually felt the normalization of economic activity and social life from the COVID-19 pandemic. Travel restrictions have been eased almost all over the world, which means we are free to make overseas business trips. Personally, I have taken opportunities to travel overseas since last year, and I was eager to see some of the changes taking place in the world, by exchanging opinions with government officials and business leaders in various countries. I encourage everyone to take advantage of opportunities to communicate directly with customers, business partners, colleagues in MOL group, and others in your business circle and offer constructive opinions about the future of our group.
Last year was also a time when the world economy and society were widely and severely affected by the war of Russia and Ukraine since February. Disruptions in supply chains, soaring energy and grain prices, global inflation, and so on—turmoil continues in a variety of fields. Some companies decided to withdraw from Russia-related business, but our group will continue to offer stable transport services, placing the highest priority on securing the safety of crewmembers, cargo, and vessels, as a company that develops a social infrastructure business centered on ocean shipping, transporting commodities essential to people's lives. Considering about strategic importance of energy supply under current circumstances, we will continue our energy transport business, mainly LNG, from Russia, as long as we can, and this is also in line with the direction of the Japanese government's policy. Of course, at the same time I pray that the situation will be brought to an end as soon as possible and that the people of Ukraine will return to safety and peace.
We expect to achieve record high profits for the current fiscal year, benefiting from strong demand for ocean going shipping and the accompanying surge in market rates, as we did in the previous fiscal year. On the other hand, freight rates have already begun to decline in some segments, especially container segment, as logistics disruption is coming to an end with the normalization of society. The shipping market is always volatile, and we expect a reversal in market conditions. The global economy is in an overall downtrend, and we have also had to prepare for future market downturns. Regarding our favorable performance for this fiscal year, I believe it was the result of you and your team's efforts to reform its operations and business structure since the COVID-19 pandemic, and to hone its competitiveness. I would like to once again express my appreciation for all of MOL group staff's efforts.
---
Outlook for 2023
Looking ahead to the business environment in 2023, since China announced a review of its zero-COVID policy at the end of last year, I believe the nearly three-year-long turmoil caused by COVID-19 will be over, and the world economy and society will gradually normalize. In the last two years, we have achieved fantastic financial results against the backdrop of a soaring shipping market. But due to the global inflation that has been rising since last year, high interest rates, and the resulting economic downturn, we expect our profits for the next fiscal year to be lower than in FY2021 and FY2022.
This year, we may see the impact of inflationary measures in the U.S. and Europe, and a significant but temporary downturn in the economy, however, we expect a return to a moderate expansionary trend in the not-too-distant future, as the Chinese economy normalizes and the pace of U.S. interest rate hikes slows. We intend for this year to be one in which we effectively use the capital we have accumulated over the past two years to prepare for deteriorating financial result and to invest for our future growth.
---
Organizational restructuring measures
Next, I will touch upon the new organization and structure announced in December 2022. This year's reorganization will be a major one. I want to share two key points with you.
The first is to create a structure that can powerfully push our regional strategies, one of the group's main strategies. To expand our overseas regional business, the group will be broadly re-grouped into "corporate organizations", "business organizations", and "regional organizations", each of which will mutually collaborate and cooperate with appropriate checks and balances put in place. As a business execution system to support this organizational structure, the "corporate organizations" will introduce a Chief Officer system to address group-wide management issues related to corporate functions, including strengthening group governance.
In addition, an executive officer responsible for regions, dedicated to "regional organizations" will be assigned in each region to promote business development and operation in "regional organizations". Another essential issue in driving regional strategies is to speed up the decision-making process for specific business projects, particularly for new investments. To this end, it is essential to delegate authority to "regional organizations" and detailed discussions are currently underway.
In the same manner, we will work to delegate authority to general managers and increase the speed of decision-making in the "business organizations". In the beginning, as the "regional organizations" are strengthened, we will see situations where cooperation and coordination with the "business organizations" will become more complex. In cases where the policies of "regional organizations" and "business organizations" differ, we will introduce a system whereby the newly established COO will make management decisions based on the overall optimization of the group.
I know it will not be easy to operate in practice under the new organization and structure, but I made the decision with the recognition that we needed to step up to the plate, to expand the scale and scope of business for the group's growth.
Second is to create a structure that supports the expansion of our business domain into non-traditional shipping businesses, as part of our portfolio strategy. We will establish a new "Headquarters of Wellbeing & Lifestyle Business" to bring together businesses and group companies that have a strong business to consumer (B to C) character, including the cruise ship business, for which we announced our investment policy in November 2022 or real property business. To continue the highly marketable ocean shipping business as our core business in the future, we aim to stabilize the group's earnings structure by incorporating non-traditional shipping business, which are in a different market cycle than the shipping market, into its business portfolio.
---
Strengthening the Foundation
As of today, the Human Capital Strategy Division, which is responsible for planning and promoting policies to develop and enhance the human capital of the entire group, will begin its activities. This organizational restructuring measure is not only a redesign of the organization and structure; it is equally important to make the structure conducive to strengthening safety, digital transformation (DX), human capital, and governance. For each of these important themes, we are working to develop a vision and action plan. We will announce them as part of the next management plan and will be the focus of our efforts starting next fiscal year.
---
Earning recognition as an excellent company from all aspects
Since promotion as president & CEO, I have stated, "I want MOL to be viewed as an excellent company in every aspect. That is my goal." Specifically, we aim to be a corporate group that is trusted and earns high regard from all stakeholders from every aspect, including sustainability management, quality of services offered, profitability, quality of human resources, and advanced technological capabilities. This means MOL Group officers and employees can work with a strong sense of duty and great pride.
The group's policy is to actively pursue overseas business development in line with its regional strategy, and we are also strengthening our non-shipping businesses such as offshore, logistics, real estate, and cruise ships, in addition to the traditional ocean shipping business. Let's firmly commit to Rolling Plan 2022 and the new management plan starting next fiscal year, and aim to become an excellent company through the growth of the group and the enhancement of our corporate value. To be an excellent company, compliance is a matter of course, but ensuring safety, which is the foundation of our business, and the health of all officers and employees working in our group are of utmost importance. Once again, I would like to emphasize this point to everyone.
Finally, I want to pledge my commitment to safe voyages for all MOL Group-operated vessels. I wish you and your families a very happy New Year, as well as good health, happiness, success, and prosperity.